THE FARMER LIVELIHOOD ASSET ON BANANA FARMING IN EAST JAVA
Keywords:
livelihood asset
Abstract
This Research aims to find out and analyze the performance of banana farmers in East Java, from the aspect of livelihood assets which include human assets, natural, financial, physical, and social.  This study using the Sustainable Livelihood Approach method. Results show that the analysis of sustainable livelihood approach showed that the ability of banana farmers to access resources was influenced by 5 assets : human assets 52.53%, natural assets 44.70%, financial assets 39.53%, physical assets 49 , 40%, and social assets of 60.27%.  Banana farmers have a high ability in using social resources and  weak in using  financial resources, because in banana agribusiness funding, majority of farmers use their own limited capital. From  three districts that have the highest access to resources is Malang district, with an average ability to access resources is 51.8%.
References
Adebiyi, A., Banjo, H., & Regin, O.-O. (2015). Performance of Small and Medium Enterprises in lagos State: The Implications of Finance. Acta Universitas Danubius, 5(8), 72–83.
Adeoye, I. B., Donstop, N. P., Badmus, M. A., & Amao, I. O. (2011). Price Transmission And Market Integration Of Banana And Plantain In Oyo State , Nigeria. Arpn Jounal of Agriculture and Biological Science, 6(5), 18–24.
Akcaoz, H., Ozcatalbas, O., & Kizilay, H. (2009). Risk management and sustainability in banana production: A case study from Turkey. Journal of Food, Agriculture and Environment, 7(2), 283–294.
Allison, Edward H and Benoit Horemans. 2006. Putting The Principles Of The Sustainable Livelihoods Approach Into Fisheries Development Policy and Practice. Marine Policy 30 (2006) 757-766
Ancok, J. (2012). Psikologi Kepemimpinan dan Inovasi. Jakarta: Erlangga.
Ansyori. (2009). Kriteria Lahan Kesesuaian Lahan untuk Tanaman Pisang Cavendish yang Dikelola secara Intensif di Way Kambas Lampung Timur. Institut Pertanian Bogor.
Barney, J. . (1991). Film Resources and Suistained Competitive Advantange. Journal of Management, 1(17), 99–12.
Bungaran, S. (2001). Agribisnis: Paradigma Baru Pembangunan Ekonomi Berbasis Pertanian. Jakarta: Yayasan Mulia Persada Indonesia.
Chambers, Robert & Gordon R. Conway. (1991).â€Sustainable Rural Livelihood: Practical Concepts for The 21st Century.†02 Juli 2012.
Coleman, S. J. (2008). Dasar-Dasar Teori Sosial. Bandung: Nusa Media.
Damsar. (1997). Sosiologi Ekonomi. Jakarta: Raja Grafindo Persada.
David, F. R., & David, F. R. (2016). Manajemen Strtegik: Suatu Pendekatan Keunggulan Bersaing. Jakarta: Salemba Empat.
Dharmawan, A. H. (2002). Kemiskinan Kepercayaan (The Poverty of Trust), Stok Modal Sosial dan Disintegrasi Sosial. Bogor.
Downey, W. . dan S. P. E. (1992). Manjemen Gribisnis (terjemahan). Jakarta: Erlangga.
Downey, W. D. (2000). Manajemen Agribisnis. Jakarta: Erlangga.
Dullayaphut, P., & Untachai, S. (2013). Development the Measurement of Human Resource Competency in SMEs in Upper Northeastern Region of Thailand. Procedia - Social and Behavioral Sciences, 88, 61–72. https://doi.org/10.1016/j.sbspro.2013.08.481
Enggasari. (2007). meneliti tentang Membangun Kualitas Melalui Strategi Informasi dan supply chain management pada Industri CPO.
Enteding, T., Hadayani, & Adam, R. (2016). Analisis Pemasaran dan Strategi Pengembagan Komoditi Kedelai di Desa Nipa Kalemon Kecamatan Bualemo Kanupaten Banggai. Sains Dan Teknologi Tandulako, 2(3), 11–24.
Ferdinan, A. . (2002). Structural Equation Modelling dalam Penelitian Manajemen. Semarang: BP-UNDIP.
Field, J. (2010). Modal sosial. Yogyakarta: Kreasi Wacana.
Firdaus, M., & Silalahi, B. G. S. (2008). Posisi bersaing nenas dan pisang indonesia di pasar dunia. Jurnal Agribisnis Dan Ekonomi Pertanian, 1(2), 23–30.
Fitrah, H. (2013). Analisis Pemasaran Agribisnis Lada (Piper Nigrum L) Di Desa Mangkauk Kecamatan Pengaron Kabupaten Banjar Kalimantan Selatan. Zira'ah, 38(3), 28–32.
Friyanto, S., & Saptana. (2017). Kinerja Agribisnis Komoditas Pertanian : Kemampuan Penciptaan Output, Nilai Tambah dan Keterkaitan antar Sektor (Analisis Komaparasi IO tahun 2005 dan 2010). Manajemen Dan Agribisnis, 14(3), 250–263.
Fukuyama, F. (2001). Social Capital: Civil Society and Development. Third World Quarterly.
Gustiani, D., & Parulian, H. (2009). Analisis Keunggulan Komparatif Dan Kompetitif Kain Tenun Sutera Produksi Kabupaten Garut (Studi Kasus pada Perusahaan PT. Aman Sahuri di Kabupaten Garut Provinsi Jawa Barat). Jurnal Agribisnnis Dan Ekonomi Pertanian, 53, 160. https://doi.org/10.1017/CBO9781107415324.004
Kamal, S., Ali, A., & Alam, F. (2014). Socio-economic status and problems of banana growers in Bangladesh, 1, 91–99.
Kementan. (2017). Kebijakan Pembangunana Pertanian Berkelanjutan.
Kifli, F. W., Mulyo, J. H., Darwanto, D., & Hartono, S. (2017). Pengaruh Modal Sosial terhadap Permintaan PanganRumahtangga Tani di Provinsi Riau. Manajemen Dan Agribisnis, 14(3), 273–283.
Kock, H., & Ellström, P. (2011). Formal and integrated strategies for competence development in SMEs. Journal of European Industrial Training, 35(1), 71–88. https://doi.org/10.1108/03090591111095745
Komarek, A. . (2010). The Determinants Of Banana Market Commercialisation in Western Uganda. African Journal of Agricultural Research, 5(9), 775–784.
Krantz, Lasse. (2001). The Sustainable Livelihhood Approach to Poverty Reduction. Swedish: SIDA. 02 Juli 2012.Lambert, D. M., & Cooper, M. C. (2000). Issues in supply chain management. Industrial Marketing Management, 29(1), 65–83.
Lolowang, I. T. F., Loho, I. A. E., & Ngangi, I. C. R. (2015). Kajian Kinerja Agribisnis Starwberry Organik Study Kasus Kelompok Tani Kina Kelurahan Rurukan dan Kelompok Tani Agape Kelurahan Rurukan Satu Marlen Meilani Rumengan Dosen Pembimbing :
Miller, C. . (1994). Strategic Planning and Firm Performance : A Synthesis of More Than Decades of Research. Academy of Management Journal, 37(6), 1649–1665.
Mudiarta, K. G. (2009). Jaringan Sosial (Networks) dalam Pengembangan Sistem dan Usaha Agribisnis: Perspektif Teori dan Dinamika Studi Kapital Sosial. Forum Penelitian Agro Ekonomi, 27(1), 1–12. https://doi.org/0216-4361
Muflikh, Y. N. dan S. (2009). A Review of Supply Chain Management Literature and Its Implication To Develop Agribusiness in Indonesia the Driving Forces of Supply Supply. Agribisnis Dan Ekonomi, 3(2), 104–121. Retrieved from http://jesl.journal.ipb.ac.id/index.php/jurnalagribisnis/article/view/17087/12386
Porter, M. . (1990). The Compeitive Advantage of Nations. New York: Free Press.
Prihatman, K. (2000). Pisang (Musa spp) (No. 21316916669). Pisang. Retrieved from http://www.warintek.ristek.go.id/pertanian/pisang.pdf
Purnaningtyas, D. P. (2012). Analisis Efisiensi Ekonomi Penggunaan Faktor. Agrista. Universitas Sebelas Maret.
Rahim, A., & Hastuti, R. R. (2007). Ekonomi Pertanian, Pengantar Teori dan Kasus. Penebar Swadaya.
Ritzer, G., & Goodman, D. J. (2010). Teori Sosiologi (Dari Teori Sosiologi Klasik sampai Perkembangan Mutakhir Teori Sosial Postmodern). Bantul: Kreasi Wacana.
Rumanti, A. A., & Syauta, K. J. (2013). Determining Strategies Based on Strategic Position Analysis in Small and Medium Enterprises. International Journal of Information and Education Technology, 3(4), 442–447. https://doi.org/10.7763/IJIET.2013.V3.315
Samsudin. (2005). Manajemen Sumber Daya Manusia. Bandung: Pustaka Setia.
Samuelson, & Nordhaus. (2002). Mikroekonomi. Jakarta: Erlangga.
Scoones, I., 1998. Sustainable Rural Livelihoods: A Framework for Analysis. IDS Working paper, 72. Brightons.
Simatupang, P., & Rusastra, I. W. (2004). Kebijakan Pembangunan Sistem Agribisnis Padi.pdf.
Soekarwati. (1995). Analisis Usaha tani. Jakarta: UI Press.
Soekarwati. (2007). e-AGRIBISNIS : TEORI DAN APLIKASINYA. In Seminar Nasional Aplikasi Teknologi Informasi (p. 25).
Sugiyono. (2002). Metode Penelitian Administrasi. Bandung: CV Alfabeta.
Suvittawat, A. (2014). Thailand â€TM s Banana Supply Chain Management : Export Success Factors. International Journal of Management Sciences and Business Research, 3(10), 2226–8235.
Vijayakumar, S. (2013). the Status of Small and Medium Enterprises and Promotions for Their Growth in Srilanaka. International Journal on Global Business Managment and Research, 1(2), 1–13.
Warsanga, W. B. (2014). Coordination and Structure of Agri-Food Value Chains : Analysis of Banana Value Chain Strands in Tanzania. Journal of Economic and Sustainble Development, 5(7), 71–78.
Wiesner, R., McDonald, J., & Banham, H. C. (2007). Australian small and medium sized enterprises (SMEs): A study of high performance management practices. Journal of Management & Organization, 13(3), 227–248. https://doi.org/10.1017/S1833367200003710
Yasa, I. N. A., & Hadayani. (2017). Analisis produksi dan pendapatan usahatani padi sawah di desa bonemarawa kecamatan riopakava kabupaten donggala. Agrotekbis, 5(1), 111–118.
Yun, JinHyo J. dan Jung, Young J. JeongHo, Y. (2009). Knowledge Strategy and Business Model Conditions for Sustainable Growth of SMEs. Journal Of Sciece Dan Technology Policy Management, 6(3), 246–262. https://doi.org/http://dx.doi.org/10.1108/JEIM-07-2014-0077
Zakaria, W. A. (2009). Penguatan Kelembagaan Kelompok Tani Kunci Kesejahteraan Petani. Dinamika Pembangunan Pertanian Dan Perdesaan: Tantangan Dan Peluang Bagi Peningkatan Kesejahteraan Petani" 2009, 295–315.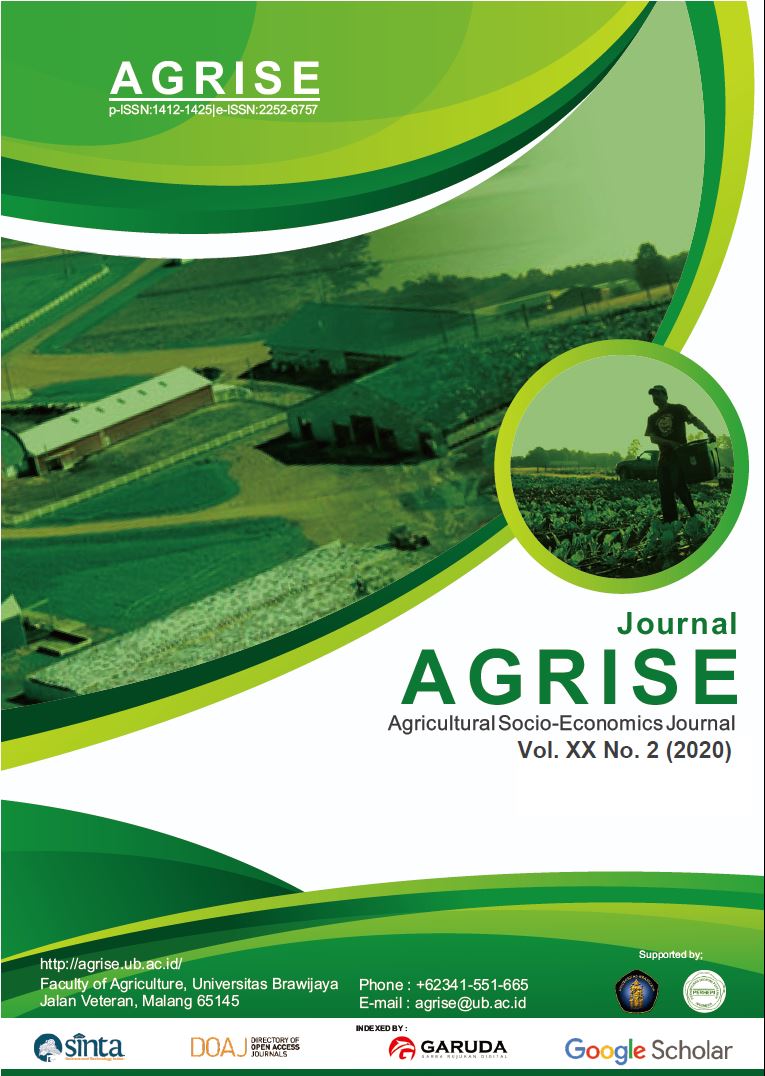 Downloads
How to Cite
Andriani, D. R., Setiawan, B., Koestiono, D., & M, A. W. (2020). THE FARMER LIVELIHOOD ASSET ON BANANA FARMING IN EAST JAVA. Agricultural Socio-Economics Journal, 20(2), 137–146. https://doi.org/10.21776/ub.agrise.2020.020.2.6
License
Authors who publish with this journal agree to the following terms:
Authors retain copyright and grant the journal right of first publication with the work simultaneously licensed under a Creative Commons Attribution-NonCommercial License that allows others to share the work with an acknowledgment of the work's authorship and initial publication in this journal.
Authors are able to enter into separate, additional contractual arrangements for the non-exclusive distribution of the journal's published version of the work (e.g., post it to an institutional repository or publish it in a book), with an acknowledgment of its initial publication in this journal.
Authors are permitted and encouraged to post their work online (e.g., in institutional repositories or on their website) prior to and during the submission process, as it can lead to productive exchanges, as well as earlier and greater citation of published work (See The Effect of Open Access).