SOCIOECONOMIC DETERMINANTS OF LIVELIHOOD DIVERSIFICATION AMONG ARABLE CROP FARMERS IN SHENDAM, PLATEAU STATE, NIGERIA
Keywords:
Agrarian community, determinants, diversification, livelihoods, smallholders, Nigeria
Abstract
Livelihood diversification is an integral component of household income. Diversification determinants were estimated. Multistage sampling was adopted, and primary data were analyzed using descriptive statistics and Logit regression. Socioeconomic factors affected livelihoods. Several diversification activities and derivable benefits are indicated. Variations in diversification decisions were attributable to the regression variables. Policy modifications and strategies that improve livelihoods are recommended.
References
Adger, W.N. (2006). Climate change and sustainable livelihood of rural people in Mongolia. Ministry of nature and environment of Mongolia. Netherlands climate change studies assistance programme.
Alobo-Loison, S. (2015). Rural Livelihood Diversification in Sub-Saharan Africa: A Literature Review. The Journal of Development Studies, 51(9):1125-1138.
Awoyemi, T. T. (2004) Rural Non-Farm Incomes and Poverty Reduction in Nigeria. A Report Submitted to AERC, Nairobi, Kenya
Aye, G.C. (2013). Efficiency and Policy Analysis in Agriculture: Methods and Applications. Saarbriiclcen, Germany: Lambert Academic Publishing.
Babatunde, RO & Martin, Q. (2009). Patterns of income diversification in rural Nigeria: determinates and impacts. Quarterly Journal of International Agriculture. 48(4): 305- 320
Barrett, C., Reardon, T., & Webb, P. (2001a). Non-farm income diversification and household livelihood strategies in rural Africa: concepts, dynamics, and policy implications. Food Policy, 26(4), 315-331.
Barrett, C. B., Bezuneh, M., & Aboud, A. (2001b). Income diversification, poverty traps and policy shocks in Cote d'lvoire and Kenya. Food Policy, 26(4), 367-384.
Barrett, C. B., & Reardon, T. (2000). Asset, Activity, and Income Diversification among African Agriculturalists: Some Practical Issues. University of Wisconsin-Madison Land Tenure Center: USAID BASIS CRSP.
Bezu, S., & Barrett, C. B. (2012). Employment dynamics in the rural non-farm sector in Ethiopia: Do the poor have time on their side? Journal of Development Studies, 48(9), 1223-1240.
Bezu, S., Barrett, C. B., & Holden, S. T. (2012). Does the non-farm economy offer pathways for upward mobility? Evidence from a panel data study in Ethiopia. World Development, 40(8): 1634-1646.
Bosc P.M. (ed.), Sourisseau J.M. (ed.), Bonnal P. (ed,), Gasselin P. (ed.), Gasselin P. (ed.), Valette E. (ed.), & Belieres J.F. (ed.) (2015). Diversite des agricultures familiales: Exister se transformer, devenir. Versailles: Ed. Quae, Nature et societe. 383 p.
Bryceson, D. F. (2002). African rural labor income diversification and livelihood approaches. A long-term development perspective. Review of African Political Economy, 80 (1): 171-189
Chavuim, N.D., Mulangu, F., & Porto, G. (2012). Food production and consumption trends in sub-Saharan Africa: Prospect for the transformation of agricultural sector. UNDP regional Bureau for Africa WP 2012-011.
Dcrcon, S. (2002). Income risk, coping strategies, and safety nets. The World Bank Research Observer, 17(2): 141-166.
Djurfeldt, A. A., & Jirstrom, M. (2013). Urbanization and changes in farm size in Sub-Saharan Africa and Asia from a geographical perspective, a review of the literature. Background Paper for the ISPC Foresight Study on Farm Size and Urbanization. Available at: http://www. Sciencecouncil.Cgiar. Org/sections/strategy-Trends
Djurfeldt, G., Aryeetey, E., & Isinika, A. C. (2011).
African Smallholders: Food Crops, Markets and Policy. CABI.
Ellis, F. (2000).Household strategies and rural livelihood diversification. Journal of Development Studies, 35(1), 1-38.
Hussein, K., Nelson, J. (1998). Sustainable Livelihood and Livelihood Diversification, IDS Working Paper 69
Joshi, P.K., Gulati, A., Birthal, P.S., & Tewari, L. (2004). Agriculture diversification in South Asia: patterns, determinants and policy implications: Economic and Political Weekly, 2457-2467.
Koczberski, G., Curry, G.N., & Gigson K. (2001). Improving productivity of the small holder oil palm sector in papua, New Ginea.A socio economic study of the hosking and popondetta schemes. Canberra; The Australian national university departmental working paper No. 19097.
Martin, S. M.& Lorenzen, K. (2016).Livelihood Diversification in Rural Laos. World Development
Vol. 83, pp. 231-243.
Mwabu, G. & Thorbecke, E. (2001) Rural Development, Economic Growth and Poverty Reduction in SubSaharan Africa. Paper Presented at AERC Biannual Research Workshop, December 16, Nairobi, Kenya
National Bureau of Statistics (NBS), 2012.Socio-economic Survey on Nigeria. First Quarter Report, NBS, Abuja
Oluwatayo, I. B. (2007) Determinants of Vulnerability to Poverty among Rural Households in Ekiti State, Nigeria. Unpublished PhD Thesis, Department of Agricultural Economics, University of Ibadan, Nigeria. 149pp.
Oluwatayo, I. B. 2009.Poverty and Income DiversificationAmong Households in Rural Nigeria: A Gender Analysis of Livelihood Patterns."Paper presented at the 2nd Institute) deEstudos Sociais de Economicos (IESE) conference ondynamics of poverty and patterns of economic accumulation,Mozambique, April 22-23, 2005, 1-21
Oni-Fashogbon, A.E (2013) Food poverty and livelihood issues in rural Nigeria. Afr.J.AgricrRes.tzon 8(2) 108-135.
Onuwa, G.C., Asogwa, B.C., Abu, O., & Ademiluyi, I.O. (2021). Determinants of Off-Farm Investments among Farm Households in Benue State, Nigeria. Journal of agricultural economics, extension and science (jaees). 7 (3): 154-170.
Sati, V.P., Wei, D., & Xue-Quian, S. (2015). Options and strategies for livelihood sustainability in monsichuan province, China. Span.j, Rural Dev. 6(3-4), 45 - 56.
Saha, B., & Bahal, R. (2010). Livelihood Diversification Pursued by farmers in West Bengal. Indian Research Journal of Extension Education, 10 (2), 1-9.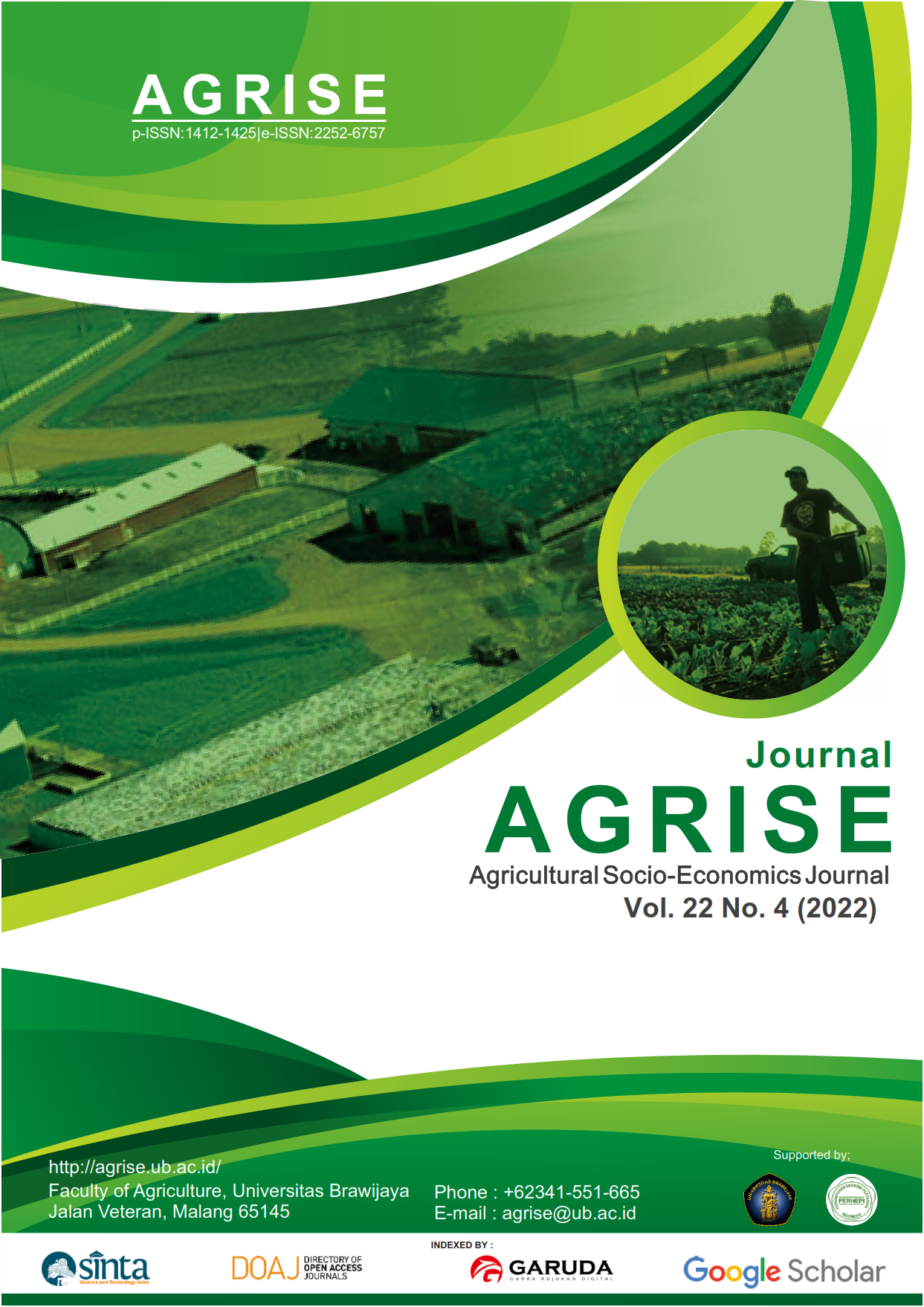 Downloads
How to Cite
Onuwa, G., Mailumo, S., Chizea, C., & Alamanjo, C. (2022). SOCIOECONOMIC DETERMINANTS OF LIVELIHOOD DIVERSIFICATION AMONG ARABLE CROP FARMERS IN SHENDAM, PLATEAU STATE, NIGERIA. Agricultural Socio-Economics Journal, 22(4), 301–309. https://doi.org/10.21776/ub.agrise.2022.022.4.7
License
Copyright (c) 2022 Godfrey Onuwa, Sambo Mailumo, Chizoba Chizea, Cosmas Alamanjo
This work is licensed under a Creative Commons Attribution-NonCommercial 4.0 International License.
Authors who publish with this journal agree to the following terms:
Authors retain copyright and grant the journal right of first publication with the work simultaneously licensed under a Creative Commons Attribution-NonCommercial License that allows others to share the work with an acknowledgment of the work's authorship and initial publication in this journal.
Authors are able to enter into separate, additional contractual arrangements for the non-exclusive distribution of the journal's published version of the work (e.g., post it to an institutional repository or publish it in a book), with an acknowledgment of its initial publication in this journal.
Authors are permitted and encouraged to post their work online (e.g., in institutional repositories or on their website) prior to and during the submission process, as it can lead to productive exchanges, as well as earlier and greater citation of published work (See The Effect of Open Access).