FARMERS' LIVELIHOODS STRATEGY BASED ON ASSET IN PANDANSARI VILLAGE POST ERUPTION OF MOUNT KELUD
Keywords:
Livelihood Strategies, Livelihood Assets, Farmer, Eruption, Kelud
Abstract
This study examines farmers' livelihood strategies based on livelihood assets in Pandansari Village, Ngantang District, Malang Regency. This study uses a quantitative descriptive approach using a Likert scale. Primary data were obtained through in-depth interviews using questionnaires and field observations, while secondary data were obtained through literature studies from various related sources. The location was determined purposively with the consideration that Pandansari Village was the area in Ngantang District that was the worst affected by the eruption of Mount Kelud. Seventy-five farmers with simple random sampling technique were selected as respondents in this study. The respondents' livelihood assets include human capital, natural capital, social capital, financial capital, and physical capital. Meanwhile, livelihood strategies are classified into survival strategies, consolidation strategies and accumulation strategies. The results show that the most vital livelihood asset is social capital, while the indicator for natural capital is the weakest. The strongest indicator of the farmer's livelihood strategy in Pandansari Village is the consolidation strategy.
References
Badan Litbang Pertanian - Kementrian Pertanian. (2015). Kajian Pengembangan Pertanian Pasca Erupsi Gunung Kelud. Badan Litbang Pertanian - Kementrian Pertanian.
Badan Nasional Penanggulangan Bencana. (2014). Rencana Nasional Penanggulangan Bencana 2010-2014. Jakarta: Badan Nasional Penanggulangan Bencana.
Badan Pusat Statistik. (2019). Keadaan Angkatan Kerja di Indonesia Agustus 2019 (S. S. Ketenagakerjaan, Ed.). Jakarta: Badan Pusat Statistik Republik Indonesia.
Chambers, R., & Conway, G. R. (1992). Sustainable rural livelihoods: practical concepts for the 21st century. IDS Discussion Paper, 296.
Dahlgreen, R. A., Saigusa, M., & Ugolini, F. C. (2004). The Nature, Properties, and Management of Volcanic Soils. In Advances in Agronomy (First Edit). California: Academic Press.
DFID. (2000). Sustainable Livelihoods Guidance Sheets. Retrieved from http://www.livelihoods.org/info/info_guidancesheets.html
Efendi, T. (2006). Perencanaan Pembangunan Daerah Bidang Pertanian (Studi tentang Perencanaan Pembangunan Pertanian Tanaman Pangan diKabupaten Pemalang, Propinsi Jawa Tengah). Program Pascasarjana UB, Malang.
Eswaran, H., Berg, E. V. A. N. D. E. N., & Reich, P. (1993). Organic Carbon in Soils of The Worlds. Soil Science Society of America Journal, 192–194.
Pospěch, P., & Spěšná, D. (2011). What is the importance of social capital in Czech agriculture? An analysis of selected components. Agricultural Economics, 57(6), 279–287. https://doi.org/10.17221/163/2010-agricecon
Rahayu, R., Ariyanto, D. P., Komariah, K., Hartati, S., Syamsiyah, J., & Dewi, W. S. (2014). Dampak Erupsi Gunung Merapi Terhadap Lahan Dan Upaya-Upaya Pemulihannya. Caraka Tani: Journal of Sustainable Agriculture, 29(1), 61. https://doi.org/10.20961/carakatani.v29i1.13320
Shoji, S., & Takahashi, T. (2002). Environmental and agricultural significance of volcanic ash soils. Global Environmental Research-English Edition, 6(2), 113–135. Retrieved from http://www.airies.or.jp/attach.php/6a6f75726e616c5f30362d32656e67/save/0/0/06_2-12.pdf
Singarimbun, & Effendi. (2006). Metode Penelitian Survai (Revisi ked). Jakarta Barat: Pustaka LP3ES Indonesia.
Scoones, I. (1998). Sustainable Rural Livelihoods a Framework for Analysis - IDS Working Paper 72.
Solimun dkk. (2018). Metode Statistika Multivariat Pemodelan Persamaan Struktural (SEM) Pendekatan WarpPLS (Keempat). Malang: UB Press.
Sugiyono. (2011). Metode Penelitian Kuantitatif, Kualitatif dan R&D. Bandung: Alfabeta.
Sulistyastuti, D. R., & Faturochman, F. (2016). Strategi Bertahan Hidup Di Tiga Wilayah. Populasi, 11(1), 59–82. https://doi.org/10.22146/jp.12332
Wijayanto, H., Affandi, A., & Soemarno, S. (2019). Pengaruh Livelihood Asset terhadap Livelihood Strategies Masyarakat Tepi Hutan di UB Forest Desa Tawangargo Kecamatan Karangploso Kabupaten Malang. Habitat, 30(2), 54–61. https://doi.org/10.21776/ub.habitat.2019.030.2.7
White, B. (1991). Economic Diversification and Agrarian Change in Java: 1900-1990. In The Shadow of Agriculture: Non-Farm Activities in The Javanese Economy: Past and Present, pp. 41–69.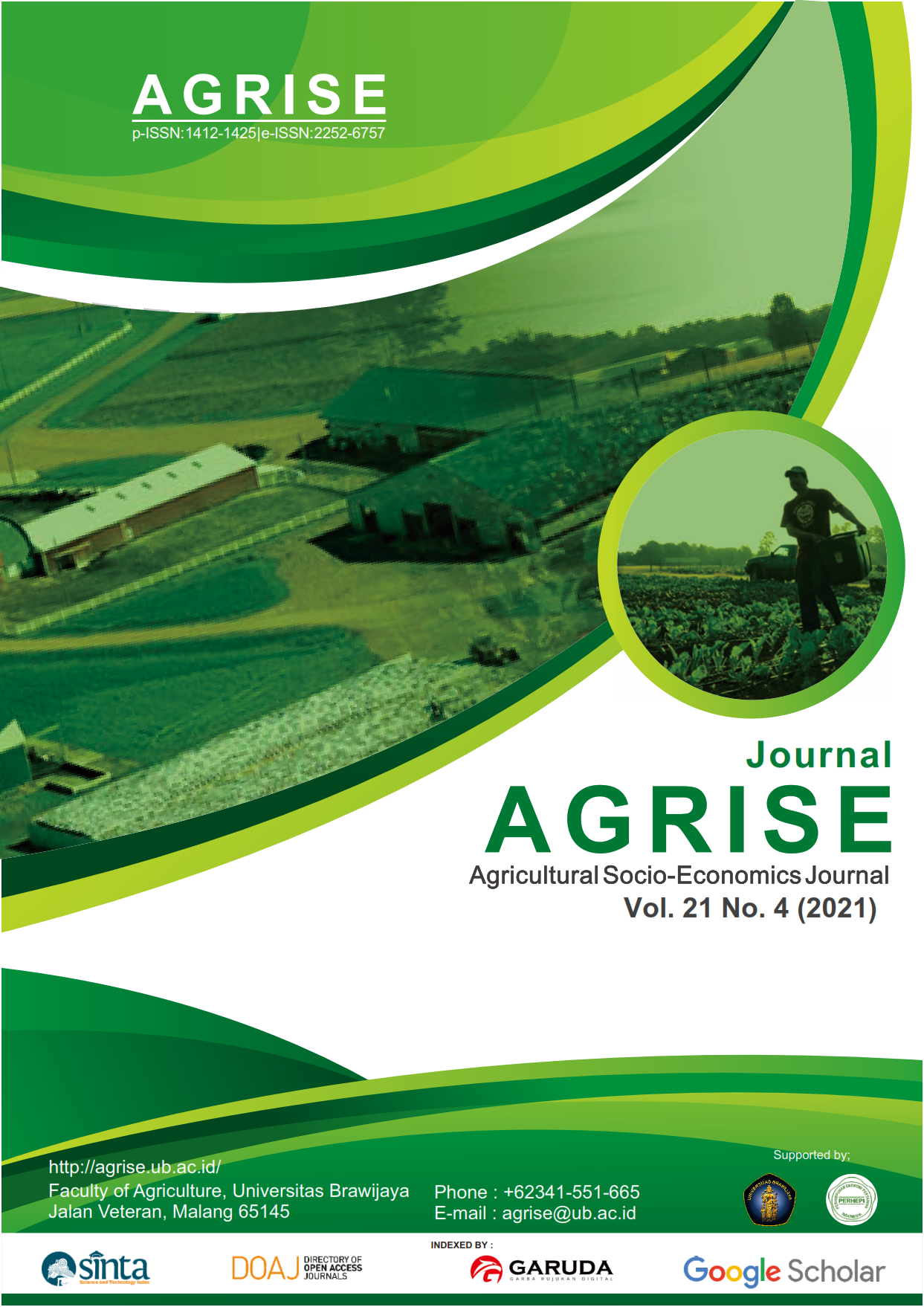 Downloads
How to Cite
Illu, A. R., Muhaimin, A. W., & Setiawan, B. (2021). FARMERS' LIVELIHOODS STRATEGY BASED ON ASSET IN PANDANSARI VILLAGE POST ERUPTION OF MOUNT KELUD. Agricultural Socio-Economics Journal, 21(4), 277–284. https://doi.org/10.21776/ub.agrise.2020.021.4.3
License
Authors who publish with this journal agree to the following terms:
Authors retain copyright and grant the journal right of first publication with the work simultaneously licensed under a Creative Commons Attribution-NonCommercial License that allows others to share the work with an acknowledgment of the work's authorship and initial publication in this journal.
Authors are able to enter into separate, additional contractual arrangements for the non-exclusive distribution of the journal's published version of the work (e.g., post it to an institutional repository or publish it in a book), with an acknowledgment of its initial publication in this journal.
Authors are permitted and encouraged to post their work online (e.g., in institutional repositories or on their website) prior to and during the submission process, as it can lead to productive exchanges, as well as earlier and greater citation of published work (See The Effect of Open Access).