THE IMPACT OF SHIRORO DAM PROJECT ON PRODUCTIVITY AND LIVELIHOOD DIVERSIFICATION OF RURAL FISHERFOLKS IN NIGER STATE, NIGERIA
Keywords:
Fisherfolks, impact, income, Shiroro dam project, Nigeria
Abstract
The interdependence of water, food and energy are widely recognized as important drivers of socioeconomic development. The objective of the study was to assess the impact of Shiroro Dam Project (SDP) on productivity and livelihood diversification of rural fisherfolks in Niger state, Nigeria. Primary data were collected from the fisherfolks with the aid of structured questionnaires. A multistage sampling procedure was used to select 363 fisherfolks from two LGAs, twelve villages and 1,210 sample frames. Two hundred and sixty (267) fisherfolks who are non-beneficiaries of SDP were also selected as counterfactual to examine the impact. The data were analyzed using descriptive statistics, Tobit regression, Propensity Score Matching (PSM) and the Local Average Treatment Effect (LATE) models. Result revealed that fishery activities were the most important source of income (68.3%) among the fisherfolks. The coefficients of length of fishing gears (-0.400), capacity of outboard engine (-0.005), household size (0.008), credit accessed for fishery (0.052) and per capita expenditure (0.306) were statistically significant factors influencing the extent of livelihood diversification of Shiroro dam fisherfolks. There was statistically significant difference between the mean income of fisherfolks (₦56,119.06 per annum) who benefitted from SDP and counterfactual (₦37,876.80). Similarly, the results of impact of SDP on productivity of fisherfolks revealed that the treatment effect on the treated (ATT) increases productivity of the benefitted fisherfolks by 2.8273 (38.1%), that ATU had a significant and positive impact (0.1282) on productivity, and the average effect of the treatment (ATE) for SDP fisherfolks has a positive difference of 0.6654 compared to the treated category. Fisherfolks should form a formidable social organization to benefit from economy of bulk purchase of farm inputs especially fishing gears and outboard engine, farm advisory services, increased access to credit, and access to other modern fishing techniques.
References
Abayomi, K. I., Murtala, A. I., Babatunde, O. and Suleiman, A. (2015). Trend analysis of hydro-meteorological data for river Kaduna at Shiroro dam site, Niger State, Nigeria. Journal of Scientific Research and Reports, 8(5), 1-12.
Bashir, A. and Kyung-Sook, C. (2018): A review of the evaluation of irrigation practice in Nigeria: Past, present and future prospects. Journal of Agricultural research, 13(40), 2087-2097.
Barrett, C. B., Reardon, T. and Webb, P. (2001). Non-farm income diversification and household livelihood strategies in rural Africa: concepts, dynamics, and policy implications. Food Policy, 26(4), 315-331.
Bernard, A. S. A., Samuel, A. and Edward E. O. (2014). Determinants of income diversification of farm housholds in the western region of Ghana. Quarterly Journal of International Agriculture, 53(1), 55-72.
Femi, M. O. and Adelomo B. S. (2016). Farm households' income sources diversification behavior in Nigeria. Journal of Natural Sciences Research, 6(4), 102-111.
FAO (2012).The state of world fisheries and aquaculture 2010 &2018. Food and Agricultural Organisation of the United Nations, Rome, Italy.
Heckman, J. J. and Hotz, V. J. (1989). Choosing among alternative non-experimental methods for estimating the impact of social programs: the case of manpower training. Journal of the American Statistical Association, 84(408), 862-874.
Heckman, J., Ichimura, H. and Todd, P. (1997). Matching as an Econometric Evaluation Estimator: Evidence from Evaluating a Job Training Program," Review of Economic Studies, 64, 605(654).
Hunermund, P. and Czarnitzki, D. (2016). Estimating the Local Average Treatment Effect of R&D Subsidies in a Pan-European Program. Discussion Paper No. 16-039, 42PP.
Idi, A. S. Damisa, M. A., Ahmed, B., Edekhogregor, O. I. and Oladimeji, Y. U. (2019). Macro-credit utilization and as impact on farmers maize output and household food security in Kaduna State, Nigeria. Journal of Agric. and Environment, 15(1),19-31.
Imbens, G. W. and Angrist J. D. (1994). Identification and estimation of local average treatment effects. Econometrica, 62(2), 467-476.
International Council for Science (ICSU) / the International Social Science Council (ISSC), (2015). Review of targets for the sustainable development goals: The science perspective. A report. 92pp.
Kolo, A. I. (1996). The assessment of physic-chemical parameters of Shiroro Lake and its major tributaries.
Oladimeji, Y. U., Abdulsalam, Z., Damisa, M. A., Ajao, A. M. and Sidi, A. G. (2013). Empirical analysis of artisanal fishery practices and constraints: a synergy to poverty alleviation and sustainable fishery development in north central, Nigeria. Ethiopia Journal of Applied Science and Technology, 4(2), 85 – 102.
Oladimejl, Y. U. and Abdulsalam, Z. (2015). Determinants of participation of rural farm households in non-farm activities in Kwara State, Nigeria: a paradigm of poverty alleviation. Ethiopian Journal of Env Studies and Management, 8(6), 635 – 649.
Oladimeji, Y. U., Abdulsalam, Z., Muhammed-Lawal, A., Adefalu, L. L., Adepoju, S. A. (2016). Economic analysis and effects of water hyacinth (Eichhornia crassipes) on artisanal fishery of river Niger in north-central Nigeria. Journal of Animal Production Research, 28(2), 338-349.
Oladimeji, Y. U. (2018). Effect of livelihood diversification strategies among rural artisanal fisherfolks in north-central and north-western Nigeria. African Journal of Agriculture Technology and Environment, 8(1), 1-15.
Philip, H., Brown, A., Desiree, T. B., Bryan, T. C., Darrin, M. D., Aaron, T. and Wolf, E. (2008). Modeling the costs and benefits of dam construction from a multidisciplinary perspective. Journal of Environmental Management, 1-8.
Readon, T. (1997).Using evidence of household of income diversification to inform study of rural non-farm labour market in African: World Development, Vol 25, No: 735-47. Resettlement in the Narmada Valley. New Delhi: Oxford University Press.
Rosenbaum, P. R. and Rubin, D. B. (1983). The central role of the propensity score in observational studies for causal effects. Biometrika, 70(1), 41-55.
Schwarze, S. and. Zeller, M. (2005). Income diversification of rural households in central Sulawesi, Indonesia. Quarterly Journal of International Agriculture, 44(1), 61-73.
Skinner, J., Niasse, M. and Haas, L. (2009). Sharing the benefits of large dams in West Africa. natural resource issues No. 19. International Institute for Environment a Development, London, UK.
Usman, A. and Ifabiyi, I. (2012). Socio-economic analysis of the operational impacts of shiroro hydropower generation in the lowland.
The World commission on Dams, WCD, (2000). Dams and development: a new framework for decision-making. A report, Eathscan publications Ltd, London and Sterling, VA pp. 404. Available at www.dams.org/ report.
Philip, H., Brown, A., Desiree, T. B., Bryan, T. C. Darrin, M. D., Aaron, T. and Wolf, E. (2008). Modeling the costs and benefits of dam construction from a multidisciplinary perspective. Journal of Environmental Management, 1-8.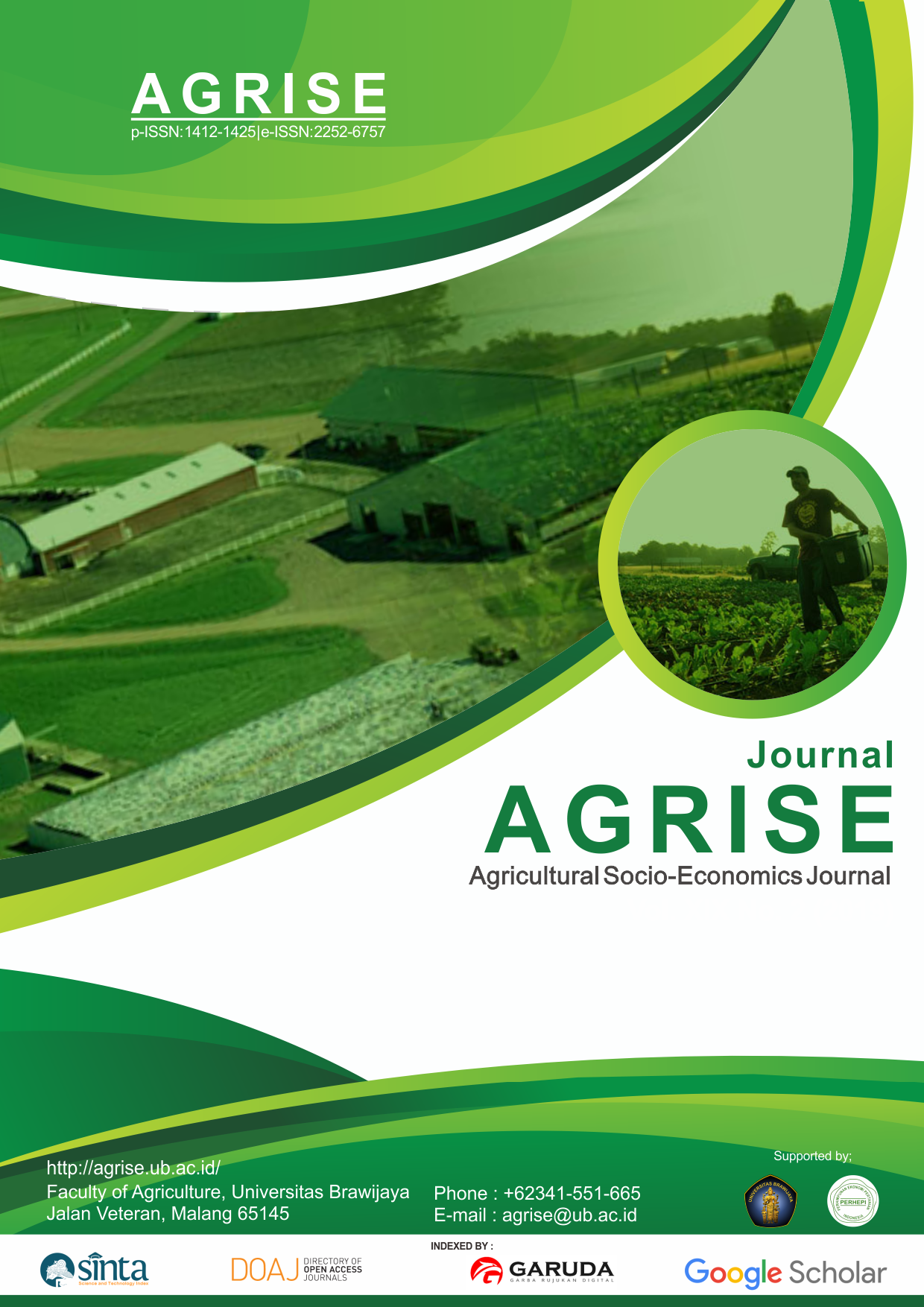 Downloads
How to Cite
Oladimeji, Y. U., Abubakar, A. B., & Abdulsalam, Z. (2020). THE IMPACT OF SHIRORO DAM PROJECT ON PRODUCTIVITY AND LIVELIHOOD DIVERSIFICATION OF RURAL FISHERFOLKS IN NIGER STATE, NIGERIA. Agricultural Socio-Economics Journal, 20(3), 191–200. https://doi.org/10.21776/ub.agrise.2020.020.3.2
License
Authors who publish with this journal agree to the following terms:
Authors retain copyright and grant the journal right of first publication with the work simultaneously licensed under a Creative Commons Attribution-NonCommercial License that allows others to share the work with an acknowledgment of the work's authorship and initial publication in this journal.
Authors are able to enter into separate, additional contractual arrangements for the non-exclusive distribution of the journal's published version of the work (e.g., post it to an institutional repository or publish it in a book), with an acknowledgment of its initial publication in this journal.
Authors are permitted and encouraged to post their work online (e.g., in institutional repositories or on their website) prior to and during the submission process, as it can lead to productive exchanges, as well as earlier and greater citation of published work (See The Effect of Open Access).