ANALISIS KEUNGGULAN KOMPARATIF KOMODITAS JAGUNG (Zea mays L.) DI KABUPATEN KEDIRI
Abstract
Penelitian ini dilakukan untuk mengetahui tingkat efisiensi dan keunggulan komparatif komoditas jagung. Oleh karena itu, tujuan dari penelitian ini adalah  untuk menganalisis keunggulan komparatif dan menganalisis kepekaan tingkat keunggulan komparatif komoditas jagung ketika terjadi perubahan variabel di lokasi penelitian. Metode yang digunakan adalah analisis biaya sumber daya domestik (DRC) dan analisis sensitivitas. Hasil penelitian menyebutkan bahwa komoditas jagung di Kabupaten Kediri memiliki keunggulan komparatif dan efisien dalam pengalokasian biaya sumberdaya domestik. Usahatani jagung dengan menggunakan sumberdaya domestik mampu menghemat devisa negara sebesar US $0.538 dari setiap unit US $1 yang diimpor. Hasil analisis sensitivitas menunjukkan bahwa penurunan produktivitas jagung berdampak negatif (menurunkan tingkat keunggulan komparatif). Bahkan jika terjadi penurunan produktivitas terus-menurus jagung akan kehilangan nilai keunggulan komparatifnya. Nilai tukar rupiah terhadap dollar Amerika yang melemah berdampak positif (meningkatkan keunggulan komparatif) jagung. Penurunan produktivitas jagung dan pelemahan nilai tukar rupiah terhadap dollar Amerika yang terjadi bersamaan berdampak negatif (dapat menurunkan tingkat keunggulan komparatif).
 
Kata kunci: Jagung, Keunggulan Komparatif, DRC, Sensitivitas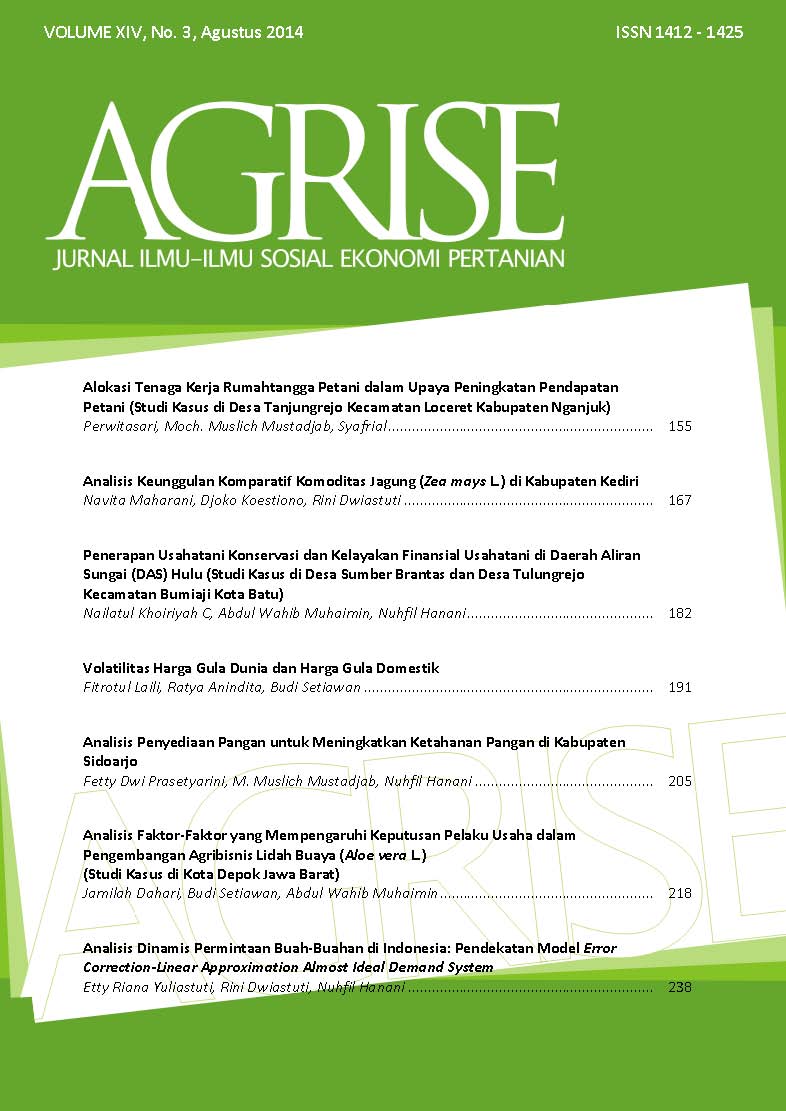 Downloads
How to Cite
Maharani, N., Koestiono, D., & Dwiastuti, R. (2015). ANALISIS KEUNGGULAN KOMPARATIF KOMODITAS JAGUNG (Zea mays L.) DI KABUPATEN KEDIRI. Agricultural Socio-Economics Journal, 14(3), 167. Retrieved from https://agrise.ub.ac.id/index.php/agrise/article/view/128
License
Authors who publish with this journal agree to the following terms:
Authors retain copyright and grant the journal right of first publication with the work simultaneously licensed under a Creative Commons Attribution-NonCommercial License that allows others to share the work with an acknowledgment of the work's authorship and initial publication in this journal.
Authors are able to enter into separate, additional contractual arrangements for the non-exclusive distribution of the journal's published version of the work (e.g., post it to an institutional repository or publish it in a book), with an acknowledgment of its initial publication in this journal.
Authors are permitted and encouraged to post their work online (e.g., in institutional repositories or on their website) prior to and during the submission process, as it can lead to productive exchanges, as well as earlier and greater citation of published work (See The Effect of Open Access).