ASSESSMENT OF THE AGRO-INPUT SUPPLY SECTOR IN KOGI STATE, NIGERIA
Keywords:
Agro-input, Supply chain, Actors, Kogi State, Nigeria
Abstract
Most farmers are experiencing challenges and constraints in accessing agricultural inputs, thus leading to poor and underutilization of agro inputs and consequently low agricultural productivity in most part of sub-Saharan Africa. This study assessed the agro-input supply sector in Kogi state. A total of 157 input dealers were randomly selected across the twenty-one local government areas in the state. Data were collected using well-structured questionnaire complemented with interview schedule and were analyzed using simple descriptive statistics. Findings reveal that agro-chemicals, fertilizer and feed were the major inputs supplied by most of the retailers and wholesalers that hardly engage in activities that create awareness about their products. Input prices were the most important preference and consideration factor in the purchase of agro-input by customers and form the basis for competition. Casual, family and child labours that proved to be cheaper, commonly accessible and do not require signing of formal employment contract with workers dominated both the retail and wholesale sectors. Poor government support, poor business condition in addition to poor capital base, high transportation cost, price fluctuations, adulteration were the identified major constraints affecting the agripreneurs. The study recommends capacity development on new marketing strategies, registration of businesses with relevant agencies, provision of credit and financial services; formation of formidable, strong and mutual-trust co-operative societies for input supply actors so as to enhance efficiency and effectiveness of the agricultural inputs supply sector in the state.
References
Adofu, I. Orebiyi, J.S. and Otitolaiye, J.O.(2013).Repayment performance and determinants of food crop farmers loan beneficiaries of Nigeria of Agricultural Cooperative and Rural Development Bank (NACRDB) in Kogi State, Nigeria (2008-2010). International Journal of Farming and Allied Sciences, 2(1):
Adofu, I., Shaibu, S.O. and Yakubu, S.(2011).The economic impact of improved agricultural technology on cassava productivity in Kogi State of Nigeria. International Journal of Food and Agricultural Economics, 1(1):63-74
Agrilink (2013). Developing Private Sector Input Supply Systems. https://www.agrilinks.org/events/developing-private-sector-input-supply-systems
Amrago, E.C. and Mensah, N.O.(2022).Trade credit from agrochemical vendors as an alternative source of finance for cabbage producers in the Bono East Region of Ghana. Agricultural Finance Review, (ahead-of-print).
Chainu, J.N., Mairura, F., Ekise, I. and Chianu, J.N.(2008).Farm input marketing in western Kenya: Challenges and opportunities. African journal of Agricultural Research, 3(3): 167-173.
Dogbe, W., Sogbedji, J., Mando, A., Buah, S.S.J., Natsugah, S.K., Kanton, R.A.L., ....... Ndiaye, K.(2021).Partnership for improved access to agro-inputs and technology: Some experiences from the emergence rice initiative project in Ghana. African Journal of Agricultural Research, 7(34): 4790-4802
Elakkiya, S. and Asokhan, M.(2021).Role and performance of Agri-input dealers in extension services in Coimbatore district of Tamil Nadu, India. Journal of Applied and Natural Science, 13(SI):156-161.
Federal Ministry of Agriculture and Rural Development(FMARD)(2016).The Agriculture Promotion Policy (2016–2020). Abuja, Nigeria: FMARD
Food and Agriculture Organization(FAO)(2015).Regional Overview of Food Insecurity. Accra, Ghana: FAO.
Goni, A.A.(2018).Role of men and women in agro-input business in North West, Nigeria. Journal of Agricultural Extension, 22 (1): 15-21
Handa, T., Khan, M.A. and Awasthi, H.K.(2021).Communicational behaviour of agri-input dealers and its role in knowledge and skill development.
Hornum, S.T. and Bolwig, S.(2021).A functional analysis of the role of input suppliers in an agricultural innovation system: The case of small-scale irrigation in Kenya. Agricultural Systems, 193:103219.
Kogi State Agricultural Development Programme(KSADP)(1995).Kogi State Agricultural Development Programme Annual Report. Kogi State Government Press: Lokoja
Malarkodi, M. and SD, S.(2018). Level of Knowledge Management Orientation, Marketing Capability and Firm Performance among Trained and Untrained Agri-Input Retailers.
Musyoka, D.M., Gathungu, E. and Gido, E.O.(2022).Factors influencing entrepreneurial orientation levels among agri-input suppliers in Nakuru county, Kenya. African Crop Science Journal, 30(s1), 171-183.
Mwesigwa, W.T.(2020). 4.5 prospects for financing agricultural inputs in Uganda. Agricultural Finance Year Book, 122.
Nwobodo, C.E. and Ajah, O.E.(2018).Assessment of linkages between agro-input dealers and other stakeholders in rice production in Ebonyi state, Nigeria. Current Journal of Applied Science and Technology, 29(6):1-9.
Nyarko, B., Oppong Mensah, N., Boateng, K.A. and Donkor, A.(2022).Influences of E- commerce Adoption on Sales performance among agrochemical input dealers in the Ghanaian City. Cogent Business and Management, 9(1):2038763.
Ogbalubi, L.N. and Wokocha, C.C.(2013).Agricultural development and employment generation: The Nigeria experience. IOSR Journal of Agriculture and Veterinary Science, 2(2): 60-69
Reddy, U.K.K., Satyagopal, P.V., Sailajaand, V. and Prasad, S.V.(2020).Profile characteristics of agri-input dealers. Department of Agricultural Extension, SV Agricultural College, ANGRAU, Tirupati, 517502.
Saha, A., Pal, P.K. and Mandal, T.K.(2015).Role and perceived quality of services of agro- advisory agents in Nadia district, West Bengal. International Journal of Farm Sciences, 5(3): 230-236.
Sanches, P.A. and Jama, B.A.(2002).Soil fertility replenishment takes off in easy Africa.
Sanga, C., Tumbo, S., Milozi, M.K.S. and Kilima, F.(2013).Stakeholders' analysis using value chain analysis: AHP in action. Interdisciplinary Studies on Information Technology and Business, 1(2):85-104
Singh, N., Gupta, B.K. and Gautam, U.S.(2021).Training needs assessment of agro-input dealers in Banda district of Uttar Pradesh. Indian Journal of Extension Education, 57(2):56-62.
Srishailam, B., Jirli, B. and Manasa, K.(2021).A critical analysis on performance of farm based agri-input entrepreneur in central Telangana region.
Syed, H.A. and Smriti, S.(2013).Buying preferences of customers for agri-inputs from organized rural retail stores. The International Journal's-Research Journal of Social Science and Management, 3(2):96-101
Ukwuteno, S.O.(2011).Economics of small-scale oil palm production in Kogi State, Nigeria. An unpublished Thesis submitted to the Department of Agricultural Economics, Faculty of Agriculture, University of Nigeria, Nsukka. Pp. 52
Urmi, P., Minati, M. and Tarun, K.O.(2020).Input supply in agriculture: The role of financial institutions
Verma, A.P., Yadav, V.R., Patel, D. and Roy, N.(2019).Relevance and utility of different training needs of input dealers in Jhansi District of Bundelkhand Region. Asian Journal of Agricultural Extension, Economics and Sociology, 37(4):1-8.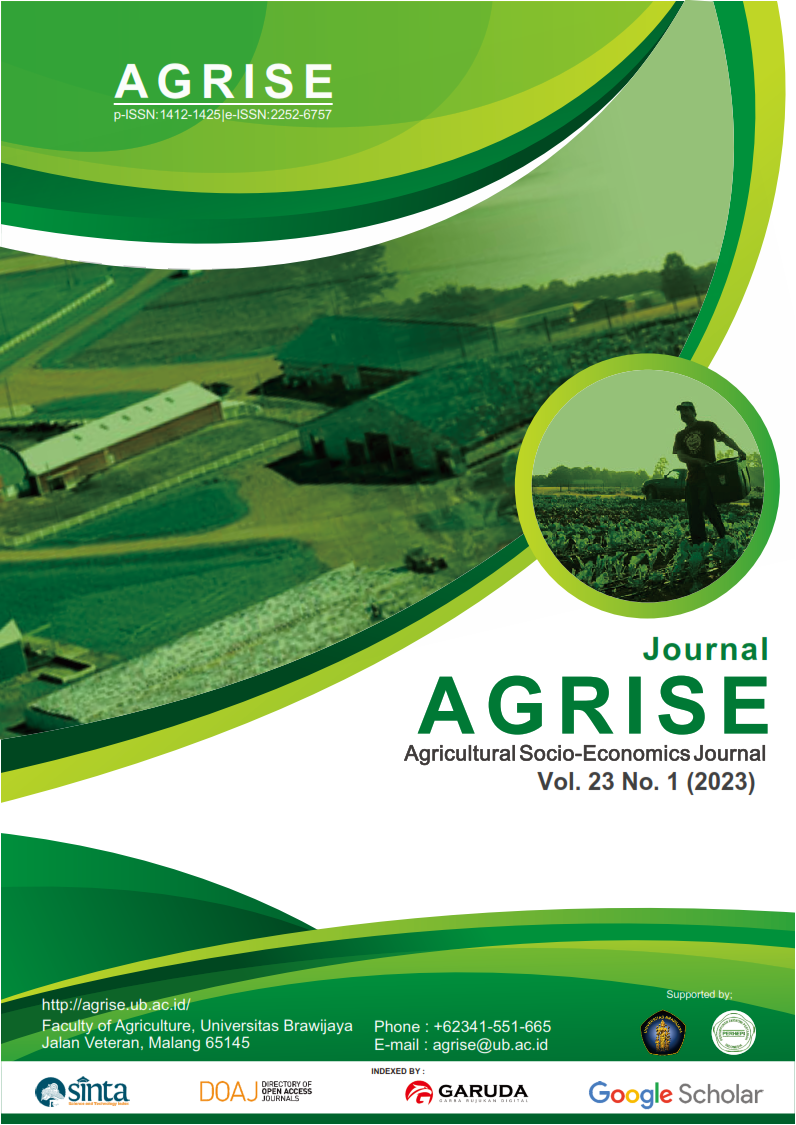 Downloads
How to Cite
Isah, M. A., Abdullahi, S. O., Aliyu, A. A., & Sadiq, S. M. (2023). ASSESSMENT OF THE AGRO-INPUT SUPPLY SECTOR IN KOGI STATE, NIGERIA. Agricultural Socio-Economics Journal, 23(1), 59–68. https://doi.org/10.21776/ub.agrise.2023.023.1.8
License
Copyright (c) 2023 Musa Ahmad Isah, Sanni Ozomata Abdullahi, Aishat Ammani Aliyu, Sanusi Mohammed Sadiq
This work is licensed under a Creative Commons Attribution-NonCommercial 4.0 International License.
Authors who publish with this journal agree to the following terms:
Authors retain copyright and grant the journal right of first publication with the work simultaneously licensed under a Creative Commons Attribution-NonCommercial License that allows others to share the work with an acknowledgment of the work's authorship and initial publication in this journal.
Authors are able to enter into separate, additional contractual arrangements for the non-exclusive distribution of the journal's published version of the work (e.g., post it to an institutional repository or publish it in a book), with an acknowledgment of its initial publication in this journal.
Authors are permitted and encouraged to post their work online (e.g., in institutional repositories or on their website) prior to and during the submission process, as it can lead to productive exchanges, as well as earlier and greater citation of published work (See The Effect of Open Access).