THE INFLUENCE OF COMPENSATION ON THE MOTIVATION AND PERFORMANCE OF MSMEs EMPLOYEES IN THE PRODUCTION OF SANAN TEMPEH CHIPS
Keywords:
Compensation, Motivation, Performance, MSMEs, Structural Equation Modelling (SEM), WarpPLS
Abstract
The study aims to determine the influence of compensation on motivation and employee performance in the MSMEs production of sanan tempeh chips. This research is a type of explanatory research. The research method quantitatively uses Structural Equation Modeling (SEM) analysis with the Warp Partial Least Square (WarpPLS) approach. Primary data were obtained through in-depth interviews using questionnaires, and field observations while secondary data were obtained through literature studies from various related sources. Selected 60 samples with simple random sampling technique as respondents in this study. The results showed that compensation had a positive and significant effect on motivation. Compensation also has a positive and significant effect on employee performance. Then motivation has a positive and significant influence on employee performance.
References
Hasbullah, R., & Rumansyah, H. B. (2011). Pengaruh Motivasi Terhadap Kinerja Karyawan di Outlet PT. Sinarmas Multifinance Cabang Telagasari Karawang. Jurnal Manajemen, 9(1), 548–559.
Kasmir. (2017). Manajemen sumber daya manusia (teori dan praktik). Jakarta: Raja Grafindo Persada.http://opac.lib.um.ac.id/index.php?s_data=bp_buku&s_field=0&mod=b&cat=3&id=58266
Kementerian Koperasi dan Usaha Kecil dan Menengah—Kemenkopukm.go.id. (2019). Retrieved November 10, 2021, from https://kemenkopukm.go.id/data-umkm/?ssUoEmT9BF50RkhJNYafRubgmD1Gu1icj2GofaogfjWxK46YSX
Kim, H. S., & Jang, S. (Shawn). (2020). The effect of increasing employee compensation on firm performance: Evidence from the restaurant industry. International Journal of Hospitality Management, 88, 102513. https://doi.org/10.1016/j.ijhm.2020.102513
Moeheriono, E., & Si, D. M. (2012). Pengukuran Kinerja Berbasis Kompetensi. Jakarta: Raja Grafindo Persada.
Qomariah, N. (2016). Pengaruh Program Kemitraan, Lingkungan Kerja Dan Motivasi Terhadap Kinerja Karyawan UMKM di Kecamatan Bangil. Jurnal Riset Ekonomi Dan Manajemen, 16(1), 145–159.
Rahardjo, M. (2015). The Influence of Learning Organization and Compensation on Work Motivation of Permanent Lecturers of S1 Management Study Program in Private Universities Accredited in DKI Jakarta. International Journal of Management Science and Business Administration, 1(8), 47–52.
Solimun, Fernandes, A. A. R., & Nurjannah. (2017). Metode Statistika Multivariat Pemodelan Persamaan Struktural (SEM) Pendekatan WarpPLS. Universitas Brawijaya Press.
Sudiardhita, K. I., Mukhtar, S., Hartono, B., Herlitah, Sariwulan, T., & Nikensari, S. I. (2018). The Effect of Compensation, Motivation of Employee and Work Satisfaction to Employee Performance Pt. Bank XYZ (Persero) TBK. Academy of Strategic Management Journal. https://www.abacademies.org/articles/the-effect-of-compensation-motivation-of-employee-and-work-satisfaction-to-employee-performance-pt-bank-xyz-persero-tbk-7432.html
Susilo, Y. (2012). Strategi meningkatkan daya saing UMKM dalam menghadapi implementasi CAFTA dan MEA. Buletin Ekonomi.
Tambunan, T. (2010). Paradigma Terhadap Peran UMKM di Indonesia Harus Dirubah. Editorial Agustus, 2010–2014.
UKM, D. K. &. (2018). SATU DATA - DINAS KOPERASI DAN UKM JATIM. Retrieved November 8, 2021, from https://data.diskopukm.jatimprov.go.id/satu_data/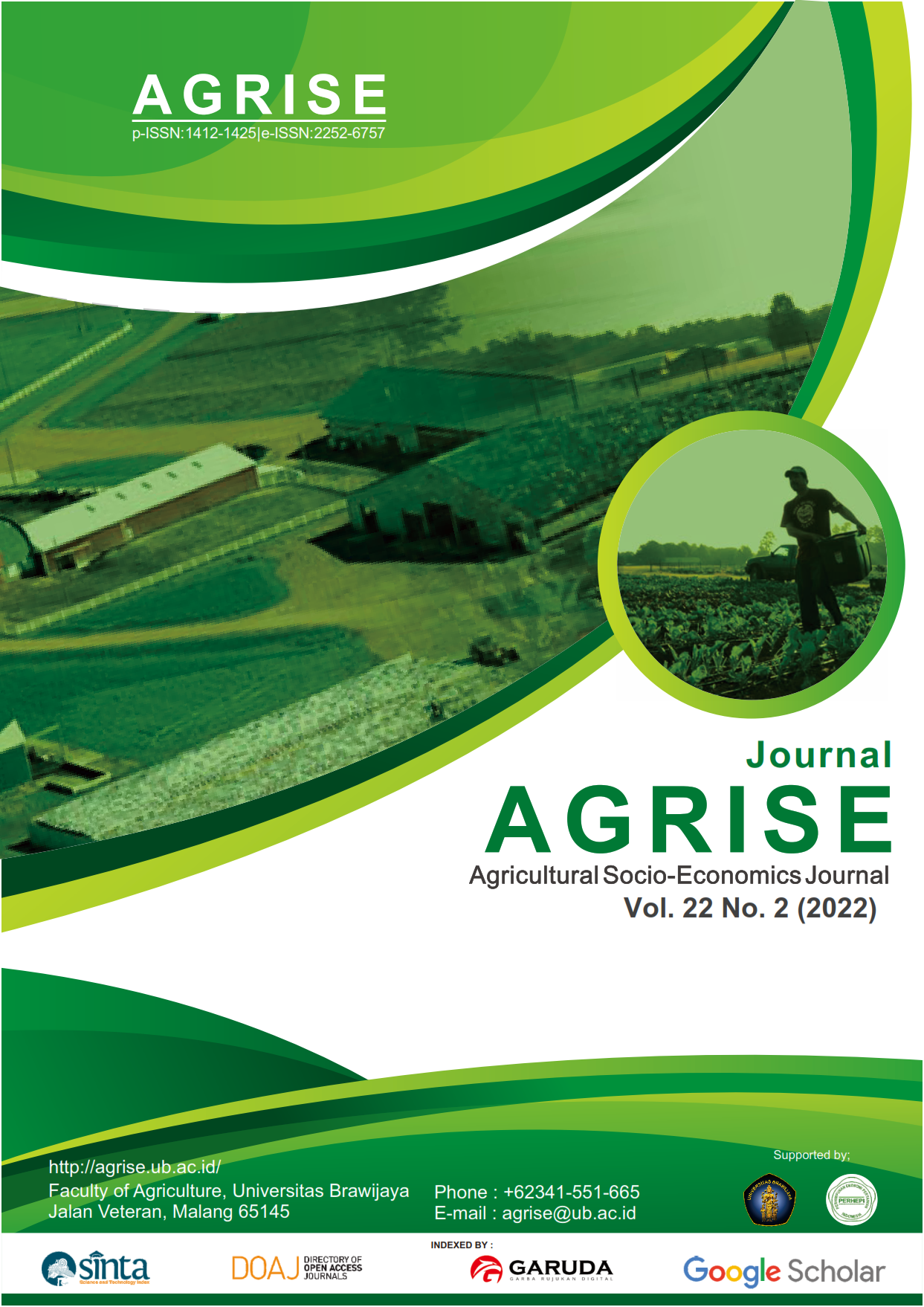 Downloads
How to Cite
Wahyuni, S., Koestiono, D., & Wahyuningtyas, A. S. H. (2022). THE INFLUENCE OF COMPENSATION ON THE MOTIVATION AND PERFORMANCE OF MSMEs EMPLOYEES IN THE PRODUCTION OF SANAN TEMPEH CHIPS. Agricultural Socio-Economics Journal, 22(2), 137–141. https://doi.org/10.21776/ub.agrise.2022.022.2.8
License
Authors who publish with this journal agree to the following terms:
Authors retain copyright and grant the journal right of first publication with the work simultaneously licensed under a Creative Commons Attribution-NonCommercial License that allows others to share the work with an acknowledgment of the work's authorship and initial publication in this journal.
Authors are able to enter into separate, additional contractual arrangements for the non-exclusive distribution of the journal's published version of the work (e.g., post it to an institutional repository or publish it in a book), with an acknowledgment of its initial publication in this journal.
Authors are permitted and encouraged to post their work online (e.g., in institutional repositories or on their website) prior to and during the submission process, as it can lead to productive exchanges, as well as earlier and greater citation of published work (See The Effect of Open Access).