THE SHAPE OF THE LEMURU FISH MARKET IN TERMS OF MARKET STRUCTURE ANALYSIS (CASE STUDY IN MUNCAR SUBDISTRICT, BANYUWANGI REGENCY, EAST JAVA)
Keywords:
number of marketing agencies, market concentration, product differentiation, the barriers to entry
Abstract
This study aims to analyze the structure of the Lemuru fish market that was formed in Muncar District, Banyuwangi Regency. There are two groups of respondents, fishermen (61 people) and marketing agencies (25 people). The sampling method used random sampling and slovin calculations to determine the number of fishermen respondents, the sample of marketing institutions used the snowball sampling method. To determine the market structure, the analysis used is the identification of the number of marketing institutions, market concentration using market share and CR4, product differentiation, and barriers to market entry. The results show that there are two marketing channels. Marketing channel one consists of 50 fishermen, five collectors, and seven retailers. Channel two consists of 11 fishermen and 13 retailers. From the analysis of market concentration using market share and CR4 at the fisherman and retailer level, a perfect competition market and a monopoly competition market at the collector level are formed. There is no product differentiation made by fishermen, collectors, and retailers. The barriers to entry and exit from the market faced by fishermen are natural and non-natural barriers, while collectors and retailers face non-natural barriers.
References
Abidin, Z. Harahab, N. Asmarawati, L. 2017. Pemasaran Hasil Perikanan. Malang: UB Press.
Anindita, R dan Baladina, N. 2017. Pemasara Produk Pertanian. Penerbit Andi Ofcet. Yogyakarta.
Apriono D, Dolorosa E, Imelda. 2012. Analisis efisiensi saluran pemasaran ikan lele di desa rasau jaya 1 kecamatan rasau jaya Kabupaten Kubu raya. Journal Socio Economic of Agriculture [Internet]. [diunduh tanggal 2020 jan 16]; 1(3):29-36.
Azhara, D. 2016. Struktur, Perilaku dan Kinerja Pemasaran Ikan Bandeng di Jawa Barat. Tesis. Institut Pertanian Bogor.
Kementerian Kelautan dan Perikanan. 2020. Peraturan Menteri Kelautan Dan Perikanan Republik Indonesia Nomor 58/Permen-KP/2020 Tentang Usaha Perikanan Tangkap.
Nendissa, D. R., Anindita, R., Hanani, N., & Muhaimin, A. W. (2018). Dynamics of Degree of Beef Cattle Market Concentration in Kupang of East Nusa Tenggara, Indonesia. Russian Journal of Agricultural and Socio-Economic Sciences, 78(6), 379–384
Nugraheni, D., Saputra, M. C., & Herlambang, A. D. (2018). Analisis Penerimaan dan Kesuksesan Implementasi E-Learning Universitas Brawijaya Pada Aspek Intention To Use, Use, User Satisfaction dan Net Benefits. 2(5), 1921–1931.
Pradini, S., Rahardjo, M. E., & Kaswadji, R. (2001). Kebiasaan Makanan Ikan Lemuru (Sardinella Lemuru) Di Perairan Muncar, Banyuwangi. Jurnal Iktiologi Indonesia, 1(1), 41–45.
Purwaningsih, R. (2015). Analisis Nilai Tambah Produk Perikanan Lemuru Pelabuhan Muncar Banyuwangi. Jurnal Ilmiah Teknik Industri, 14(1), 13–23.
Soekartawi, 2005. Prinsif Dasar Manajemen Pemasaran Hasil-hasil Pertanian, Raja Grafindo Persada, Jakarta.
Soung-hun, K. I. M. 2008. "Market Concentration of the Processed Food in Korea.†Journal of Rural Development, vol. 31, no. 5, 2008, pp. 25–47
Sustiyana, & Iswahyudi. (2019). Pola Saluran Pemasaran Dan Farmer' S Share. 3(2), 33–38.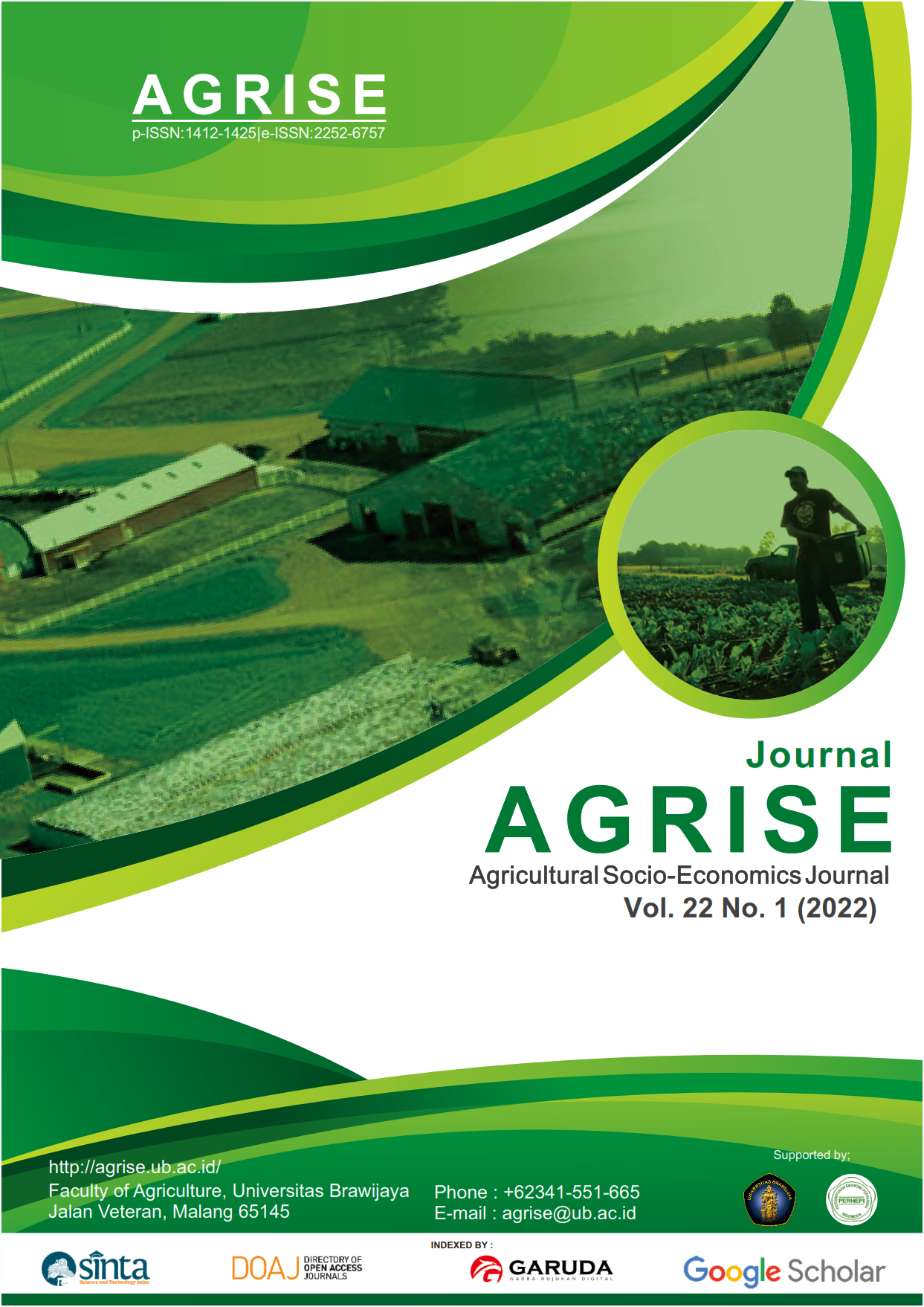 Downloads
How to Cite
Wicaksana, A. B., Setiawan, B., & Muhaimin, A. W. (2022). THE SHAPE OF THE LEMURU FISH MARKET IN TERMS OF MARKET STRUCTURE ANALYSIS (CASE STUDY IN MUNCAR SUBDISTRICT, BANYUWANGI REGENCY, EAST JAVA). Agricultural Socio-Economics Journal, 22(1), 47–52. https://doi.org/10.21776/ub.agrise.2022.022.1.7
License
Authors who publish with this journal agree to the following terms:
Authors retain copyright and grant the journal right of first publication with the work simultaneously licensed under a Creative Commons Attribution-NonCommercial License that allows others to share the work with an acknowledgment of the work's authorship and initial publication in this journal.
Authors are able to enter into separate, additional contractual arrangements for the non-exclusive distribution of the journal's published version of the work (e.g., post it to an institutional repository or publish it in a book), with an acknowledgment of its initial publication in this journal.
Authors are permitted and encouraged to post their work online (e.g., in institutional repositories or on their website) prior to and during the submission process, as it can lead to productive exchanges, as well as earlier and greater citation of published work (See The Effect of Open Access).