EGG CHICKEN RACE PRICE VOLATILITY IN INDONESIA BEFORE AND DURING COVID-19 PANDEMIC
Keywords:
Price volatility, Egg chicken race, COVID-19, ARCH/GARCH, Indonesia
Abstract
Understanding about dynamics of the price and volatility of a variety of food has gotten enough big attention in life Public because experience fluctuation sharp price consequences of turmoil economies. Crisis finance COVID-19 is one of the conditions crisis economy big problems experienced by Indonesia which triggered happening fluctuation the price is not stable (volatility) at producer level and also at consumer level. one ingredient food that has fluctuation price moment the COVID-19 pandemic is ingredient food egg chicken race. The study analyzed the volatility egg chicken race in Indonesia before and during the COVID-19 pandemic in Indonesia. The study used weekly egg chicken race price data at the producers and consumers level from March 2018-March 2022. The secondary data was obtained through Sistem Informasi Pasar Online Nasional-Ternak (SIMPONI-Ternak) by the Ministry of the Agriculture Republic of Indonesia. The analytical methods used in this study were Generalized Autoregressive Conditional Heteroscedasticity (GARCH) and autoregressive conditionally heteroscedastic approach (ARCH). The findings showed that the price of egg chicken race at producers and consumers level before the COVID-19 pandemic is categorized as a low volatility category and also at producer level during COVID-19 pandemics, while at the consumer level during COVID-19 pandemic is classified as high volatility category. Thus the research this has contributed is as follows. First, useful for designing policies with intervention to help food to the right community and provide regulation prices as an effort to repair prices price in reach stability price egg chicken race post the COVID-19 pandemic is good at the level of producer nor consumer. Second, evaluate the implication performance sector egg chicken race before and during COVID- 19 for destination development sustainable.
References
Ahmed, M. Y., & Sarkodie, S. A. (2021). COVID-19 pandemic and economic policy uncertainty regimes affect commodity market volatility. Resources Policy, 74(April),102303.https://doi.org/10.1016/j.resourpol.2021.102303
Ahmed, S., Siwar, C., Talib, B. A., Chamhuri, N., & Islam, R. (2014). Tackling Food Price Volatility: The Challenge of the Days to Come. UMK Procedia, 1(October 2013), 103–113. https://doi.org/10.1016/j.umkpro.2014.07.013
Baladina, N., Sugiharto, A. N., Anindita, R., & Laili, F. (2021). Price volatility of maize and animal protein commodities in Indonesia during the Covid-19 season. IOP Conference Series: Earth and Environmental Science, 803(1). https://doi.org/10.1088/1755-1315/803/1/012060
Dahl, R. E., Oglend, A., & Yahya, M. (2020). Dynamics of volatility spillover in commodity markets: Linking crude oil to agriculture. Journal of Commodity Markets, 20(November 2019). https://doi.org/10.1016/j.jcomm.2019.100111
Ghimire, D. R. (2020). The Effect of COVID-19 on Livelihood and Food Security: A Rapid Study in Nepal. Prithvi Academic Journal, https://doi.org/10.3126/paj.v3i1.31284, 39–51.
Goswami, S., & Chouhan, V. (2021). Impact of change in consumer behaviour and need prioritisation on retail industry in Rajasthan during COVID-19 pandemic. Materials Today: Proceedings, 46, 10262–10267. https://doi.org/10.1016/j.matpr.2020.12.073
Hairi, P. J. (2020). Implikasi Hukum Pembatasan Sosial Berskala Besar Terkait Pencegahan COVID-19. Info Singkat Bidang Hukum, 12(April), 1–6.
Janssens, W., Pradhan, M., de Groot, R., Sidze, E., Donfouet, H. P. P., & Abajobir, A. (2021). The short-term economic effects of COVID-19 on low-income households in rural Kenya: An analysis using weekly financial household data. World Development, 138, 105280. https://doi.org/10.1016/j.worlddev.2020.105280
Kemendag. (2020). Siaran Pers Siaran Pers. Surplus Neraca Perdagangan Semakin Menguat, Ekspor Agustus 2021 Catatkan Rekor Tertinggi, 5, 6–8.
Malone, T., Schaefer, K. A., & Lusk, J. L. (2021). Unscrambling U.S. egg supply chains amid COVID-19. Food Policy, 101(January), 102046. https://doi.org/10.1016/j.foodpol.2021.102046
Mawejje, J. (2016). Food prices, energy and climate shocks in Uganda. Agricultural and Food Economics, 4(1). https://doi.org/10.1186/s40100-016-0049-6
Minot, N. (2014). Food price volatility in sub-Saharan Africa: Has it really increased? Food Policy, 45, 45–56. https://doi.org/10.1016/j.foodpol.2013.12.008
Nugrahapsari, R. A., & Arsanti, I. W. (2019). Analizing Curly Chili Price Volatility in Indonesia Using the ARCH GARCH Approach. Jurnal Agro Ekonomi, 36(1), 25–37.http://dx.doi.org/10.21082/jae.v36n1.2018.25-37
Nwoko, I. C., Aye, G. C., & Asogwa, B. C. (2016). Oil price and food price volatility dynamics: The case of Nigeria. Cogent Food and Agriculture, 2(1), 1–14. https://doi.org/10.1080/23311932.2016.1142413
Saswati, B. I. C. C. D. R. T. (2011). Food Security and Conflict. World Development, 14.
Sumaryanto, N. (2016). Analisis Volatilitas Harga Eceran Beberapa Komoditas Pangan Utama dengan Model ARCH/GARCH. Jurnal Agro Ekonomi, 27(2), 135. https://doi.org/10.21082/jae.v27n2.2009.135-163
WHO. (2020). Coronavirus Disease 2019 (COVID-19) World Health Situation Report - 1. WHO Indonesia Situation Report, 2019(March), 1–6.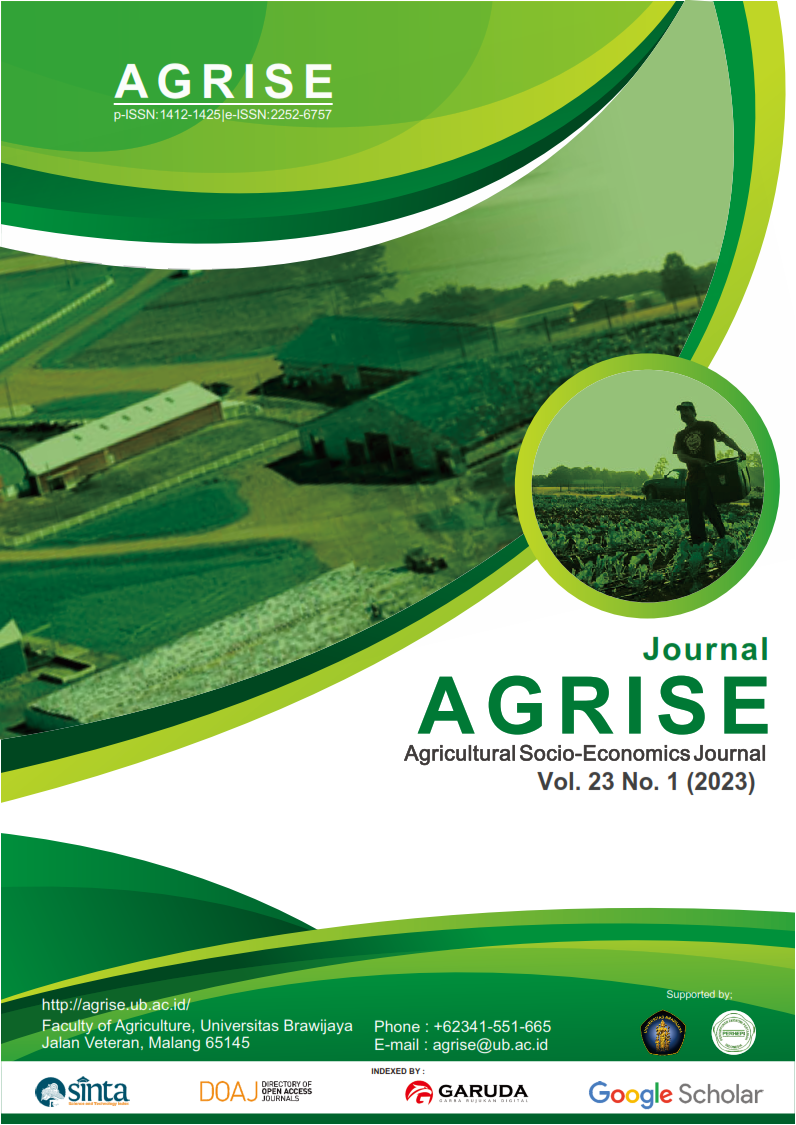 Downloads
How to Cite
Girsang, P. F., Toiba, H., & Syafrial, S. (2023). EGG CHICKEN RACE PRICE VOLATILITY IN INDONESIA BEFORE AND DURING COVID-19 PANDEMIC. Agricultural Socio-Economics Journal, 23(1), 25–31. https://doi.org/10.21776/ub.agrise.2023.023.1.4
License
Copyright (c) 2023 Putri Feronika Girsang, Hery Toiba, Syafrial Syafrial
This work is licensed under a Creative Commons Attribution-NonCommercial 4.0 International License.
Authors who publish with this journal agree to the following terms:
Authors retain copyright and grant the journal right of first publication with the work simultaneously licensed under a Creative Commons Attribution-NonCommercial License that allows others to share the work with an acknowledgment of the work's authorship and initial publication in this journal.
Authors are able to enter into separate, additional contractual arrangements for the non-exclusive distribution of the journal's published version of the work (e.g., post it to an institutional repository or publish it in a book), with an acknowledgment of its initial publication in this journal.
Authors are permitted and encouraged to post their work online (e.g., in institutional repositories or on their website) prior to and during the submission process, as it can lead to productive exchanges, as well as earlier and greater citation of published work (See The Effect of Open Access).