PROFITABILITY AND CONSTRAINTS OF IFAD/VCD RICE PROJECT AMONG SMALLHOLDER FARMERS IN NIGER STATE OF NIGERIA
Keywords:
Viability, Rice, IFAD Project, Niger State, Nigeria
Abstract
Failure to sustain most of the rural poor and food security programmes in Nigeria after their life span is due to poor productivity of the capital investment of a project to generate a remunerative income to sustain a typical agrarian farming household in Nigeria. Thus, to critically investigate this hypothetical proposition, this research aimed at evaluating the viability of the IFAD rice project among the beneficiaries in Niger State of Nigeria. Undated data of the 2018 rainfed cropping season was elicited from 111 farmers through a multi-stage sampling technique and the information were collected viaa structured questionnaire complemented with an interview schedule. Both descriptive and inferential statistics were used to analyze the data collected. The empirical results showed that the rice project in the study area is likely not to be sustained after the stipulated time frame for the programme as inspite of the programme aim of doubling farmers' income viz. value chain. The capital investment is not productive to sustain an average farming household composed of 8 persons having an operational holding of less than two hectares. Therefore, the study recommends provision of consumption credit in addition to the production credit advanced to the farmers in order to make the capital investment viable so that its turnover after each production season will be consistently re-invested into the rice project and possibility of a farmer taken-up additional activities along the chain, thus keeping the business going concern viable and sustainable.
References
Andrea, B.(2014).Linking Smallholder Farmers to Markets and the Implication for Extension and Advisory Services. MEAS Discussion Paper No. 4. United State Agency for International Development.
Ashley, C. and Maxwell, S.(2001).Rethinking rural development. Development Policy Review, 19(4):395-425.
Atala, T.K. and Hassan, M.B.(2012).Adopted Village Concept and Vision 20:2020. Paper presented at the North West Zonal REFILS Workshop, held at the Institute for Agricultural Research, Ahmadu Bello University, Zaria. 23-24 Feb. 2012.
Babatunde, O.(2006).Differential poverty reduction impact of small-scale irrigated development between its beneficiaries and non-beneficiaries in Nigeria. Technical Report on the Agropolis Award
Bagheri, A. and Fami, H.S.(2016).Potato growers' risk perception: A case study in Ardabil
Chambers, R.(1983).Rural development: Putting the last first. Essex. Addison Wesley Longman Limited
Churchill, G.A.(1979).A Paradigm for Developing Better Measures of Marketing Constructs. Journal of Marketing Research, 16(1):64-73
Etwire, P.M., Dogbe, W.,Wiredu, A.N., Martey, E., Etwire, E., Owusu, R.K. and Wahaga, E. (2013).Factors influencing farmer's participation in agricultural projects: The case of the Agricultural Value Chain Mentorship Project in the Northern Region of Ghana. Journal of Economics and Sustainable Development, 4(10):36-43
Francis, L., Katz, Y. and Jones, S.(2000).The reliability and validity of the Hebrew version of the computer attitude scale. Computer Education, 35(2):149-59.
Friedman, M.(1937).The use of ranks to avoid the assumption of normality implicit in the analysis of variance. Journal of American Statistical Association, 32(200):675
Hair, J.F., Anderson, R.E., Tatham, R.L. and Black, W.C.(1998).Multivariate DataAnalysis, 5th Edition.Prentice Hall, Upper Saddle River, NJ.
Kendall, M.G. and Smith, B.B.(1939a).On the method of paired comparisons. Biometrica, 31(3:4):324-345
Kendall, M.G. and Smith, B.B.(1939b).The problem of m ranking. The Annals of Mathematical Statistics, 10(3):275-287
Kumba, F.F.(2003).Farmer participation in agricultural research and extension service in Namibia. Journal of International Agricultural and ExtensionEducation, 10(3):47-55
Nunnaly, J.C.(1978).Psychometric Theory, 2nd ed., McGraw Hill, New York.
Nxumalo, K.K.S. and Oladele, O.I.(2013).Factors affecting farmers'participationin Agricultural Programme in Zululand District, Kwazulu Natal Province, South Africa. Journal of Social Science, 34(1):83-88.
Province of Iran.Journal of Agricultural Science Technology, 18:55-65
Purnomo, S.H. and Lee, Y.(2010).An assessment of readiness and barriers towards ICT programme implementation: Perceptions of agricultural extension officers in Indonesia. International Journal of Education and Development using Information and Communication Technology, 6(3), 19-36
Sadiq, M.S., Singh, I.P., Ahmad, M.M., Lawal, M., Kamaldeen, N. and Sani, T.P. (2018).Determining the perceived constraints affecting cassava farmers in Kwara State of Nigeria. FUDMA Journal of Agriculture and Agricultural Technology, 4(2):235-247
Sadiq, M.S., Singh, I.P., Isah, M.A., Greima, I.J. and Umar, S.M.(2017).Strategy of minimizing the cost of cultivation vis-Ã -vis boosting farm income of small-holder maize farmers in Niger State of Nigeria using Efficiency Measurement System (EMS). Indian Journal of Economics and Development, 17(2a):722-728
Schubert, R.(1994).Poverty in developing countries, its definition, extent and implications. Economics, Vol. 49/50.
Sidhart, B. and Pankaj, K.S.(2012).Agricultural economics at glance. Sharma publisher and distributors, New Delhi, India
Subba, R.S., Raghu, R.P., Neelakanta, S. T. A. and Bhavani, D.I.(2016).Agricultural Economics First Edition. Oxford and IBH publishing company PVT. Limited, New Delhi, India
Subba, R.S., Raghu, R.P., Neelakanta, S. T. A. and Bhavani, D.I.(2004).Agricultural Economics Second Edition. Oxford and IBH publishing company PVT. Limited, New Delhi, India
Wallis, W.A.(1939).The correlation ratio for ranked data. Journal of the American Statistical Association, 3(207):533-538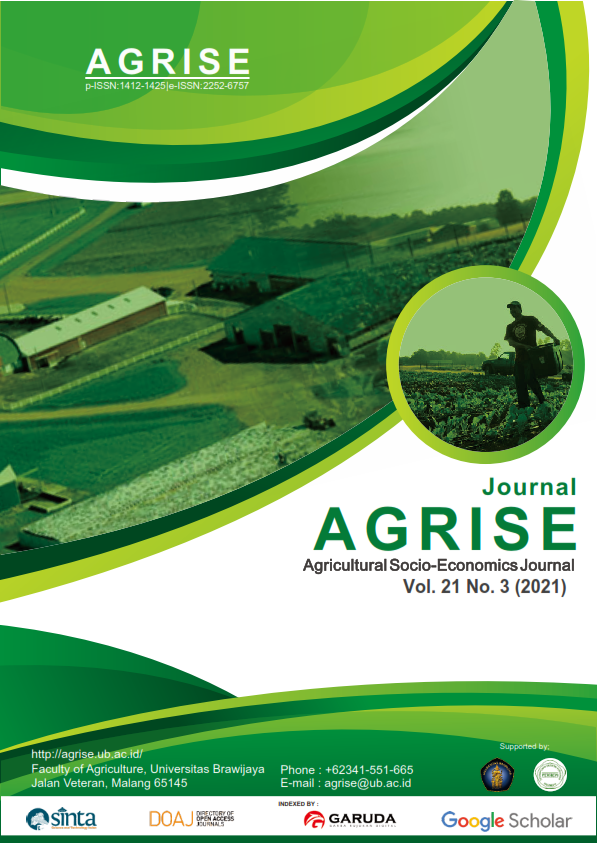 Downloads
How to Cite
Sadiq, S. M., Singh, P. I., Ahmad, M. M., Yunnusa, B. J., & Egba, M. S. (2021). PROFITABILITY AND CONSTRAINTS OF IFAD/VCD RICE PROJECT AMONG SMALLHOLDER FARMERS IN NIGER STATE OF NIGERIA. Agricultural Socio-Economics Journal, 21(3), 199–208. https://doi.org/10.21776/ub.agrise.2021.021.3.4
License
Authors who publish with this journal agree to the following terms:
Authors retain copyright and grant the journal right of first publication with the work simultaneously licensed under a Creative Commons Attribution-NonCommercial License that allows others to share the work with an acknowledgment of the work's authorship and initial publication in this journal.
Authors are able to enter into separate, additional contractual arrangements for the non-exclusive distribution of the journal's published version of the work (e.g., post it to an institutional repository or publish it in a book), with an acknowledgment of its initial publication in this journal.
Authors are permitted and encouraged to post their work online (e.g., in institutional repositories or on their website) prior to and during the submission process, as it can lead to productive exchanges, as well as earlier and greater citation of published work (See The Effect of Open Access).