CONSUMER PREFERENCES IN ECO-TOURISM DEVELOPMENT IN BALI WITH UGC (USER GENERATED CONTENT) APPROACH
Keywords:
User generated content (UGC), Consumer preferences, Ecotourism, Resort, PCA, Jaccard score, Z-score
Abstract
The concept of ecology-based tourism or ecotourism is the main attraction for tourists. This study was conducted to determine the attributes of superior ecotourism at resorts based on consumer preferences using the UGC (User Generated Content) approach. This study was use a non-probability sampling approach and the data analysis technique was the Jaccard Score, Z-Score and PCA rankings. The results show that ecotourism attributes that are consumer preferences based on UGC include natural beauty, accessibility, atmosphere, food and beverages, and service. In addition, the ranking of superior ecotourism attributes based on consumer preferences with a jaccard score coefficient from each resort, has a different rating. This rating also applies to the results of the binomial z-score test analysis which shows the level of consumer satisfaction with these attributes. Based on the PCA analysis, it was found that the resort hotel that has the potential to compete is between Legian and Oberoi. Resorts that have competitive potential are able to improve performance based on two main components formed from the PCA analysis, namely basic and advanced offers. The greater value of this coefficient means that the attribute has a large effect on improving performance and has an effect on resort decision making.
References
BPS. 2020. Jumlah Wisatawan Mancanegara ke Bali dan Indonesia , 1969-2020.
BPS Provinsi Bali. (2019). Jumlah Hotel Bintang di Bali Menurut Kabupaten/Kota dan Kelas, 2000-2019
Chevalier, J. A., & Mayzlin, D. (2006). The Effect of Word of Mouth on Sales: Online Book Reviews. Journal of Marketing Research, 43, 345-354.
Eilani, M., Arini, D., Ipb, K., (2013). The Role of Ministry of Internal Affairs in Ecotourism Development in Indonesia. 18(3), 135–141.
Firdauzi, A., Shinta, A., & Isaskar, R. (2021). Agrotourism Development Of Mapping Brand Positioning And Competitve Landscape Ugc ( User Generated Content ) Approach. 21(1), 65–78.
Hu, F., & Trivedi, R. H. (2020). Mapping hotel brand positioning and competitive landscapes by text-mining user-generated content. International Journal of Hospitality Management, 84(October 2018), 102317.
Kahn, M.E., 2007. Do greens drive hummers or hybrids? Environmental ideology as a determinant of consumer choice. Journal of Environmental Economics and Management. Vol 54 No 2, pp 129–145.
Lee, J.-S., Hsu, Jane, L.-T., Han, H., Kim, Y., 2010. Understanding how consumers view green: how a green image can influence behavioural intentions. Journal of Sustainable Tourism Vol 18 No 7, pp 901–914.
Nilashi, M., Ibrahim, O., Yadegaridehkordi, E., Samad, S., Akbari, E., & Alizadeh, A. (2018). Travelers decision making using online review in social network sites: A case on TripAdvisor. Journal of Computational Science, 28, 168–179.
Nurdiana, O., Jumadi & Nursantika, D., 2016. Perbandingan Metode Cosine Similarity dengan Metode Jaccard Similarity pada Aplikasi Pencarian Terjemah Al - Qur ' an. JOIN, I(1), pp.59–63.
Pradikta, A. (2013). Strategi Pengembangan Obyek Wisata Waduk Gunungrowo Indah Dalam Upaya Meningkatkan Pendapatan Asli Daerah (PAD) Kabupaten Pati. Economics Development Analysis Journal, 246 -256
Saksana, A. C., & Thio, S. (2019). Atribut-Atribut Yang Dinilai Penting Oleh Wisatawan Domestik Dan Wisatawan Cina Dalam Memilih Hotel Di Bali. Jurnal Manajemen Perhotelan, 5(1), 9–17.
Stepchenkova, S., Lu, W., 2012. Ecotourism experiences reported online: classifica- tion of satisfaction attributes. Tourism Management 33 (3), 702–712.
Supranto, J. 2010. Analisa Multivariat Arti & Interpretasi. Penerbit Rineka Cipta. Jakarta
Suradnya, I. (2006). Analisis Faktor-Faktor Daya Tarik Wisata Bali Dan Implikasinya Terhadap Perencanaan Pariwisata Daerah Bali. SOCA: Socioeconomics of Agriculture and Agribusiness, 6(3), 1–13.
Tuominen, P. (2011). The influence of tripadvisor consumer-generated travel reviews on hotel performance. 19th Annual Frontiers in Service Conference, 2011, 1–11.
Zhou, L., Ye, S., Pearce, P. L., & Wu, M. Y. (2014). Refreshing hotel satisfaction studies by reconfiguring customer review data. International Journal of Hospitality Management, 38, 1–10.
Zhu, F., & Zhang, X. (Michael). (2010). Impact of online consumer reviews on sales: The moderating role of product and consumer characteristics. Journal of Marketing, 76(2), 133–148.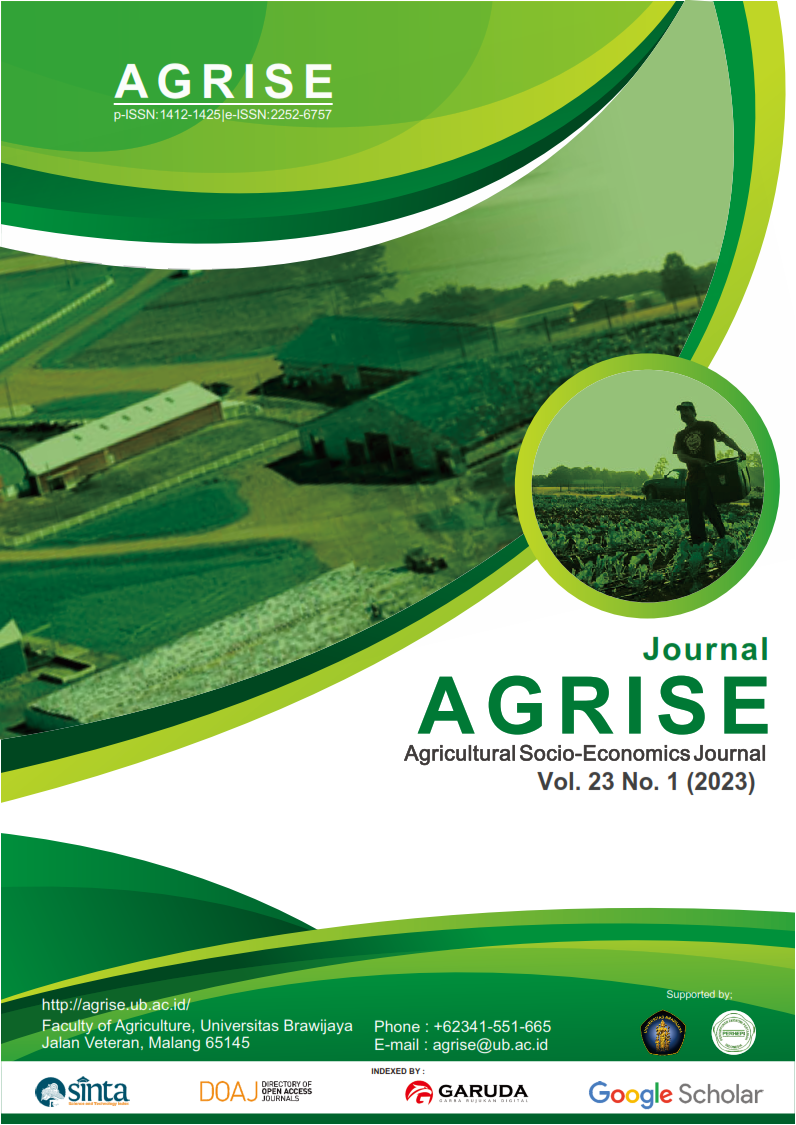 Downloads
How to Cite
Widayanti, A. V., Wahyuningtyas, A. S. H., & Faizal, F. (2023). CONSUMER PREFERENCES IN ECO-TOURISM DEVELOPMENT IN BALI WITH UGC (USER GENERATED CONTENT) APPROACH. Agricultural Socio-Economics Journal, 23(1), 45–52. https://doi.org/10.21776/ub.agrise.2023.023.1.6
License
Copyright (c) 2023 Annisa Vira Widayanti, Agustina Shinta Hartati Wahyuningtyas, Febriananda Faizal
This work is licensed under a Creative Commons Attribution-NonCommercial 4.0 International License.
Authors who publish with this journal agree to the following terms:
Authors retain copyright and grant the journal right of first publication with the work simultaneously licensed under a Creative Commons Attribution-NonCommercial License that allows others to share the work with an acknowledgment of the work's authorship and initial publication in this journal.
Authors are able to enter into separate, additional contractual arrangements for the non-exclusive distribution of the journal's published version of the work (e.g., post it to an institutional repository or publish it in a book), with an acknowledgment of its initial publication in this journal.
Authors are permitted and encouraged to post their work online (e.g., in institutional repositories or on their website) prior to and during the submission process, as it can lead to productive exchanges, as well as earlier and greater citation of published work (See The Effect of Open Access).