CONSUMER ACCEPTANCE OF HIGH ZINK NUTRITIONAL RICE
Keywords:
attitude, consumer acceptance, nutrizinc, preference, rice
Abstract
Nutrizinc rice is a biofortified variety designed with the advantage of high specific nutritional value, especially at higher levels of zinc nutrition compared to Ciherang rice. The mineral zinc is useful for preventing stunting in humans, and to help protect the human immune system from the attack of the COVID-19 virus. However, this variety has just been promoted by The Assessment Institute for Agricultural Technology (AIAT, in Indonesian: Balai Pengkajian Teknologi Pertanian, BPTP) Gorontalo Province so people are still not familiar with this rice. Therefore, it is important to conduct research related to the analysis of the level of consumer acceptance aimed at knowing consumer preferences and attitudes towards the attributes of high-zinc nutritious rice. The study had 60 respondents who were chosen by chance (accidental). This study used Chi Square analysis (X2) to see the differences in consumer preferences for the attributes of high zinc nutritional rice with various cooking methods and the ratio between rice and water. Meanwhile, Fishbein Multi-attribute analysis was used to determine consumer attitudes towards the attributes of high-zinc nutritional rice. The results showed that the different methods of cooking and adding water to the rice did not significantly change the flavor, color, and aroma of the rice, on the contrary, it only changed the texture of the rice. The high-zinc nutritional rice that consumers like was rice that had a slightly sweet flavor, fluffier texture, bright white color, and has no odor. In addition, the color and texture attributes of rice with high zinc nutrition were the most dominant considerations compared to other attributes in deciding to buy or consume rice with high zinc nutrition.
References
Amridha, Y., Heryanto, M. A., Saefudin, B. R., & Awaliyah, F. (2020). The Analysis of The Employee's Job Satisfaction and Performance In Private Agricultural Company. Mahatani: Jurnal Agribisnis (Agribusiness and Agricultural Economics Journal), 2(2): 122-130.
Ar-Rozi, M. F., Masitoh, S., & Miftah, H. (2020). Analisis Persepsi Konsumen Beras Organik dan Faktor-Faktor yang Mempengaruhinya (Kasus Orang Tua Siswa Sekolah Alam Indonesia–Studio Alam, Depok). Jurnal Agribisains, 6(2), 89-100.
Astutik, A.D., Maflahah, I., & Rakhmawati. (2019). Analisis Preferensi Konsumen Terhadap Garam Fortifikasi Kelor. AGRIEKONOMIKA, 8(2), 117-127.
Fahmi, I. (2016). Perilaku Konsumen; Teori dan Aplikasi. Bandung: Penerbit Alfabeta.
Fielnanda, R., & Sahara, N. (2018). Pola Konsumsi Rumah Tangga Nelayan Di Desa Mendahara Ilir Kec. Mendahara Kabupaten Tanjung Jabung Timur. ILTIZAM Journal of Shariah Economics Research, 2(2), 89-107.
Idaman, N., Yuliati, L. N., & Retnaningsih, R. (2012). Sikap konsumen terhadap beras organik. Jurnal Manajemen & Agribisnis, 9(2), 117-126.
Kant, I., Pandelaki, A. J., & Lampus, B. S. (2013). Gambaran kebiasaan makan masyarakat di perumahan allandrew permai kelurahan Malalayang I lingkungan XI Kota Manado. Jurnal kedokteran komunitas dan tropik, 1(3): 88-95.
Kotler, P. (2000). Manajemen Pemasaran. Jilid I. Edisi Millenium. Jakarta: Prenhallindo.
Kumar, A., Kubota, Y., Chernov, M., & Kasuya, H. (2020). Potential role of zinc supplementation in prophylaxis and treatment of COVID-19. Medical hypotheses, 144: 1-3.
Mardiah, Z., Rakhmi, A. T., Indrasari, S. D., & Kusbiantoro, B. (2016). Evaluasi mutu beras dalam penentuan pola preferensi konsumen terhadap beras di Pulau Jawa. Jurnal Penelitian Pertanian Tanaman Pangan, 35(3), 163-172.
Mukti, K. S., Rohmawati, N., & Sulistiyani, S. (2018). Analisis kandungan karbohidrat, glukosa, dan uji daya terima pada nasi bakar, nasi panggang, dan nasi biasa. Jurnal Agroteknologi, 12(01), 90-99.
Nababan, S. S. (2013). Pendapatan dan jumlah tanggungan pengaruhnya terhadap pola konsumsi PNS dosen dan tenaga kependididkan pada fakultas ekonomi dan bisnis Universitas Sam Ratulangi Manado. Jurnal EMBA: Jurnal Riset Ekonomi, Manajemen, Bisnis dan Akuntansi, 1(4): 2130-2141.
Nurdin, B. V., & Kartini, Y. (2017). "Belum Makan Kalau Belum Makan Nasi": Perspektif Sosial Budaya dalam Pembangunan Ketahanan Pangan. SOSIOLOGI: Jurnal Ilmiah Kajian Ilmu Sosial dan Budaya, 19(1): 15-21.
Nurmalina, R., & Astuti, E. P. (2011). Analisis Preferensi dan Kepuasan Konsumen terhadap Beras di Kecamatan Mulyorejo Surabaya Jawa Timur (The Analysis of Preferences and Customer Satisfaction on Rice in Mulyorejo District, Surabaya, East Java). Jurnal Sains Terapan, 1(1), 42-53.
Okkysantria, D., & Hendrawan, D. (2013). Analisis Pengaruh Kebudayaan, Sosial, Pribadi Dan Psikologis Konsumen Usia Muda Terhadap Keputusan Pembelian Makanan Cepat Saji Mcdonald's (Studi Pada Konsumen Mcdonald's Watugong Malang). Jurnal Ilmiah Mahasiswa FEB, 2(2): 1-8.
Priyambodo, C.S., Sastryawanto, H. & Hermawati, D.T. (2019). Analisis Preferensi Konsumen Buah Jeruk di Pasar Keputran Utara, Surabaya. Jurnal Ilmiah Sosio Agribis, 19(1):85-10.
Rachmaningrum, C. A., & Kusumastuti, A. C. (2016). Pengaruh Suplementasi Seng (Zn) Dan Zat Besi (Fe) Terhadap Kadar Hemoglobin Balita Usia 3-5 Tahun. Journal of Nutrition College, 5(4), 328-333.
Rasmikayati, E., Syamsiah, S. T., Sadeli, A. H., & Saefudin, B. R. (2021). Preferensi Konsumen Terhadap "Private Label" Ritel Modern Dikaitkan Dengan Karakteristik Konsumen: Studi Kasus Pada Produk Gula Di Lotte Mart Bandung. Mimbar Agribisnis: Jurnal Pemikiran Masyarakat Ilmiah Berwawasan Agribisnis, 7(1), 747-766.
Selian, D. A., & Jannah, M. (2018). Faktor-faktor yang Mempengaruhi Pola Konsumsi Rumah Tangga Keluarga Miskin di Desa Tertinggal Kabupaten Aceh Tengah. J-EBIS (Jurnal Ekonomi dan Bisnis Islam), 3(1): 37-56.
Semaoen, I., & Kiptiyah, S.M. (2011). Mikro Ekonomi (Level Intermediate). Malang: UB Press.
Simanura, B. (2004). Panduan Riset Perilaku Konsumen. Jakarta: PT Gramedia Pustaka Utama.
Sunandar, N., Ramdhani, M., Sirnawati, E., Rohaeni, W. R., & Susanto, U. (2021, June). Production of Extension Seed Through Local Stakeholders' Contribution: A Case study of Superior Rice Variety (SRV) Inpari IR Nutri Zinc. In International Seminar on Promoting Local Resources for Sustainable Agriculture and Development (ISPLRSAD 2020) (pp. 433-437). Atlantis Press.
Surjadi, C. (2013). Globalisasi dan pola makan mahasiswa: Studi kasus di Jakarta. Cermin Dunia Kedokteran, 40(6), 416-421.
Trihaditia, R. (2018). Penentuan nilai optimasi dari karakteristik organoleptik aroma dan rasa produk teh rambut jagung dengan penambahan jeruk nipis dan madu. AGROSCIENCE, 6(1), 20-29.
Wibowo, A. (2017). Uji Chi-Square pada statistika dan SPSS. Jurnal Ilmiah SINUS, 4(2): 37-46
Yunita, Y., Lifianthi, L., & Arbi, M. (2019). Preferensi Konsumen terhadap Tingkat Kepentingan Atribut Beras dan Konsumsi Beras Rumah Tangga dengan Pendapatan yang Berbeda di Kota Palembang. In Seminar Nasional Lahan Suboptimal (No. 1, pp. 459-467).
Yusriana, Y., Erfiza, N. M., Jainuddin, J., & Nilda, C. (2017). Preferensi Konsumen Terhadap Produk Kue Bhoi Khas Aceh di Kota Banda Aceh. Jurnal Teknologi dan Industri Pertanian Indonesia, 9(2), 76-81.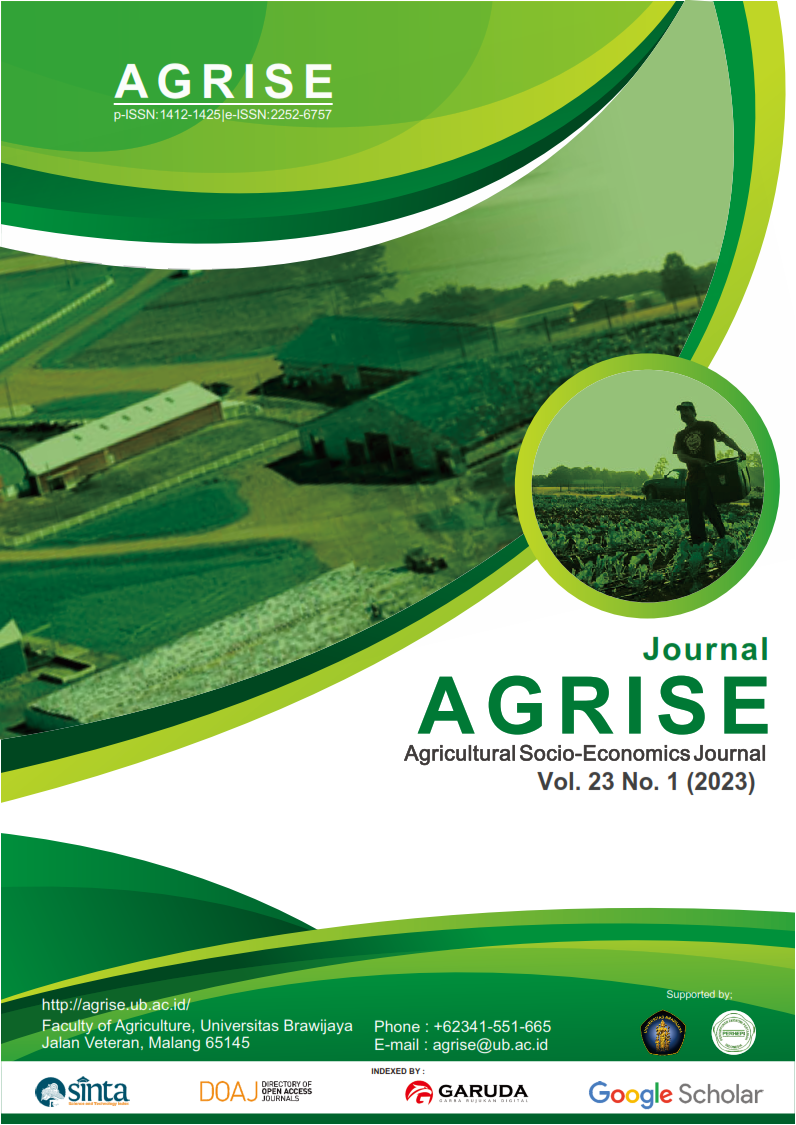 Downloads
How to Cite
Akilie, M. S., Ashari, U., & Xyzquolyna, D. (2023). CONSUMER ACCEPTANCE OF HIGH ZINK NUTRITIONAL RICE. Agricultural Socio-Economics Journal, 23(1), 33–43. https://doi.org/10.21776/ub.agrise.2023.023.1.5
License
Copyright (c) 2023 Muhammad Sudirman Akilie, Ulfira Ashari, Deyvie Xyzquolyna
This work is licensed under a Creative Commons Attribution-NonCommercial 4.0 International License.
Authors who publish with this journal agree to the following terms:
Authors retain copyright and grant the journal right of first publication with the work simultaneously licensed under a Creative Commons Attribution-NonCommercial License that allows others to share the work with an acknowledgment of the work's authorship and initial publication in this journal.
Authors are able to enter into separate, additional contractual arrangements for the non-exclusive distribution of the journal's published version of the work (e.g., post it to an institutional repository or publish it in a book), with an acknowledgment of its initial publication in this journal.
Authors are permitted and encouraged to post their work online (e.g., in institutional repositories or on their website) prior to and during the submission process, as it can lead to productive exchanges, as well as earlier and greater citation of published work (See The Effect of Open Access).