URBAN AGRICULTURE COMMERCIALIZATION; AN ALTERNATIVE TO FOOD SECURITY (Case of Mekelle city)
Keywords:
Dairy Products, Urban Agriculture, commercialization, binary Dairy Product model, Extent of commercialization
Abstract
The study was commenced with the general objective of urban Agriculture commercialization specifically Dairy Product in Mekelle city, Tigrai Ethiopia .100 households were selected using simple random sampling method. Data were collected using formal survey which is questionnaire. The data collected were processed using both descriptive and two stage least square method/ Multiple regression econometric models specifically logit model. The binary Dairy Product model results revealed that Extent of education of the household head, family size, distance to the nearest market center, and total Dairy Product owned played significant role in commercialization decision. The second-step selection estimation indicated that Extent of education of the household head, visit by extension agents, total dairy products owned and owned land size significantly affected Extent of commercialization measures the fraction of sales to the total value of dairy products owned by the household. The researchers recommend that any stakeholder,   institutions like agricultural institute , government with its extension workers and other development institutions and partners should give due emphasis on capacity building through formal and informal ways, which increases the owner of the Dairy Product a bargaining power in the market by getting information related price, demand and supply , production and management technologies Besides, facilitate Dairy Product market outlets near to them in the region and creating an interface with other regions, which minimize operation and increment efficiency. Finally, stakeholders should give emphasis to the major challenges of market infrastructure, shortage in pasture lands and disease for they could create a bottleneck effect in the remedy and food of the society positively and negatively measuring their implementation performance.
References
Buechler, S., Hertog, W. Veenhuizen, R. van. (2002). Editorial. Urban Agriculture Magazine, no 8.Leusden, RUAF.
Buechler, S. and Devi, G.( 2006). Adaptations of wastewater-irrigated farming systems: a case study of Hyderabad, India. In van Veenhuizen, R. Cities farming for the future: urban agriculture for green and productive cities. RUAF Foundation/IDRC/IIRR, Leusden.
Burleigh, J.R. & Black, L.L. (2001) . Supporting farmers towards safe year-round vegetables in periurban Manila. Urban Agriculture Magazine, no 3. January 2001. Health and urban agriculture. Leusden, RUAF.
FAO: (2007): profitability and sustainability of urban and peri-urban agriculture, agricultural management, marketing and finance, occasional paper
FAO. (1999). Urban and peri-urban agriculture: a new challenge for the UN Food and Agriculture Organization, by A.W. Drescher & D. Iaquinta. Rome. (Internal report)
FAO. (2000). Food for the cities: food supply and distribution policies to reduce urban food insecurity, by O.Argenti. Rome.
FAO. (2001a). A briefing guide for the successful implementation of urban and peri-urban agriculture in developing countries and countries of transition. Revision 2, Handbook Series. Volume III.Rome.
FAO (2001b). Livestock keeping in urban areas, a review of traditional technologies, by J.B. Schiere, & R. Van Der Hoek. R. Animal Production and Health Papers. 151. Rome.
Glenn D. Israel, (1992): determine sample size, university of Florida.
Ibrahim Game And Richaela Primus,( 2015).urban agriculture: state university of new york college of forestry and environmental science
Nigatu Alemayehu, Dirk Hoekstra And Azage Tegegne, (2012). smallholder dairy value chain development: international livestock research institute
Roseline J Akinlade, Olubunmi L Balogun, Adekemi A Obisesan, (2013). commercialization of urban farming: the case of vegetable farmers in southwest Nigeria, invited paper presented at the 4th international conference of the African association of agricultural economists, September 22-25
Stephen R. Bond, (2002). Dynamic Panel Data Models: A Guide to Micro Data Methods and Practices. The Institute For Fiscal Studies Department Of Economics, UCL Cemmap
Working Paper CWP09/02 (2002). Ridgmount Street, London, WCIE 7AE, UK.
Wooldgridge, Jeffrey M., (2010). Econometric Analysis of Cross section and Panel Data.
Verbeek, Marno, (2004). A Guide to Modern Econometrics. 2nd ed. John Wiley & Sons Ltd, theAtrium, Southern Gate, Chichester, West Sussex PO19 8SQ, England.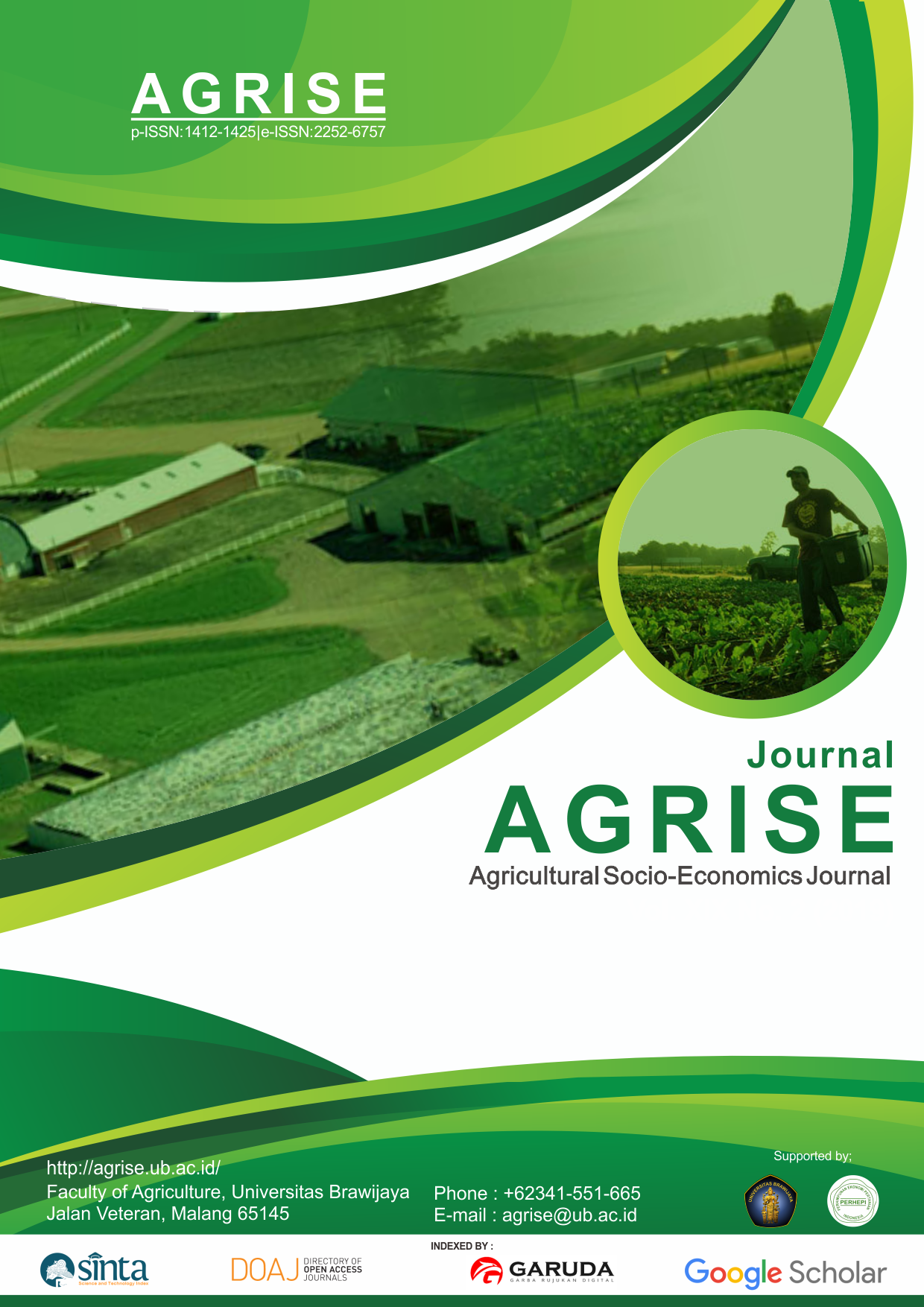 Downloads
How to Cite
Belay, G. H., Gebreslassie, A., Teklay, A., & Tesfay, M. (2020). URBAN AGRICULTURE COMMERCIALIZATION; AN ALTERNATIVE TO FOOD SECURITY (Case of Mekelle city). Agricultural Socio-Economics Journal, 20(3), 213–224. https://doi.org/10.21776/ub.agrise.2020.020.3.5
License
Authors who publish with this journal agree to the following terms:
Authors retain copyright and grant the journal right of first publication with the work simultaneously licensed under a Creative Commons Attribution-NonCommercial License that allows others to share the work with an acknowledgment of the work's authorship and initial publication in this journal.
Authors are able to enter into separate, additional contractual arrangements for the non-exclusive distribution of the journal's published version of the work (e.g., post it to an institutional repository or publish it in a book), with an acknowledgment of its initial publication in this journal.
Authors are permitted and encouraged to post their work online (e.g., in institutional repositories or on their website) prior to and during the submission process, as it can lead to productive exchanges, as well as earlier and greater citation of published work (See The Effect of Open Access).