PERFORMANCE EVALUATION OF THE VEGETABLE TRADING CENTER IN LANTAPAN, BUKIDNON, PHILIPPINES
Keywords:
Trading Center, Vegetable Marketing, Performance Evaluation
Abstract
This paper evaluated the performance of the project: "Farmer Cluster-Managed Bagsakan (trading center) Model in Lantapan, Bukidnonâ€. It used the CIPP and OECD-DAC evaluation frameworks to make sense of the data. The said project envisioned to operate a farmer-cluster managed bagsakan center. The bagsakan was operationalized and result shows that farmers derived higher profit when they brought their products in the center compared to marketing it to major cities. Other outputs of the project are the trainings conducted but these did not reflect significant contribution to the bagsakan operation. In terms of the relevance of the project, its objective is found valid because it answers to the needs and problems confronting the vegetable farmers. Effectiveness assessment tells that to a little extent the project's objective was attained given the bagsakan's operationalization. Sustainability measurement of the project was not realized since the operation only lasted for one year.
References
Horton, D.C. (1997). Disciplinary Roots and Branches of Evaluation: Some Lessons from Agricultural Research. Discussion Paper. No. 96-7. April 16, 1997. The Hague Netherlands: International Service for National Agricultural Research (ISNAR).
Soliven, M.L., Poonon, S.C., Acuna, M.M., Bugayong, P., Damag, M.S., Deriada, A.L., Sison, L. Supply Chain Improvement for Fresh Vegetables in Region 10: A Farmer-Cluster Managed "Bagsakan†Model. Terminal Report. (2011). Terminal Report. Unpublished.
Suvedi, M. (1988). Introduction to Program Evaluation. Department of Agricultural and Extension Education. Michigan State University.
Suvedi, M. & Shawn Morford. (Undated). Conducting Program and Project Evaluations. A Primer for Natural Resource Program Managers. FORREX. British Columbia.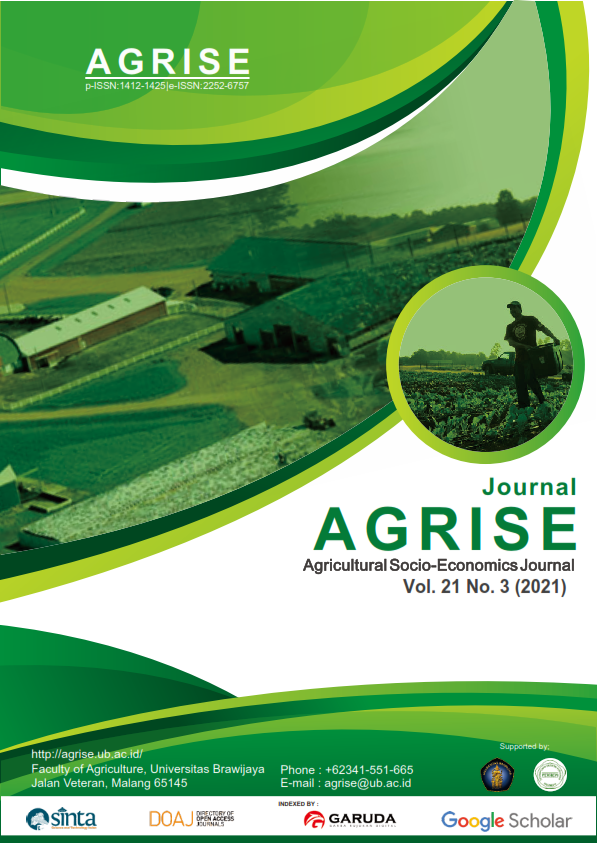 Downloads
How to Cite
Cosrojas, K. D. J. (2021). PERFORMANCE EVALUATION OF THE VEGETABLE TRADING CENTER IN LANTAPAN, BUKIDNON, PHILIPPINES. Agricultural Socio-Economics Journal, 21(3), 165–174. https://doi.org/10.21776/ub.agrise.2021.021.3.1
License
Authors who publish with this journal agree to the following terms:
Authors retain copyright and grant the journal right of first publication with the work simultaneously licensed under a Creative Commons Attribution-NonCommercial License that allows others to share the work with an acknowledgment of the work's authorship and initial publication in this journal.
Authors are able to enter into separate, additional contractual arrangements for the non-exclusive distribution of the journal's published version of the work (e.g., post it to an institutional repository or publish it in a book), with an acknowledgment of its initial publication in this journal.
Authors are permitted and encouraged to post their work online (e.g., in institutional repositories or on their website) prior to and during the submission process, as it can lead to productive exchanges, as well as earlier and greater citation of published work (See The Effect of Open Access).