ANALYSIS OF SUPPLY AND DEMAND OF BROILER CHICKEN MEAT IN BALI PROVINCE
Keywords:
Supply, Demand, Broiler Chicken, Bali Province
Abstract
This study aims to analyze factors such as broiler chicken population, DOC prices, feed prices and drug prices on boiler chicken meat supply, and population, per capita income, boiler chicken meat prices, tourist visits and religious holidays to demand boiler chicken meat in Bali Province. The research method used is multiple linear regression analysis with the help of the SPSS program and trend analysis. Used 2 dependent variables and 9 independent variables. The data used in this study are primary data obtained from interviews with 100 respondents, while secondary data is obtained from annual data from 2009 to 2019. The results of the study concluded that the broiler chicken population, DOC prices, feed prices and drug prices had no effect on the supply of boiler chicken meat at the 95% confidence level and R2 of 0.641. This is because most breeders have partnerships with companies. Meanwhile, partially the demand for boiler chicken meat is determined by the population with a coefficient of 0.045 at 95% confidence. This shows that the increase in population is directly proportional to the consumption of broiler chicken meat. While other variables do not affect the demand for broiler chicken in Bali Province.
References
Alamsyah, R. 2005. Pengolahan Pakan Ayam dan Ikan. Penebar Swadaya. Jakarta.
Aryani, G.A.D., I.Md. Jember. 2019. Analisis Faktor yang Mempengaruhi Permintaan Daging Ayam Broiler di Provinsi Bali. E-Jurnal Ekonomi Pembangunan Universitas Udayana. 8 (5): 1062-1092.
Badan Pusat Statistik Provinsi Bali. 2019. Provinsi Bali.
Budaarsa, K. 2014. Potensi ternak Babi dalam Menyumbangkan Daging di Bali. Seminar Nasional Ternak Babi. Fakultas Peternakan Udayana. Universitas Udayana. Denpasar.
Burhanudin, A. 2011. Analisis Pelikau Konsumen pada Pembelian Daging Ayam Ras di Pasar Tarisional dan Pasar Modern Kota Jember. Skripsi. Sosial Ekonomi Pertanian. Fakultas Pertanian. Universitas Jember. Jember.
Dahl Dc, Hammond JW. 1977. Market and Price Analysis The Agricultural Industry. Mc. Grawhill Book Company. New York.
Fadilah. 2006. Sukses Beternak Ayam Broiler. Agromedia Pustaka. Jakarta.
Ferdinand, A. 2011. Metode Penelitian manajemen. Edisi 3. Semarang: Universitas Diponegoro.
Hadini, H. Sudin, N. dan Endang, S. 2011. Analisis Permintaan dan Prediksi Konsumsi Serta Produkssi Daging Broiler di Kota Kendari Propinsi Sulawesi Tenggara. Buletin Peternakan Vol. 35 (3): 202-207, Kendari.
Hapsah. 1999. Kemitraan Usaha, Konsepsi dan Strategi. Pustaka Sinar Harapan. Jakarta.
Hartono, G. 2008. Analisis Penawaran Ayam Pedaging (BROILER) di Tingkat Petani. Majalah Ilmiah Peternakan Vol 10, No 3, Fakultas Pertanian, Universitas Kristen Setya Wacana, Salatiga.
Hidayat, S. 2013. Analisis Tingkat Permintaan Konsumen Terhadap Ayam Ras di Kecamatan koja. Skripsi. Institut Pertanian Bogor. Bogor.
Kariyasa, K. dan B, M, Sinaga. 2007. Analisis Perilaku PasarPakan dan Daging Ayam Ras di Indonesia: Pendekatan Model Ekonometrika Simultan. SOCA. Jurnal Sosial Ekonomi Pertanian. 7(2): 1-20.
Kementerian Pertanian. 2019. Outlook Daging Ayam. Pusat Data dan Sistem Informasi Pertanian. Sekretariat Jenderal Peternakan. Kementerian Pertanian. Jakarta.
Mohanty, S and K. Rajendran. 2003. Vision for Indian Poultry Industry. International Journal of Poultry Science. 2(3): 139-43.
Sarwono, N. 2001. Perilaku Agribisnis dan Kebutuhan Penyuluhan Peternak Ayam Ras Pedaging. Disertasi. Program Pascasarjana Institut Pertanian Bogor, Bogor.
Suartha, N. 2016. Faktor-faktor yang Mempengaruhi Tingginya Laju Pertumbuhan dan Implementasi Kbijakan Pendudukdi Provinsi Bali. Piramida. 12 (1): 1-7.
Suparta, N. 2005. Pendekatan Holistik Membangun Agribisnis. Bali Media Adhikasa. Denpasar.
Tomek, W. G and K.L. Robinson. 1972. Agricultural Product Prices. Comell University Press. Ithaca and London.
Yusdja, Y dan E. Pasandaran. 1998. Arah Restrukturisasi Industri Agribisnis Perunggasan di Indonesia. Jurnal Agro Ekonomi. 16(2): 21-32.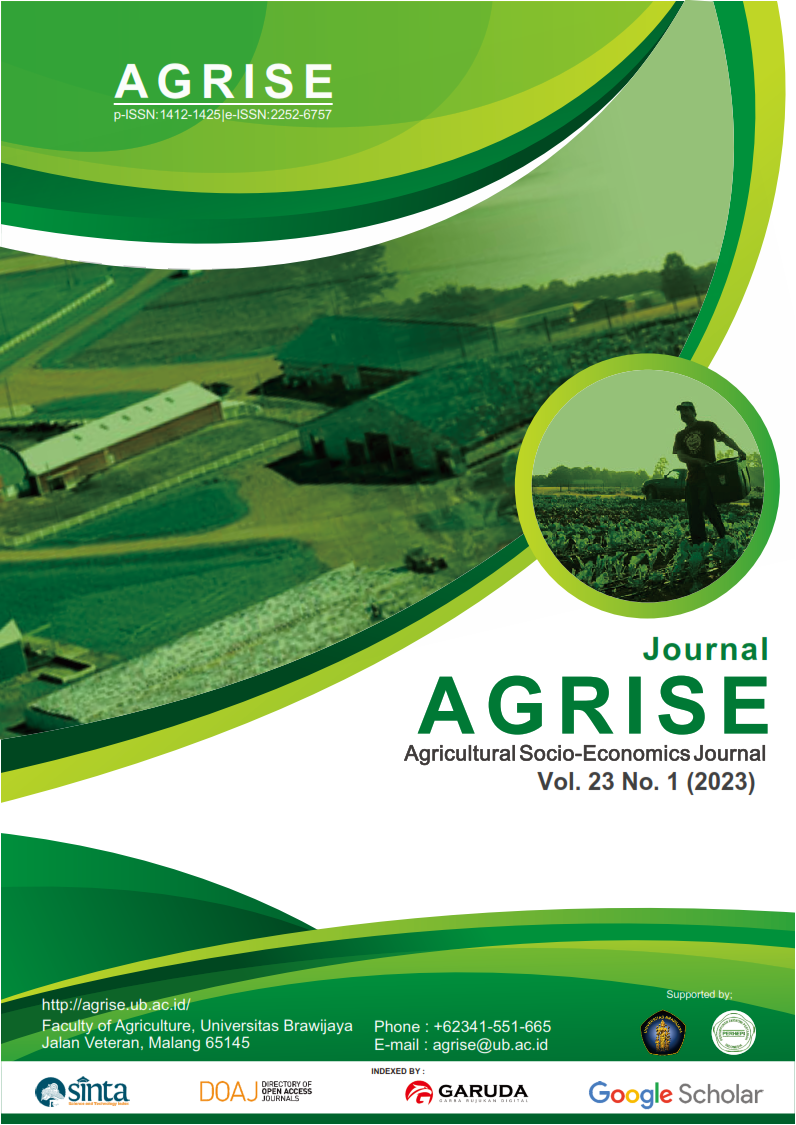 Downloads
How to Cite
Dewantari, R. Y., Suparta, N., & Putri, B. R. T. (2023). ANALYSIS OF SUPPLY AND DEMAND OF BROILER CHICKEN MEAT IN BALI PROVINCE. Agricultural Socio-Economics Journal, 23(1), 1–9. https://doi.org/10.21776/ub.agrise.2023.023.1.1
License
Copyright (c) 2023 Regiana Yoshika Dewantari, Nyoman Suparta, Budi Rahayu Tanama Putri
This work is licensed under a Creative Commons Attribution-NonCommercial 4.0 International License.
Authors who publish with this journal agree to the following terms:
Authors retain copyright and grant the journal right of first publication with the work simultaneously licensed under a Creative Commons Attribution-NonCommercial License that allows others to share the work with an acknowledgment of the work's authorship and initial publication in this journal.
Authors are able to enter into separate, additional contractual arrangements for the non-exclusive distribution of the journal's published version of the work (e.g., post it to an institutional repository or publish it in a book), with an acknowledgment of its initial publication in this journal.
Authors are permitted and encouraged to post their work online (e.g., in institutional repositories or on their website) prior to and during the submission process, as it can lead to productive exchanges, as well as earlier and greater citation of published work (See The Effect of Open Access).