DEMAND FOR FOOD COMMODITIES IN TULUNGAGUNG REGENCY
Keywords:
Food Demand, Almost Ideal Demand System, Price Elasticity, Cross Elasticity, Expenditure Elasticity
Abstract
Food is a basic need that must be fulfilled by every citizen / community and is the right of every resident to fulfill his food needs. So it is natural that many countries whose governments give considerable attention to food-related problems both in terms of demand and supply. Research on demand for food commodities in Tulungagung Regency uses data from SUSENAS (National Socio-Economic Survey) in 2018 obtained from the Indonesian Central Bureau of Statistics. The model used in this study is the AIDS (Almost Ideal Demand System) model with the SUR (Seemingly Unrelated Regression) method. The results showed that the factors that influenced the demand for food commodities were rice prices, corn prices, soybean prices, mungbean prices, peanut prices for cassava prices, sweet potato prices, and total household expenditure. Price elasticity is elastic for food commodities (rice, corn, green beans, peanuts, cassava and sweet potatoes). Cross elasticity has a substitution relationship in each commodity and is also complementary in each commodity. Expenditure elasticity shows that all food commodities are normal goods.
References
Anindita, Nur Baladina. (2017). Pemasaran Produk Pertanian. Yogyakarta: Penerbit ANDI.
Anindita, Ratya dan R. Reed, Michael. (2008). Bisnis dan Perdagangan Internasional .Andi: Yogyakarta.
BAPPENAS. (2011). Rencana Aksi Nasional Pangan dan Gizi 2011-2015.
Badan Perencanaan Pembangunan Nasional (BAPPENAS). Jakarta: 10.
Pusat Data dan Sistem Informasi Pertanian (Pusdatin). (2016). Outlook Komoditas Pertanian Sub Sektor Tanaman Pangan. Kementrian Pertanian. 56p.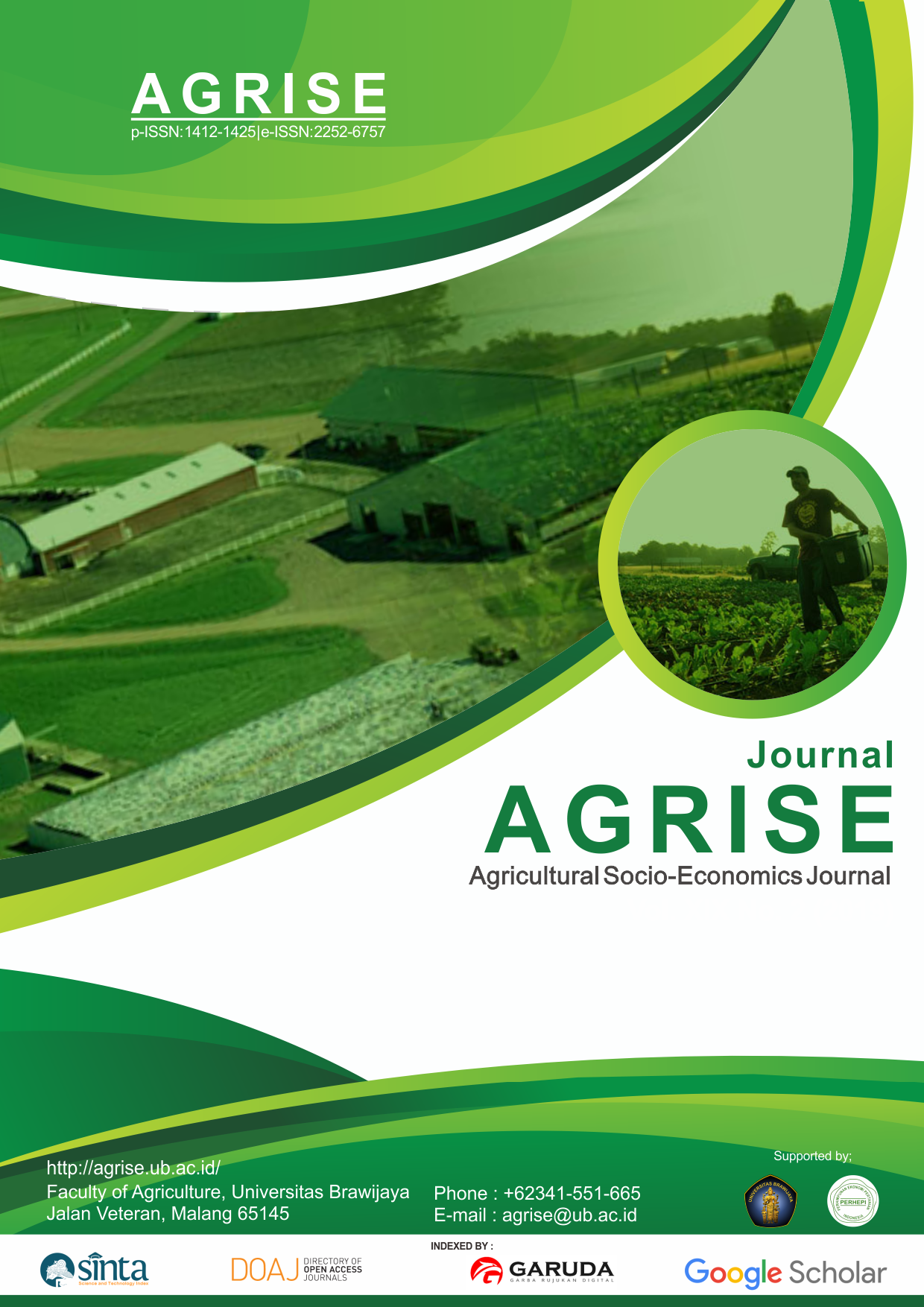 Downloads
How to Cite
Habiibaturrohmah, N. A., Anindita, R., & Nugroho, C. P. (2020). DEMAND FOR FOOD COMMODITIES IN TULUNGAGUNG REGENCY. Agricultural Socio-Economics Journal, 20(3), 225–232. https://doi.org/10.21776/ub.agrise.2020.020.3.6
License
Authors who publish with this journal agree to the following terms:
Authors retain copyright and grant the journal right of first publication with the work simultaneously licensed under a Creative Commons Attribution-NonCommercial License that allows others to share the work with an acknowledgment of the work's authorship and initial publication in this journal.
Authors are able to enter into separate, additional contractual arrangements for the non-exclusive distribution of the journal's published version of the work (e.g., post it to an institutional repository or publish it in a book), with an acknowledgment of its initial publication in this journal.
Authors are permitted and encouraged to post their work online (e.g., in institutional repositories or on their website) prior to and during the submission process, as it can lead to productive exchanges, as well as earlier and greater citation of published work (See The Effect of Open Access).