ANALISIS PENYEDIAAN PANGAN UNTUK MENINGKATKAN KETAHANAN PANGAN DI KABUPATEN SIDOARJO
Abstract
Pembangunan ketahanan pangan dilaksanakan untuk mewujudkan masyarakat yang berkualitas dengan menjamin ketersediaan pangan yang cukup dan beragam bagi seluruh masyarakat. Kabupaten Sidoarjo merupakan wilayah industri dan perdagangan yang sedang berkembang, namun memiliki status rawan pangan. Seiring dengan laju pertumbuhan penduduk yang semakin meningkat serta besarnya laju alih fungsi lahan, perencanaan penyediaan pangan masyarakat menjadi sangat penting untuk dilakukan. Melalui proyeksi kondisi pangan untuk beberapa tahun mendatang akan memudahkan dalam pengambilan kebijakan pangan yang sesuai dengan kondisi di Kabupaten Sidoarjo. Tujuan dari penelitian ini adalah menganalisis sejauh mana tingkat ketersediaan pangan berpengaruh terhadap peningkatan ketahanan pangan. Metode analisis yang digunakan untuk menjawab tujuan penelitian adalah dengan mengggunakan tabel Neraca Bahan Makanan (NBM), perhitungan skor Pola Pangan Harapan (PPH), tren eksponensial, dan daya dukung lahan. Hasil penelitian menunjukkan bahwa tingkat ketersediaan pangan berpengaruh positif terhadap peningkatan ketahanan pangan di daerah penelitian.
 
Kata kunci: Â Â Penyediaan Pangan, Ketahanan Pangan, Neraca Bahan Makanan (NBM), Pola Pangan Harapan (PPH), Tren Eksponensial, Daya Dukung Lahan Pertanian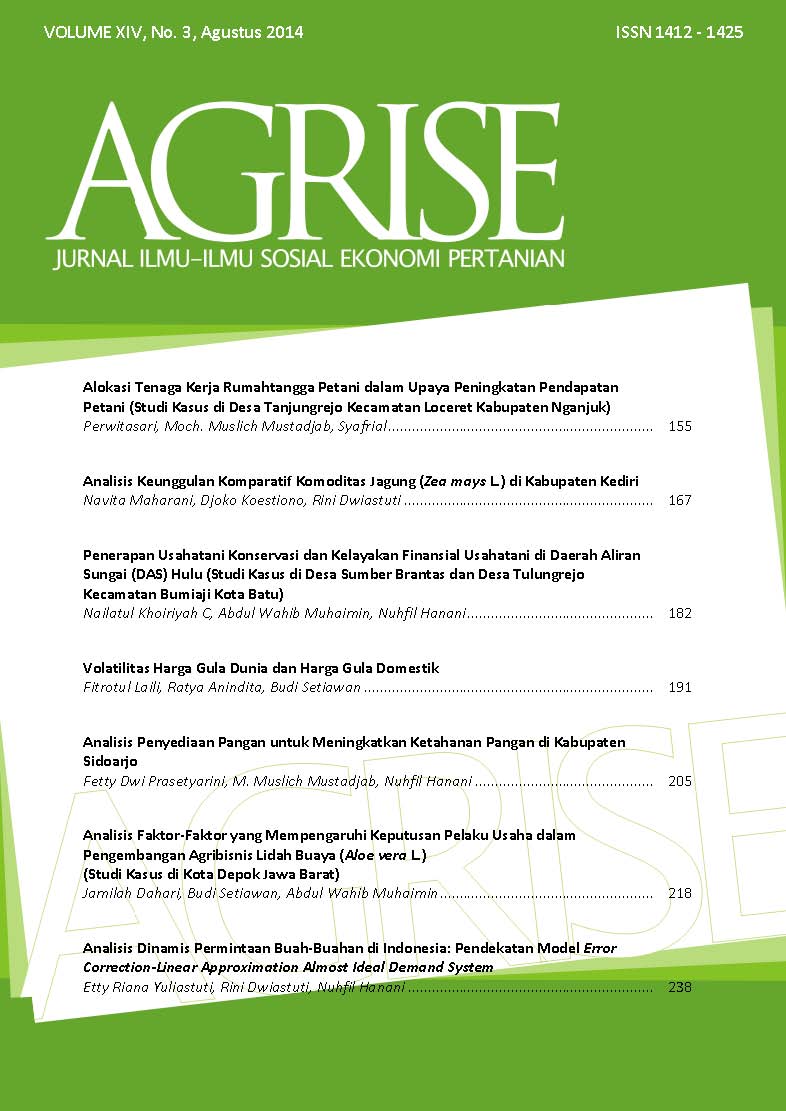 Downloads
How to Cite
Dwi Prasetyarini, F., Mustadjab, M. M., & Hanani, N. (2014). ANALISIS PENYEDIAAN PANGAN UNTUK MENINGKATKAN KETAHANAN PANGAN DI KABUPATEN SIDOARJO. Agricultural Socio-Economics Journal, 14(3), 205. Retrieved from https://agrise.ub.ac.id/index.php/agrise/article/view/131
License
Authors who publish with this journal agree to the following terms:
Authors retain copyright and grant the journal right of first publication with the work simultaneously licensed under a Creative Commons Attribution-NonCommercial License that allows others to share the work with an acknowledgment of the work's authorship and initial publication in this journal.
Authors are able to enter into separate, additional contractual arrangements for the non-exclusive distribution of the journal's published version of the work (e.g., post it to an institutional repository or publish it in a book), with an acknowledgment of its initial publication in this journal.
Authors are permitted and encouraged to post their work online (e.g., in institutional repositories or on their website) prior to and during the submission process, as it can lead to productive exchanges, as well as earlier and greater citation of published work (See The Effect of Open Access).