INDIKATOR DAN PENILAIAN TINGKAT KERAWANAN PANGAN KELURAHAN UNTUK DAERAH PERKOTAAN
Keywords:
indikator, kerawanan pangan, perkotaan, kelurahan, principal component analysis
Abstract
Penelitian ini bertujuan untuk menyusun indikator kerawanan pangan tingkat kelurahan. Kegiatan penelitian terdiri dari 2 tahap, yaitu: (1) menyusun indikator kerawanan pangan daerah perkotaan tingkat kelurahan, dan (2) menilai tingkat kerawanan pangan kelurahan. Penelitian dilakukan di Jawa Timur dengan mengambil sampel kota Malang, Pasuruan dan Batu. Seleksi indikator kerawanan pangan tingkat kelurahan dilakukan menggunaan Analisis Faktor dengan metode ekstraksi Principal Components Analysis (PCA). Analisis kerawanan pangan menggunakan indeks komposit  dari seluruh indikator  dengan menggunakan References Based Analysis (RBA). Indikator kerawanan pangan yang sesuai dan tersedia untuk menganalisis kerawanan  pangan kelurahan adalah: konsumsi dan ketersediaan  pangan domestik  (%), keberadaan toko-toko pracangan/klontong, rata-rata ukuran rumah tangga (%), penduduk tidak bekerja/pengangguran (%), penduduk miskin (%), kematian bayi (IMR)  (perseribu), penduduk tidak akses air bersih (%), balita gizi kurang (%), penduduk dengan pendidikan kurang dari SD (%). Tidak ada kota yang memiliki kelurahan dengan kategori rawan atau sangat rawan, yang ada adalah agak rawan. Indikator yang menjadi penyebab rendahnya status ketahanan pangan tingkat kelurahan adalah jumlah pengangguran, kemiskinan dan IMR.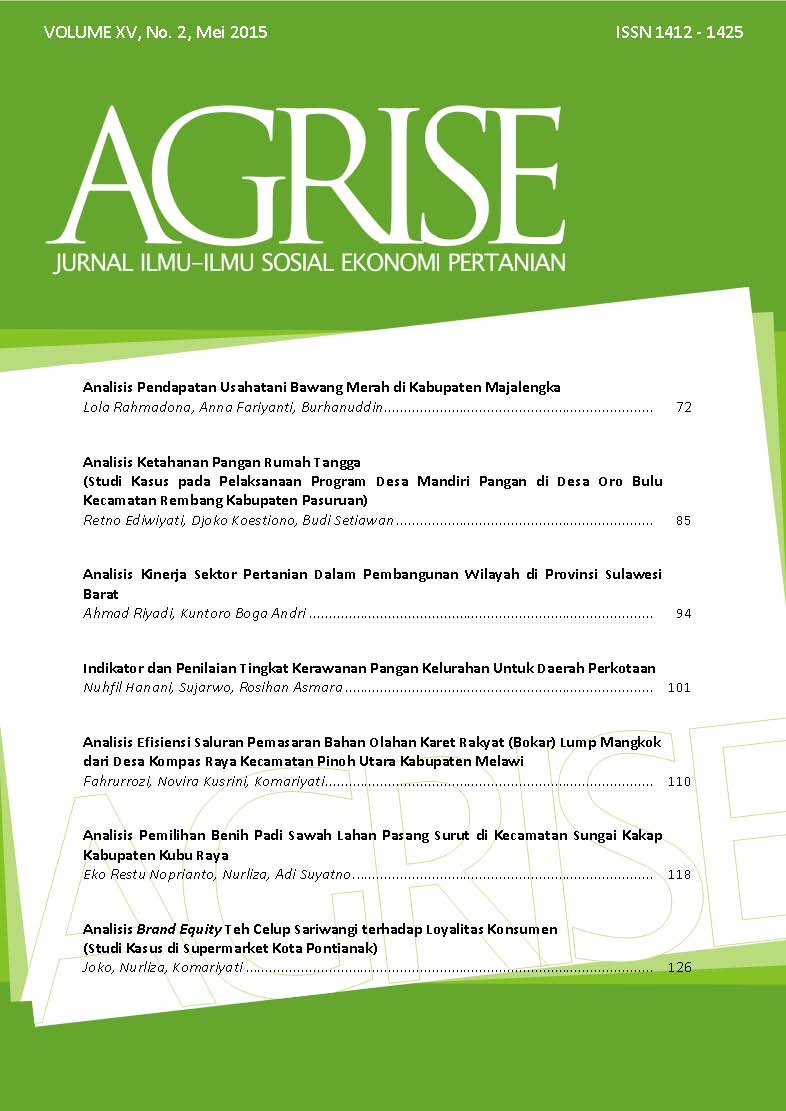 Downloads
How to Cite
Hanani, N., Sujarwo, S., & Asmara, R. (2016). INDIKATOR DAN PENILAIAN TINGKAT KERAWANAN PANGAN KELURAHAN UNTUK DAERAH PERKOTAAN. Agricultural Socio-Economics Journal, 15(2), 101. Retrieved from https://agrise.ub.ac.id/index.php/agrise/article/view/167
License
Authors who publish with this journal agree to the following terms:
Authors retain copyright and grant the journal right of first publication with the work simultaneously licensed under a Creative Commons Attribution-NonCommercial License that allows others to share the work with an acknowledgment of the work's authorship and initial publication in this journal.
Authors are able to enter into separate, additional contractual arrangements for the non-exclusive distribution of the journal's published version of the work (e.g., post it to an institutional repository or publish it in a book), with an acknowledgment of its initial publication in this journal.
Authors are permitted and encouraged to post their work online (e.g., in institutional repositories or on their website) prior to and during the submission process, as it can lead to productive exchanges, as well as earlier and greater citation of published work (See The Effect of Open Access).