FACTORS AFFECTING FARMERS' DECISIONS TO APPLY HYDROPONIC SYSTEMS IN TARAKAN CITY
Keywords:
hydroponic system, logit regression
Abstract
Tarakan City has limited agricultural land potential and is less productive so that most of the consumption needs for vegetables are imported from outside the island of Tarakan. It is hoped that with the development of hydroponic technology, the community can meet the needs of vegetables independently. The purpose of this study was to determine the factors that influence the decision of farmers to implement a hydroponic system. The research is located in Tarakan City with the research period from April to October 2021. The method of determining respondents was carried out intentionally to 40 respondents with the consideration that the community had obtained information about hydroponic system, either through direct agricultural extension workers, from friends or through other electronic media. such as television, YouTube, Facebook and other social media. To find out the factors that affect farmers' opportunities to apply hydroponic system, an analysis is carried out using the logit function approach. Analysis of the factors that influence farmers' decisions to apply hydroponic system using logit regression function analysis obtained a Nagelkerke R2 value of 0.494 meaning that the variation of the independent variables included in the model was able to explain 49.4% of the existing phenomena and the remaining 50.6% was explained by other variables. The variable hydroponic planting experience (X4) has a significant and significant effect at the 5 %, meaning that the more often people cultivate hydroponic plants, the greater the opportunity to apply hydroponic system, while age (X1), formal education (X2), Membership Dummy in the farmer group (X3), and Dummy nutrient costs (X5) are not significant. One of the obstacles for farmers in applying hydroponic system is the cost of purchasing nutrients.
References
BPS. (2019). Provinsi Kalimantan Timur dalam Angka 2019. In BPS Provinsi Kalimantan Timur.
BPS, K. T. (2021). Tarakan Dalam Angka 2021. BPS Kota Tarakan.
Elemasho, M., Alfred, S., Aneke, C., Chugali, A., & Ajiboye, O. (2018). Farmers' perception of adoption of postharvest technologies of selected food crops in rivers state, Nigeria. International Journal of Agricultural Research, Innovation and Technology. https://doi.org/10.3329/ijarit.v7i2.35318
Fauzi, A. R., Ichniarsyah, A. N., & Agustin, H. (2016). Pertanian Perkotaan : Urgensi, Peranan, dan Praktik Terbaik. Agreoteknologi.
Febriawan R, Lucia Aridinanti, dan Wibawati. 2011.Perbandingan Model Logit dan Probit Untuk menganalisis Faktor-Faktor yang mempengaruhi derajat orientasi pasar usaha kecil menengah (Studi Kasus Industri Produk Kulit di Kabupaten Sidoarjo)
Indah Dewi. 2015. Konsep Urban Farming Sebagai Solusi Kota Hijau.
Ilhamdi, M. L., Khairuddin, K., & Zubair, M. (2020). Pelatihan Penggunaan Pupuk Organik Cair (Poc) Sebagai Alternatif Pengganti Larutan Nutrisi Ab Mix Pada Pertanian Sistem Hidroponik di Bon Farm Narmada. Jurnal Pengabdian Masyarakat Sains Indonesia. https://doi.org/10.29303/jpmsi.v2i1.20
Ishak, A., & Afrizon. (2011). Persepsi dan Tingkat Adopsi Petani Padi Terhadap Penerapan System of Rice Intensification ( SRI ) Di Desa Bukit Peninjauan I , Kecamatan Sukaraja, Kabupaten Seluma. Informatika Pertanian.
Kaunang, S. G., Memah, M. Y., & Kumaat, R. M. (2016). persepsi dan tingkat adopsi petani padi terhadap penerapan System rice intensification di desa bukit peninjauan kecamatan sukaraja, kabupaten Seluma. Jurnal Informatika Pertanian Vol.20 no.2, Desember 2011:hal 76-80. AGRI-SOSIOEKONOMI, 12(2A), 283. https://doi.org/10.35791/agrsosek.12.2a.2016.12925
Khairani R.2014.Analisis Faktor-Faktor Yang Mempengaruhi Konversi Lahan Pangan Padi Menjadi Lahan Perkebunan Sawit Sumatera Utara. Jurnal Ilmu ekonomi IE Journal. Vol.16 September 2014
Machmuddin N., Ahmad M., Jafar R., & Jufriadi J. (2021) Persepsi masyarakat Terhadap Teknologi Hidroponik dalam Mendukung Ekonomi Masyarakat Mandiri di Kota Tarakan Kalimantan Utara.JIMDP Vol.6 no.5.Hal 158-164. http://dx.doi.org/10.37149/JIMDP.v6i5.20916.
Maryani, N. D., Suparta, N., Ap, I. G. S., & Regency, G. (2014). Adopsi Inovasi PTT pada Sekolah Lapang Pengelolaan Tanaman Terpadu ( SL-PTT ) Padi di Kecamatan Sukawati Kabupaten Gianyar. Jurnal Manajemen Agribisnis.
Nurulia H, Clara Ajeng A, F. B. Le. (2019). Pengaruh karakteristik peternak terhadap adopsi teknologi pemeliharaan pada peternak kambing peranakan ettawa di desa hargotirto kabupaten kulon progo. Jurnal Bisnis Dan Manajemen.
Ogada, M., W. Nyangena and M. Yusuf. 2010. Production risk and farm technology adoption in the rain-fed semi-arid lands of Kenya. AfJARE, 4:159-174.
Pynanjung, P. A., Septiyarini, D., & Rianti, R. (2021). Penguatan dan Pemulihan Ekonomi Masyarakat Perkotaan di Masa Pandemi Covid-19 dengan Urban farming : Studi Kasus di Kota Pontianak. Proceeding of The 13th University Research Colloquium 2021 : Sosial, Ekonomi Dan Psikologi.
Roussy, C., Ridier, A., & Chaib, K. (2014). Farmers ' adoption behavior : Stated preferences and perceptions of the innovation. In "Agri-food and Rural Innovations for Healthier Societies.â€
Sengkey, M. Y., Wangke, W. M., & Manginsela, E. P. (2017). Persepsi masyarakat terhadap hidroponik di kelurahan teling bawah, kota manado. AGRI-SOSIOEKONOMI. https://doi.org/10.35791/agrsosek.13.2.2017.16343
Sunar. (2012). Pengaruh Faktor Biografis (Usia, Masa Kerja, dan Gender) terhadap Produktivitas Karyawan. Forum Ilmiah, 9(1).
Syamsi, F., Anggraini, D., & Ramses, R. (2019). Pemanfaatan pekarangan rumah untuk bertanam sayuran organik dalam rangka mewujudkan kemandirian pangan keluarga. minda baharu. https://doi.org/10.33373/jmb.v3i1.1877
Tri Satya, M., Tejaningrum, A., & Hanifah. (2017). Manajemen Usaha Budidaya Hidroponik. Jurnal Dharma Bhakti Ekuitas.
Yamasaki,S dan Yamanda.2007. Development of Tecnologies and Sustainable Farming Systems in the Mekong Delta of vietnam. JIRCAS Trukuba,Japan 55 (2) : 10-17.
Yuliarmi. 2006. Analisis Produksi dan Faktor-Faktor Penentu Adopsi Teknologi Pemupukan Berimbang pada Usahatani Padi. Tesis Magister Sains, Sekolah Pascasarjana, Institut Pertanian Bogor, Bogor.
Yasmin, T. R., Prastiwi, W. D., & Handayani, M. (2017). Analisis konjoin preferensi konsumen sayuran hidroponik agrofarm bandungan kabupaten semarang. Agrisocionomics: Jurnal Sosial Ekonomi Pertanian. https://doi.org/10.14710/agrisocionomics.v1i1.1643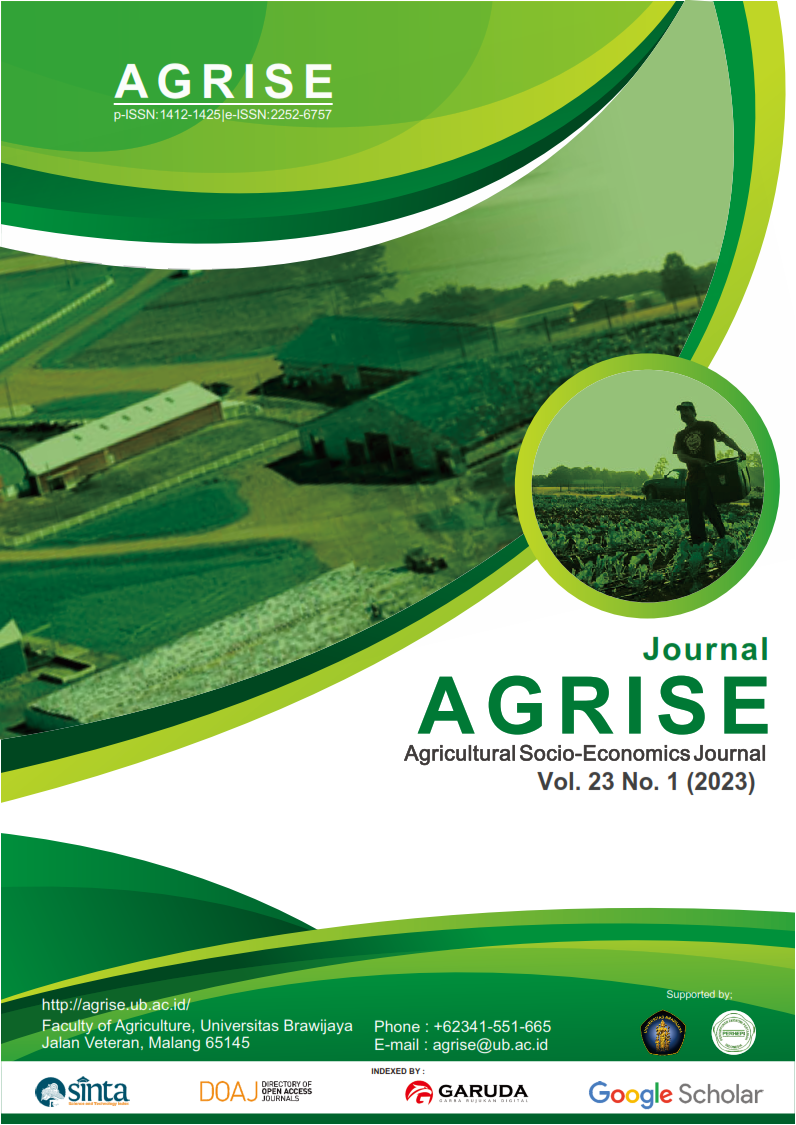 Downloads
How to Cite
Machmuddin, N. (2023). FACTORS AFFECTING FARMERS' DECISIONS TO APPLY HYDROPONIC SYSTEMS IN TARAKAN CITY. Agricultural Socio-Economics Journal, 23(1), 89–94. https://doi.org/10.21776/ub.agrise.2023.023.1.11
License
Copyright (c) 2023 Nurlela Machmuddin
This work is licensed under a Creative Commons Attribution-NonCommercial 4.0 International License.
Authors who publish with this journal agree to the following terms:
Authors retain copyright and grant the journal right of first publication with the work simultaneously licensed under a Creative Commons Attribution-NonCommercial License that allows others to share the work with an acknowledgment of the work's authorship and initial publication in this journal.
Authors are able to enter into separate, additional contractual arrangements for the non-exclusive distribution of the journal's published version of the work (e.g., post it to an institutional repository or publish it in a book), with an acknowledgment of its initial publication in this journal.
Authors are permitted and encouraged to post their work online (e.g., in institutional repositories or on their website) prior to and during the submission process, as it can lead to productive exchanges, as well as earlier and greater citation of published work (See The Effect of Open Access).