PENERAPAN USAHATANI KONSERVASI DAN KELAYAKAN FINANSIAL USAHATANI DI DAERAH ALIRAN SUNGAI (DAS) HULU (STUDI KASUS DI DESA SUMBER BRANTAS DAN DESA TULUNGREJO KECAMATAN BUMIAJI KOTA BATU)
Abstract
Peningkatan jumlah penduduk dari tahun ke tahun mempunyai implikasi terhadap kebutuhan sumber daya lahan terutama untuk pertanian. Hal tersebut menjadi salah salah satu alasan mengapa tidak sedikit petani mengusahakan lahan marginal di perbukitan untuk bercocok tanam. Potensi sumber daya lahan di DAS Brantas tepatnya di bagian hulu saat ini kritis. Hal ini disebabkan adanya alih fungsi lahan sehingga terjadi erosi yang cukup tinggi yang dapat berdampak pada pendapatan usahatani mereka. Adanya kondisi demikian menjadi faktor penyebab mengapa perlu dilakukan penelitian mengenai tingkat penerapan yang telah dilakukan oleh beberapa petani terhadap sistem usahatani konservasi. Selain itu, dianalisis pula kelayakan finansial usahatani konservasi. Dengan menggunakan analisis skor dan kelayakan finansial usahatani diperoleh hasil bahwa semakin diterapkannya usahatani konservasi akan mampu meningkatkan pendapatan petani tanpa harus merusak kelestarian lingkungan.
 
Kata kunci: Usahatani Konservasi, Tingkat Penerapan, Kelayakan Finansial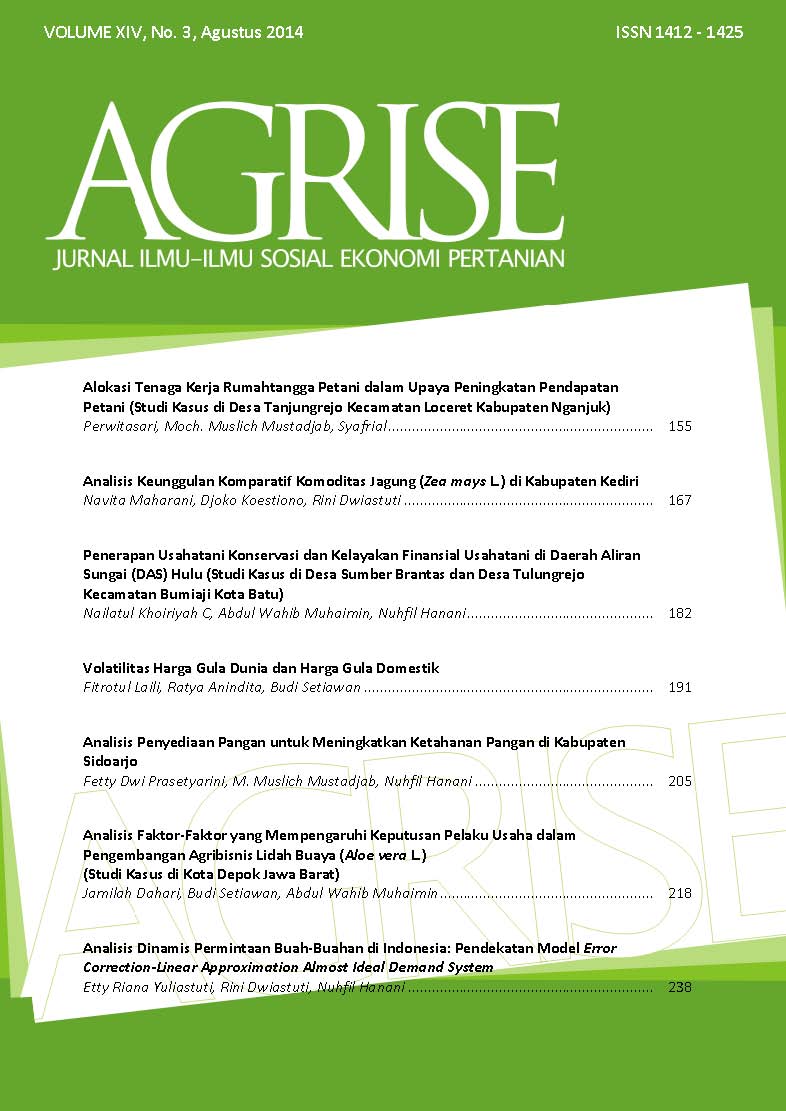 Downloads
How to Cite
Khoiriyah C., N., Wahib Muhaimin, A., & Hanani, N. (2014). PENERAPAN USAHATANI KONSERVASI DAN KELAYAKAN FINANSIAL USAHATANI DI DAERAH ALIRAN SUNGAI (DAS) HULU (STUDI KASUS DI DESA SUMBER BRANTAS DAN DESA TULUNGREJO KECAMATAN BUMIAJI KOTA BATU). Agricultural Socio-Economics Journal, 14(3), 182. Retrieved from https://agrise.ub.ac.id/index.php/agrise/article/view/129
License
Authors who publish with this journal agree to the following terms:
Authors retain copyright and grant the journal right of first publication with the work simultaneously licensed under a Creative Commons Attribution-NonCommercial License that allows others to share the work with an acknowledgment of the work's authorship and initial publication in this journal.
Authors are able to enter into separate, additional contractual arrangements for the non-exclusive distribution of the journal's published version of the work (e.g., post it to an institutional repository or publish it in a book), with an acknowledgment of its initial publication in this journal.
Authors are permitted and encouraged to post their work online (e.g., in institutional repositories or on their website) prior to and during the submission process, as it can lead to productive exchanges, as well as earlier and greater citation of published work (See The Effect of Open Access).