ANALYSIS OF FERTILIZER MARKETING STRATEGY (LOB) LIQUID ORGANIC BIOFERTILIZER AT PT. INBIO TANI NUSANTARA
Keywords:
Marketing Strategy, SWOT Analysis, Organic Fertilizer
Abstract
This research aims to analyze the strengths, weaknesses, opportunities, and threats of LOB fertilizer and analyze the proper marketing strategy in PT. Inbio Tani Nusantara to be able to increase sales of LOB fertilizer. This study uses the nonprobability sampling method that is Accidental Sampling for external respondents or LOB consumers with consideration if the researcher needs to know the number of the existing population. Purposive sampling method for internal respondents of the company. The method of collecting data in this study with observation methods, questionnaires, interviews, and documentation. The data types used in this study are primary data from swot analysis, IFAS analysis, and EFAS analysis. In this study there are variables of Strength, Weakness, Opportunity, and Threat. Marketing of LOB liquid biological organic fertilizers has opportunities and strengths that can be used to deal with weaknesses and threats to take decisions that are marketing strategies for LOB liquid biological organic fertilizers. The results showed that the LOB fertilizer marketing strategy is in quadrant I which means that the company has strengths and opportunities and the strategy that must be taken in this condition is an aggressive marketing policy.
References
Abidin, Z., & Rohman, M. (2020). Pemberdayaan Kelompok Tani Dalam Pembuatan Pupuk Organik Berbahan Baku Limbah Rumah Tangga. Community Development Journal : Jurnal Pengabdian Masyarakat, 1(2), 89–94. https://doi.org/10.31004/cdj.v1i2.709
Andriani, R., Mastuti, R., & Yusriani, Y. (2020). Seminar Nasional Ke-IV Fakultas Pertanian Universitas Samudra Bioindustri Di Provinsi Aceh Berbasis Kopi Gayo Dan Sapi : Analisis Strategi Pemasaran Produk Biourine Seminar Nasional Ke-IV Fakultas Pertanian Universitas Samudra. 301–313.
Chew, K. W., Chia, S. R., Yen, H. W., Nomanbhay, S., Ho, Y. C., & Show, P. L. (2019). Transformation of biomass waste into sustainable organic fertilizers. Sustainability (Switzerland), 11(8). https://doi.org/10.3390/su11082266
Darmawan, D. (2018). Strategi Pengembangan Usahatani Bawang Merah. Agrimas, 2(2580–8621), 13–22.
Elias, M. C. (2018). Analisis Strategi Bersaing Pada Perusahaan Biro Perjalanan di Malang. Jurnal AGORA, 6(2), 1–6.
Hadisuwito, S. (2012). Membuat Pupuk Organik Cair. PT AgroMedia Pustaka.
Hartati, A. (2002). Prosiding Seminar Nasional dan Call for Papers. 23, 218–226.
Haryono, T., & Marniyati, S. (2018). Pengaruh Market Orientation, Inovasi Produk, Dan Kualitas Produk Terhadap Kinerja Bisnis Dalam Menciptakan Keunggulan Bersaing. Jurnal Bisnis Dan Manajemen, 17(2), 51. https://doi.org/10.20961/jbm.v17i2.17174
Ibrahim, J. T. (2020). Metode Penelitian Sosial Ekonomi Pertanian. UMMPress.
Jumawan, F., Darmawan, W., & Tamrin, A. F. (2021). Pelatihan Pembuatan Pupuk Organik dan Pemasaran bagi Warga di Kecamatan Pitiriawa Kabupaten Sidrap. KANGMAS: Karya Ilmiah Pengabdian Masyarakat, 2(1). https://doi.org/10.37010/kangmas.v2i1.214
Mayrowani, H. (2017). Pengembangan Pertanian Organik di Indonesia. Forum Penelitian Agro Ekonomi, 30(2), 91. https://doi.org/10.21082/fae.v30n2.2012.91-108
Muhsin, A. (2018). Pemanfaatan Limbah Hasil Pengolahan Pabrik Tebu Blotong Menjadi Pupuk Organik. Industrial Engineering Conference, November, 1–9.
Nursita, Wahyono, & Hertamawati. (2021). Peran Pemerintah terhadap Pengembangan Penggunaan Pupuk Organik pada Kelompok Tani di Kabupaten Banyuwangi The Role of the Government in the Development of the Use of Organic Fertilizers to Farmers in Banyuwangi Regency dalam Peningkatkan Ketahanan Pangan. 21(3), 190–198.
Omer, S. (2018). SWOT analysis: The tool of organizations stability (KFC) as a case study. Journal of Process Management. New Technologies, 6(4), 27–34. https://doi.org/10.5937/jouproman6-19188
PRANITI, N., PARINING, N., & PUTRA, I. (2016). Strategi Pemasaran Untuk Meningkatkan Penjualan Pupuk Organik (Studi Kasus Pada Simantri 174 Gapoktan Dharma Pertiwi Kelurahan Lukluk, Kecamatan Mengwi, Kabupaten Badung). E-Journal Agribisnis Dan Agrowisata (Journal of Agribusiness and Agritourism), 5(1).
Roliza, P. (2017). Pengaruh Inovasi terhadap keunggulan bersaing yang dimoderasi oleh variabel umur perusahaan pada Usaha Mikro Kecil dan Menengah (UMKM) sektor kuliner di Kota Padang.
Salim, A., & Siswanto, A. (2019). Analisis SWOT Dengan Metode Kuesioner. Pilar Nusantara.
Sari, A. M. P., Safitri, J. N., & Fitriyanti, S. (2021). Jurnal Pengabdian Pada Masyarakat Jurnal Pengabdian Pada Masyarakat. 3(1), 11–22.
Semiawan, C. (2010). Metode Penelitian Kualitatif. Grasindo.
Siburian, E. T. P., Dewi, P., Kariada, N., Biologi, J., Mipa, F., & Semarang, U. N. (2012). Pengaruh Suhu dan Waktu Penyimpanan Terhadap Pertumbuhan Bakteri dan Fungi Ikan Bandeng. Life Science, 1(2).
Sugiyono. (2016). Metode Penelitian dan Pengembangan. Alfabeta.
Widawati, S., Suliasih, & Syaifudin. (2002). Pengaruh Introduksi Kompos Plus terhadap Produkasi Bobot Kering Daun Kumis Kucing (Orthosiphon aristatus) pada Tiga Macam Media Tanah. J. Biol. Indon., 3(3), 245–253.
Wijaya, M. R. (2019). Analisa Peningkatan Daya Saing Produk Pupuk Organik Bentomyte Pada Ud Betjik Mulyo Di Kabupaten Kudus. Jurnal Pemasaran Kompetitif, 2(3), 93. https://doi.org/10.32493/jpkpk.v2i3.2832
Wijayati, H. (2019). Panduan Analisis SWOT. Anak Hebat Indonesia.
Wulandari, I. S. (2017). Pengaruh Biaya Produksi Terhadap Hasil Penjualan Pupuk Petroganik Pada CV. Ijo Ngawi. The 6th FIPA (Forum Ilmiah Pendidikan Akuntansi).
Yohanes, H., & Dwiyanto, B. (2017). Penerapan Strategi Demonstration Plot Guna Meningkatkan Volume Penjualan Produk Non Subsidi & Ritel PT Pupuk Kujang Cikampek.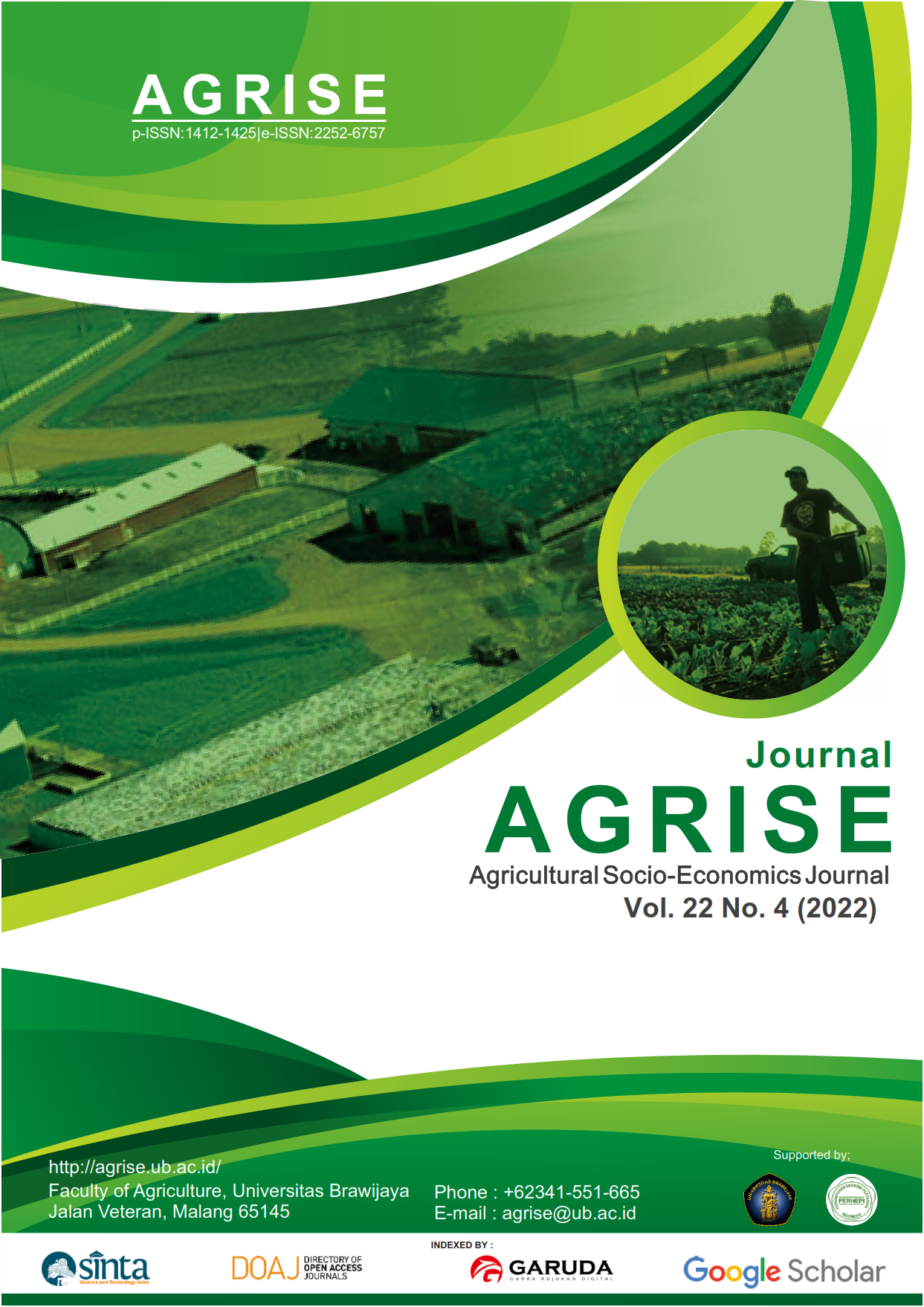 Downloads
How to Cite
Kusumawati, W., Baroh, I., & Windiana, L. (2022). ANALYSIS OF FERTILIZER MARKETING STRATEGY (LOB) LIQUID ORGANIC BIOFERTILIZER AT PT. INBIO TANI NUSANTARA. Agricultural Socio-Economics Journal, 22(4), 273–281. https://doi.org/10.21776/ub.agrise.2022.022.4.4
License
Copyright (c) 2022 Winda Kusumawati, Istis Baroh, Livia Windiana
This work is licensed under a Creative Commons Attribution-NonCommercial 4.0 International License.
Authors who publish with this journal agree to the following terms:
Authors retain copyright and grant the journal right of first publication with the work simultaneously licensed under a Creative Commons Attribution-NonCommercial License that allows others to share the work with an acknowledgment of the work's authorship and initial publication in this journal.
Authors are able to enter into separate, additional contractual arrangements for the non-exclusive distribution of the journal's published version of the work (e.g., post it to an institutional repository or publish it in a book), with an acknowledgment of its initial publication in this journal.
Authors are permitted and encouraged to post their work online (e.g., in institutional repositories or on their website) prior to and during the submission process, as it can lead to productive exchanges, as well as earlier and greater citation of published work (See The Effect of Open Access).