THE ROLE OF CUSTOMER VALUE MEDIATE THE RELATIONSHIP OF MARKETING STRATEGY TO MARKETING PERFORMANCE ON RUBBER FARMERS IN SENTAJO RAYA DISTRICT, KUANTAN SINGINGI REGENCY
Keywords:
Market Strategy, Marketng Mix, Customer Value, Marketing Performance
Abstract
This study aims to analyze the role of customer value as an intervening variable/mediation of the influence of marketing strategy on the marketing performance of smallholder rubber farmers in Sentajo Raya District, Kuantan Singingi Regency. Sampling in this study was 15% of the population as many as 36 smallholder rubber farmer respondents with each sample must be taken proportionally according to the population in two villages, namely Jalur Patah Village and Parit Teratak Air Hitam Village in Sentajo Raya District. The sampling technique was done by random sampling. The data analysis tool used in this research is SmartPLS 3.0 Sobel test and VAF calculation. The results of this study indicate that the customer value variable cannot mediate the relationship between market strategy and marketing performance. While the customer value variable can mediate the relationship of marketing mix strategy to marketing performance where the role of the mediating effect of customer value is partial mediation of 0.540 or 54.0%.
References
Af Hami, M.L., Suharyono., & Hidayat, K. (2016). Analisis Pengaruh Nilai Pelanggan Terhadap Kepuasan Pelanggan dan Dampaknya pada Loyalitas Pelanggan. Jurnal Administrasi dan Bisnis, 39 (1), 81-89.
Apriansyah, B., & Gama, P.D.S. (2019). Analisis Daya Saing Karet Alam Indonesia dan Variabel- variabel yang Mempengaruhinya. Statistika, 7(2), 1.
Arikunto, S. (2013). Prosedur Penelitian: Suatu Pendekatan Praktik. Jakarta: PT. Rineka Cipta.
Ateke, B.W., & Amangala, E.A. (2020). Customer Value Communication and Marketing Productivity. International Journal of Management and Marketing Systems, Vol.13(6),94-104.
Azmi, F., Sayamar, E., & Kausar. (2015). Analisis Kearifan Lokal Tanaman Karet di Kecamatan Gunung Toar Kabupaten Kuantan Singingi. Jom Faperta. Vol 2(1).
Brege, H., & Kindström, D. (2019). Exploring proactive market strategies. Industrial Marketing Management. doi:10.1016/j.indmarman.2019.05.005
BPS-Statistics. (2020). Statistics Indonesia. BPS-Statistics. Jakarta.
BPS-Statistics of Kuantan Singingi Regency. (2020). Kuantan Singingi Regency in Figures 2020. Pekanbaru.
Center for Agricultural Data and Information Systems. (2019). Outlook for Rubber Plantation Commodities. Ministry of Agriculture. Jakarta
Deng, R., He, X., Fu, Y., Liu, Y., & Hu, X. (2019). Analysis on the Application Strategy of ―4V‖Marketing Mix Theory Based on the Perspective of the Perceived Value of Agricultural Products Consumer. Advances in Economics, Business and Management Research. Vol 110.
Funk, C., Raghavan Sathyan, A., Winker, P., & Breuer, L. (2019). Changing climate - Changing livelihood: Smallholder's perceptions and adaption strategies. Journal of Environmental Management, 109702. doi:10.1016/j.jenvman.2019.109702
Ghozali, I. (2018). Aplikasi Analisis Multivariate dengan Program IBM SPSS 25. Semarang: Badan Penerbit Universitas Diponegoro.
Hapsari, V.N., & Madiawati, P.N. (2015). The Influence of Market Strategy and Marketing Mix to Customer Value in Argo Parahyangan Train (The Study at PT. Kereta Api Indonesia (Ltd.) Bandung). E-Proceeding of Management, 2(2), 2066-2073.
Harini, C.,& Yulianeu. (2019). Meningkatkan Kinerja Pemasaran UMKM Kota Semarang melalui Strategi Penetrasi Pasar. IKRA-ITH ECONOMICS, 2(1), 59-66.
Haryanto, A.T., Tulus, H., & Hunik, S.R.S. (2017). Market Orientation, Learning Orientation and Small Medium Enterprises Performance: The Mediating Role of Innovation. International Review of Management and Marketing, 7 (1), 484-491.
Heng, L., & Afifah, N. (2020). Entrepreneurial Orientation for Enhancement of Marketing Performance. International Review of Management and Marketing, Vol 10(3), 46-53. DOI: https://doi.org/10.32479/irmm.9670.
Jasmani. (2018). Pengaruh Peran Nilai Pelanggan dan Citra Merek Terhadap Kinerja Pemasaran (Studi Kasus PT. Berkah Motor Wonosari). Jurnal Mandiri: Ilmu Pengetahuan, Seni, dan Teknologi, 2(2), 263-280.
Khaswarina, S. (2020). Market Driven Strategy pada Perkebunan Karet Rakyat untuk Menjamin Kinerja Pemasaran di Provinsi Riau. Disertasi tidak diterbitkan. Program Studi Doktor Ilmu Manajemen Fakultas Ekonomi dan Bisnis. Universitas Padjadjaran.
Matarazzo, M., Penco, L., Profumo, G., & Quaglia, R. (2021). Digital transformation and customer value creation in Made in Italy SMEs: A dynamic capabilities perspective. Journal of Business Research, 123, 642–656. doi:10.1016/j.jbusres.2020.10.033
Mooi, E., Kashyap. V., & Aken. M.V. (2019). Governance and customer value creation in business solutions. Journal of Business & Industrial Marketing, 35(6). DOI 10.1108/JBIM-02-2019-0085.
Nguyen, K.L., Nguyen, T.H. (2016) . Consumer attitude towards marketing practices in Vietnamese smartphone market. VNU Journal of Science: Economics and Business 32 (2), 24–34
Ningrum, S., Fitra, V.D., & Sanjaya, V.F. (2020). The Effect of Product Innovation, Competitive Advantage, and Marketing Strategy on Marketing Performance. Jurnal Mutiara Manajemen, 5(2), 1-9.
Risal, M., & Salju. (2017). Pengaruh Bauran Pemasaran (4Ps) dalam Meningkatkan Kinerja Pemasaran (Studi Kasus pada: Industri Kecil Pengolahan Rumput Laut di Provinsi Sulawesi Selatan). Jurnal Balance, XIV(1).
Sholihin, M. & Ratmono, D. (2013). Analisis SEM-PLS dengan WarpPLS 3.0: untuk Hubungan Nonlinier dalam Penelitian Sosial dan Bisnis. Yogyakarta: Andi Offset
Tadesse, G., Bahiigwa, G. (2015). Mobile phones and farmers' marketing decisions in Ethiopia. World Development. 68, 296–307. https://doi.org/10.1016/j.worlddev.2014.12.010.
Talumewo, C.D., Lapian, J., & Rumokoy. F. (2016). Strategi Pasar Sebagai Pemediasi Antara Lingkungan Pemasaran dengan Kinerja Pemasaran pada PT. BPR Prisma Dana Amurang. Jurnal EMBA, 4(1), 1340-1354.
Tejantara, A., & Sukawati, Tjok,G.R. (2018). Pengaruh Bauran Pemasaran Terhadap Kepuasan Pelanggan Untuk Meningkatkan Niat Pembelian Ulang (Studi Pada Oli Sepeda Motor Merek Eni Di Kota Denpasar). E-Jurnal Manajemen Unud, Vol. 7(10), 5686-5718. DOI: https://doi.org/10.24843/EJMUNUD.2018.v07.i10.p17
Tran, T.L. (2020). Risk assessment of the economic efficiency of rubber production: Case of smallholder rubber production in QuangBinh Province, Vietnam. African Journal of Agricultural Research. Vol. 16(5), pp. 567-573. DOI: 10.5897/AJAR2020.14825.
Vachlepi, A., Nugraha, I.S., & Alamsyah. A. (2016). Mutu Bokar dari Kebun Petani di Areal Operasional Tambang Kabupaten Musi Banyuasin. Jurnal Standardisasi, Vol 18(2) hal 83-90.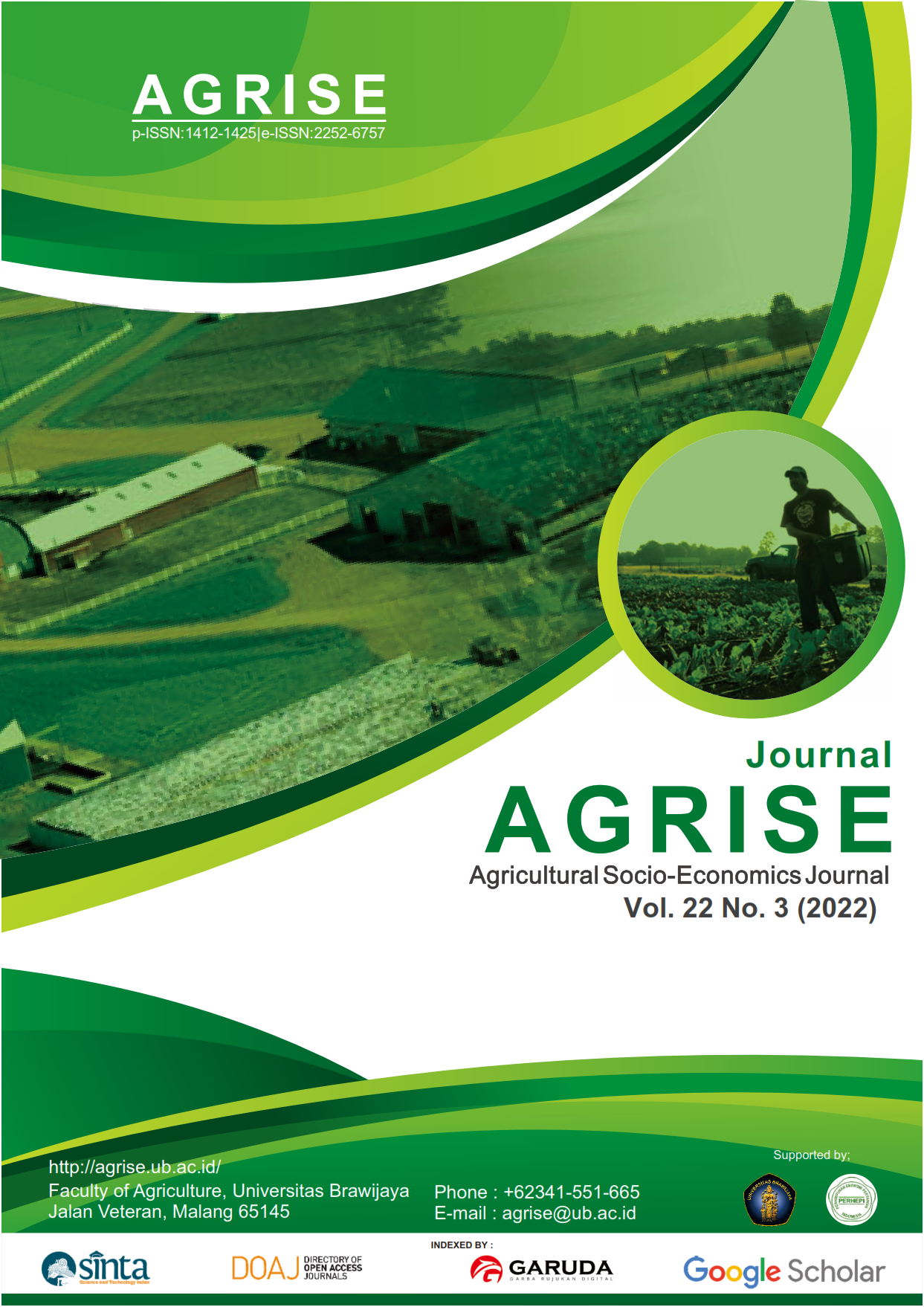 Downloads
How to Cite
Afifah, M. N., Khaswarina, S., & Kusumawaty, Y. (2022). THE ROLE OF CUSTOMER VALUE MEDIATE THE RELATIONSHIP OF MARKETING STRATEGY TO MARKETING PERFORMANCE ON RUBBER FARMERS IN SENTAJO RAYA DISTRICT, KUANTAN SINGINGI REGENCY. Agricultural Socio-Economics Journal, 22(3), 207–215. https://doi.org/10.21776/ub.agrise.2022.022.3.7
License
Authors who publish with this journal agree to the following terms:
Authors retain copyright and grant the journal right of first publication with the work simultaneously licensed under a Creative Commons Attribution-NonCommercial License that allows others to share the work with an acknowledgment of the work's authorship and initial publication in this journal.
Authors are able to enter into separate, additional contractual arrangements for the non-exclusive distribution of the journal's published version of the work (e.g., post it to an institutional repository or publish it in a book), with an acknowledgment of its initial publication in this journal.
Authors are permitted and encouraged to post their work online (e.g., in institutional repositories or on their website) prior to and during the submission process, as it can lead to productive exchanges, as well as earlier and greater citation of published work (See The Effect of Open Access).