MARKET INTEGRATION OF CORN (Zea mays) IN TUBAN DISTRICT
Keywords:
corn, market integration, Engle-Granger cointegration, Error Corection Model (ECM), Granger Causality test
Abstract
Market integration is one indicator of marketing efficiency, especially price efficiency, which is a measure that shows the extent to which price changes that occur in the reference market will cause changes that occur in market followers. The difference in prices received by farmers, wholesalers, and retailers in Indonesia in 2011-2015 has increased and decreased by an unequal amount, which means that price changes among marketing agents are not balanced. Agribusiness market participants currently do not use market communication information system services on time so that it will cause information asymmetry and indicate that the market is not integrated. This study analyzes market integration based on the relationship between corn prices at the level of producers, wholesalers, and retailers. The analytical methods used are Engle-Granger cointegration, Error Corection Model (ECM), and Granger Causality Test. The results show that the corn market between producers and wholesalers, between wholesalers and retailers, and between producers and retailers has been integrated in the long and short term. Market information needs to be improved so that market integration is stronger.
References
Anindita, Ratya & Nur Baladina. (2017). Pemasaran Produk Pertanian. Yogyakarta : Penerbit Andi
Asmara, Rosihan & Ruri Ardhiani. (2010). Integrasi Pasar dalam Sistem Pemasaran Bawang Merah. Agrise, 3, 1412-1425.
Badan Pusat Statistik. (2016). Produksi dan Konsumsi Jagung di Indonesia, Jakarta : Badan Pusat Statistik.
Ekananda, Mahyus. (2015). Ekonometrika Dasar. Bekasi : Mitra Wacana Media.
Gujarati, Damondar N. (2006). Dasar-Dasar Ekonometrika Edisi Ketiga Jilid 2. Jakarta : Penerbit Erlangga.
Kustiari, Reni. (2017). Perilaku Harga Dan Integrasi Pasar Bawang Merah Di Indonesia. Jurnal Agro Ekonomi, 35 (2), 7-87
Murdaningsih, Dwi dan Debbie Sutrisno. (2018). Harga Jagung Anjlok, Mentan Pilih Jual Jagung ke Luar Negeri. (online)( https://republika.co.id/berita/ekonomi/pertanian/18/02/19, diakses pada 16 Desember 2018)
Pioneer. (2017). GPMT : Kebutuhan Jagung Buat Ternak Naik 6%. (online)( https://www.pioneer.com/web/site/indonesia/GPMT-Kebutuhan-jagung-buat-ternak-naik, diakses pada 13 Desember 2018)
Revania, Lisa. (2014). Analisis Faktor-Faktor Yang Mempengaruhi Impor Jagung Di Indonesia Tahun 1982 – 2012. Jejak. 7(1), 102-112
Simatupang, P dan J. Situmorang. (1988). Integrasi Pasar dan Keterkaitan Harga Karet Indonesia dengan Singapura. Jurnal Agroekonomi. 7(2), 12-29
Zunaidah, Anggra Dhinatul, et al. (2015). Analisis Integrasi Pasar Apel (Kasus Di Desa Sumbergondo, Kota Batu, Jawa Timur). Habitat, 26, 183-194.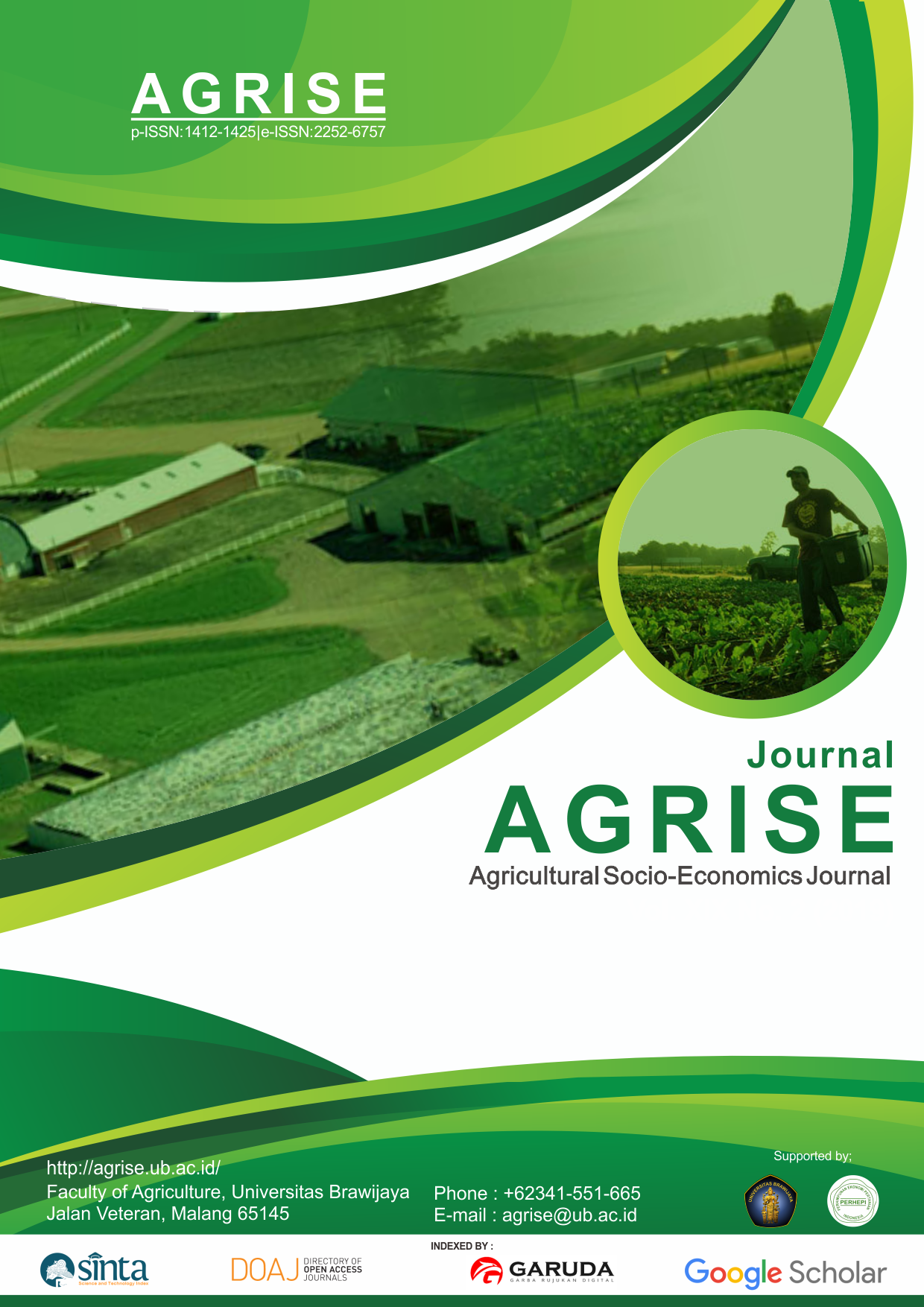 Downloads
How to Cite
Yunika, I. H., Anindita, R., & Setyowati, P. B. (2020). MARKET INTEGRATION OF CORN (Zea mays) IN TUBAN DISTRICT. Agricultural Socio-Economics Journal, 20(3), 207–212. https://doi.org/10.21776/ub.agrise.2020.020.3.4
License
Authors who publish with this journal agree to the following terms:
Authors retain copyright and grant the journal right of first publication with the work simultaneously licensed under a Creative Commons Attribution-NonCommercial License that allows others to share the work with an acknowledgment of the work's authorship and initial publication in this journal.
Authors are able to enter into separate, additional contractual arrangements for the non-exclusive distribution of the journal's published version of the work (e.g., post it to an institutional repository or publish it in a book), with an acknowledgment of its initial publication in this journal.
Authors are permitted and encouraged to post their work online (e.g., in institutional repositories or on their website) prior to and during the submission process, as it can lead to productive exchanges, as well as earlier and greater citation of published work (See The Effect of Open Access).