INCOME DISTRIBUTION OF CORPORATE FARMING MODEL IN CENTRAL JAVA
Keywords:
corporate farming, income distribution, farming
Abstract
Corporate farming is an agricultural model carried out with the principle of expanding the planting area by eliminating land boundaries. The aim is to improve group production and productivity. This agricultural model is also a solution to the conversion of functions and increasingly massive land fragmentation. As a result, the income obtained by farmers is limited to subsistence land. This study aimed to determine the income distribution of corporate farming model farmers in Sukoharjo Regency, Central Java. Sukoharjo Regency was chosen as the research location with consideration as a national food barn that implements corporate farming. Sampling using a census of 51 farmers. The study results show that farmers' incomes have reached a prosperous degree according to the World Bank's criteria. The distribution of farmers' income is even with a low level of income inequality.
References
Ayu, Ida, Ketut Marini, Ida Bagus, Eka Artika, Prodi Agribisnis K. Mataram, Fakultas Pertanian, Unmas Denpasar, Prodi Manajemen K. Mataram, Fakultas Ekonomi, and Unmas Denpasar. 2021. "Distribusi Pendapatan Petani Cabai Merah Di Desa Merembu, Kecamatan Labuapi, Kabupaten Lombok Barat, Tahun 2021.†1:27–33.
Bou Dib, Jonida, Zulkifli Alamsyah, and Matin Qaim. 2018. "Land-Use Change and Income Inequality in Rural Indonesia.†Forest Policy and Economics 94(June):55–66. doi: 10.1016/j.forpol.2018.06.010.
Coulter, Jonathan;, Andrew; Goodland, Anne &. Tallontire, and Rachel Stringfellow. 1999. "Marrying Farmer Cooperation and Contract Farming for Service Provision in a Liberalising Sub-Saharan Africa.†Natural Resource Perspectives. Overseas Development Institute, London. 48(48).
Dini, Ade, Trisna Insan Noor, and Muhamad Nurdin Yusuf. 2020. "Struktur Dan Distribusi Pendapatan Rumah Tangga Petani Padi Sawah Di Desa Cayur Kecamatan Cikatomas Kabupaten Tasikmalaya.†Jurnal Ilmiah Mahasiswa Agroinfo Galuh 7(3):660. doi: 10.25157/jimag.v7i3.3983.
Hartati, Anny. 2020. "Anny Hartati.†Jurnal Agribisnis Indonesia (Journal of Indonesian Agribusiness) 8(2):95–105. doi: https://doi.org/10.29244/jai.2020.8.2.95-105.
Heryanah, Heryanah. 2017. "Kesenjangan Pendapatan Di Indonesia: Berdasarkan Susenas 2008, 2011 Dan 2013.†Jurnal BPPK : Badan Pendidikan Dan Pelatihan Keuangan 10(2):16. doi: 10.48108/jurnalbppk.v10i2.26.
Iskandar, Muhammad Joni, and Jamhari. 2020. "Efficiency of Rice Farming in the Corporate Farming Model in Central Java.†Agraris 6(2):154–67. doi: 10.18196/agr.6298.
Nurjihadi, Muhammad. 2017. "Analisis Pendapatan Usahatani Padi Dan Perbandingannya Dengan Garis Kemiskinan Di Desa Moyo Kecamatan Moyo Hilir.†JURNAL TAMBORA 2(3):1–12.
Siringoringo, Vina Panca Margaretha, Ermi Tety, and Jum'atri Yusri. 2020. "Analisis Pendapatan Dan Distribusi Pendapatan Usahatani Karet Di Kecamatan Singingi Kabupaten Kuantan Singingi.†Indonesian Journal of Agricultural Economics 11:97–106.
Sukiyono, Ketut, Nola Windirah, and Jheni Juwita Sari Melia. 2019. "Income Inequality And Poverty Among Rice Farmers: A Case On Owner Farmers And Sharecroppers In Lahat Regency Of South Sumatera Province.†Asian Journal for Poverty Studies 5(2):51–56.
Susilowati, Sri Hery, and Mohamad Maulana. 2012. "Luas Lahan Usahatani Dan Kesejahteraan Petani : Eksistensi Petani Gurem Dan Urgensi Kebijakan Reforma Agraria Farm Business Land Size a Nd Farmers ' Welfare : Smallholders ' Existence and Agrarian Reform Urgency Lahan Pertanian Dewasa Ini Menghadapi Tanta.†Analisis Kebijakan Pertanian 10(1):28.
Winarti, Lili, and Rokhman Permadi. 2019. "Income Distribution Of Household Rice Farmers In The Siam Epang Variety In Seruyan Hilir District Seruyan Regency.†Jurnal Agribest 3(1):45. doi: 10.32528/agribest.v3i1.1945.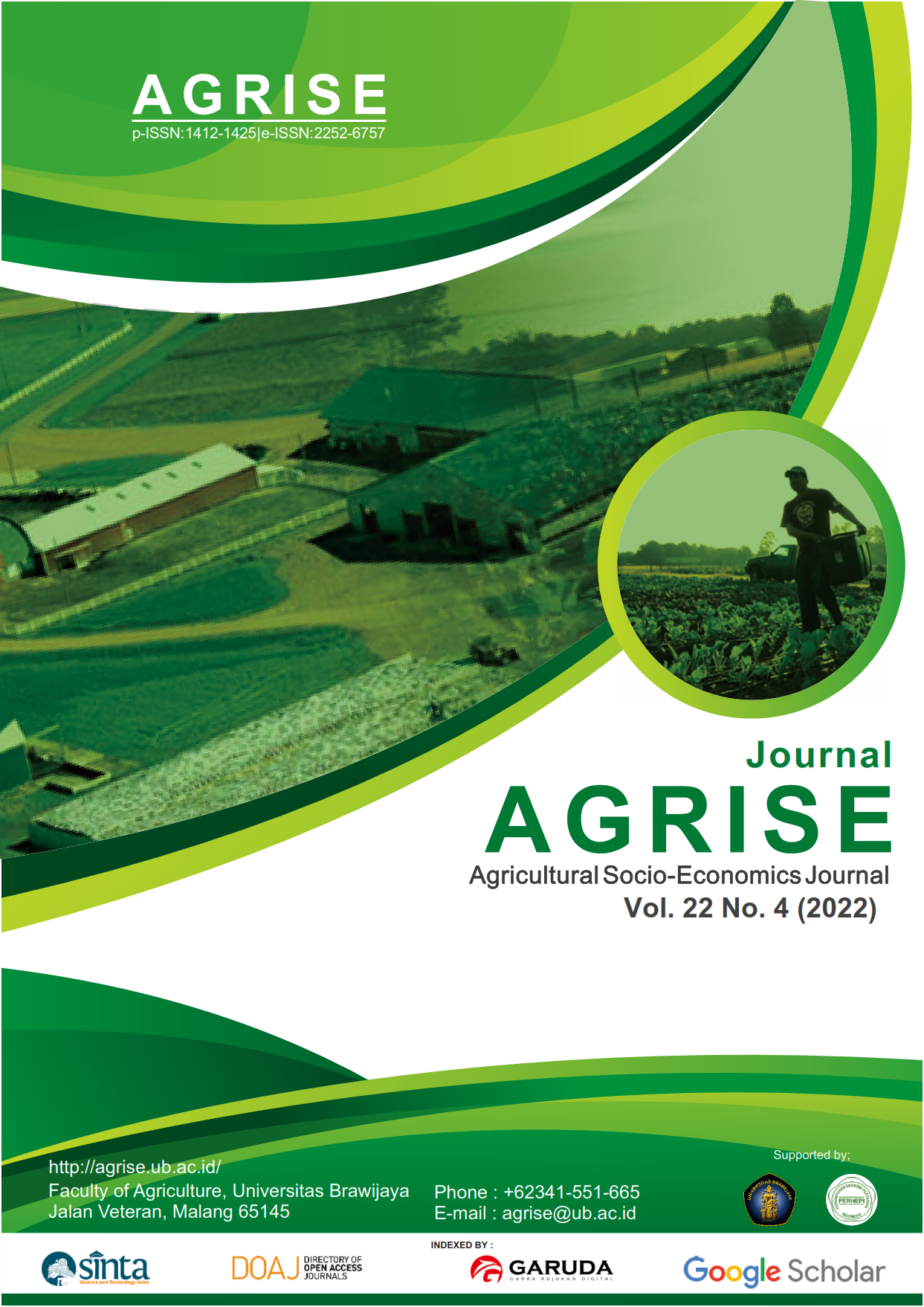 Downloads
How to Cite
Iskandar, M. J., Prasetyowati, R. E., & Ningsih, D. H. (2022). INCOME DISTRIBUTION OF CORPORATE FARMING MODEL IN CENTRAL JAVA. Agricultural Socio-Economics Journal, 22(4), 293–299. https://doi.org/10.21776/ub.agrise.2022.022.4.6
License
Copyright (c) 2022 Muhammad Joni Iskandar, Rini Endang Prasetyowati, Dwi Haryati Ningsih
This work is licensed under a Creative Commons Attribution-NonCommercial 4.0 International License.
Authors who publish with this journal agree to the following terms:
Authors retain copyright and grant the journal right of first publication with the work simultaneously licensed under a Creative Commons Attribution-NonCommercial License that allows others to share the work with an acknowledgment of the work's authorship and initial publication in this journal.
Authors are able to enter into separate, additional contractual arrangements for the non-exclusive distribution of the journal's published version of the work (e.g., post it to an institutional repository or publish it in a book), with an acknowledgment of its initial publication in this journal.
Authors are permitted and encouraged to post their work online (e.g., in institutional repositories or on their website) prior to and during the submission process, as it can lead to productive exchanges, as well as earlier and greater citation of published work (See The Effect of Open Access).